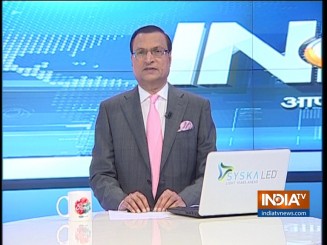 In a significant step ahead of the Lok Sabha elections, the Centre on Tuesday filed a writ petition in Supreme Court seeking its permission to return the excess or superfluous land around the disputed site in Ayodhya to its rightful owners.  
In its plea, the Centre has said it had acquired 67 acres of land including 2.77 acres of disputed land in 1991. The petition says, Ram Janmabhoomi Nyas has sought return of excess land acquired in 1991 to its original owners. 
The Centre, in its petition, also said that the Constitution Bench of the apex court had, in 2003 in Ismail Faruqui case, had held that the superfluous area, other than the 0.313 acres of disputed site, can be reverted or restored to its original owners. In its plea, the Centre has now said that it has no objection to returning this excess land to its rightful owners, including Ram Janmabhoomi Nyas. 
The Supreme Court is presently hearing 14 appeals filed against 2010 Allahabad High Court judgement which had ordered trifurcation of 2.77 acre disputed land among three parties – Sunni Waqf Board, Nirmohi Akhara and Ram Lalla. 
Today's move by the Centre comes in the wake of religious gatherings being held at the Ardh Kumbh Mela in Prayagraj, by different camps of sadhus, where strident demands are being made for early construction of Ram Temple.  
Shankaracharya Swaroopanand Saraswati, a pro-Congress saint, held a Dharma Sansad on Monday where demands were made for early construction of Ram Temple. The Vishwa Hindu Parishad will also be holding its Dharma Sansad in Prayagraj on January 31. In the Supreme Court on Monday, the hearing on Ayodhya dispute could not take place due to the absence of a judge on the Constitution Bench.
The common man now feels that the court hearing on Ayodhya dispute may drag for a long time. Only a month is left for announcement of the Lok Sabha poll schedule and the Ram Temple issue is gaining prominence. The faith of millions of Hindus is linked to this issue, and hence, pressures are being mounted by different camps on the government to speed up the construction of the temple. 
The last budget session of Parliament is going to begin, and political watchers believe that Prime Minister Narendra Modi may play his trump card by bringing a bill to pave the process of building the Ram temple. The dice is loaded and the question now is: when? 
Click Here to  Watch Full Video | Get connected on Twitter, Instagram & Facebook