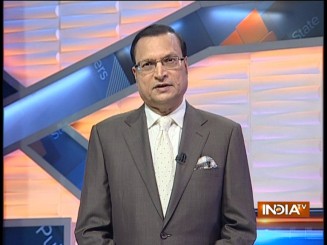 Pakistani Lashkar-e-Taiba terrorist, Aijaz Ahmed Gojri alias Abu Umair, arrested by security forces alongwith two of his associates in Baramulla district of Kashmir, has, in a video, thanked the army for not gunning him down. He has appealed to Kshmiri youths to give up arms and return to the national mainstream.
Aijaz was arrested alongwith two others in Baramulla district, after army gunned down three Lashkar terrorists in Chhatabal. The arrested terrorists were produced before the media on Wednesday in Srinagar. In the video, Aijaz says that he is alive because the army held fire during the encounter, and did not fire at him even as he himself fired at the jawans.
Catching terrorists alive is a big achievement for the security forces. They share important information about their group and provide vital clues about the line of thinking of their handlers. Four days ago, an assistant professor of sociology from Kashmir University, joined the last remaining terrorists of Burhan Wani's group, and remained holed inside a house with them even as security forces appealed to him to surrender. Security forces called in his father and brother, who appealed to the assistant professor to surrender, but he was warned by terrorists that he would die if he went out and surrendered. He was advised to die fighting. The assistant professor toed the terrorists' line and was ultimately gunned down.
I still hope misguided youths in Kashmir valley will listen to Aijaz's appeal and return to their families after laying down their arms.
Click Here to Watch Video | Get connected on Twitter & Facebook