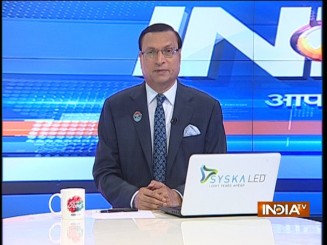 Exit polls telecast on Friday evening predicted a clear win for Congress in Rajasthan and for a TRS victory in Telangana, but were divided on Madhya Pradesh and Chhattisgarh. India TV-CNX exit poll predicted BJP win in MP, but another exit poll predicted a Congress win in MP. A third exit poll predicted a hung assembly in MP with both BJP and Congress in neck-and-neck position.
If Chief Minister Shivraj Singh Chouhan wins, it will be solely due to the fact that he never exuded arrogance during his 13 years' tenure. As a politician, always in touch with the people, he always toured his state extensively and did not disappoint his party workers. It is not easy for any leader to counter the anti-incumbency mood after being in power for 13 years, but one thing is clear: BJP's seat share in MP may decline, and the main cause could be farmers' anger. Credit should also go to state Congress leaders, who sunk their differences and tried to work unitedly.
The picture is exactly the opposite in Rajasthan. Chief Minister Vasundhara Raje antagonized her own party supporters present in different communities. Though exit polls predict a clear win for Congress, one thing should be kept in mind. Three or four months ago, political pundits were predicting a two-third landslide win for Congress and a major debacle for BJP. But as campaigning came to a close, the fight became tougher. The main cause was attributed to mistakes in selection of Congress candidates, mainly because of overconfidence on part of the party leadership. BJP tried to take advantage of dissent in the Congress camp, as many rebel candidates entered the fray due to friction between Sachin Pilot and Ashok Gehlot camps. These rebels tried their best to defeat official candidates of the Congress.
Even if the Congress registers a win in Rajasthan, it will be solely due to people's anger towards Vasundhara Raje. The credit should go to the voters. The Congress failed in taking full advantage of people's anger.
Chhattisgarh is a totally different story. With the fear of Maoists lurking in large parts of the state, voters were unwilling to express their opinion in public. The exit poll figures that came from that state failed to provide a clear picture. If BJP wins, it will be solely due to the image of Chief Minister Dr Raman Singh, who has implemented a number of welfare schemes for the poor. The bonus was from Ajit Jogi-BSP combine, which divided anti-BJP votes.
If Chief Minister K. Chandrashekhar Rao retains power in Telangana, it will be mainly due to cheap PDS foodgrains, water and electricity, and in doing so, his government has almost emptied the state's treasury. Populist schemes often give good results during polls, but in the long term, it leaves the government high and dry, with no money left for development. The added bonus was in the form of Congress joining hands with Chandrababu Naidu's TDP. Naidu had strongly opposed the creation of Telangana, and the voters were out to teach a lesson to TDP and its allies.
Let us all wait for December 11, when the electronic voting machines will be opened and the results will tumble out.
Click Here to Watch Full Video | Get connected on Twitter, Instagram & Facebook