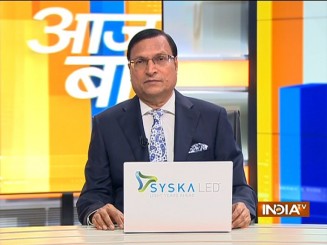 A nationwide hunt is on for pro-Khalistan preacher Amritpal Singh, who remains elusive after Punjab Police carried out a massive crackdown against his outfit 'Waris Punjab De' three days ago. Police has invoked National Security Act against five persons, including Amritpal Singh's uncle Harjit Singh, financier Daljit Singh Kalsi, Bhagwant Singh, Gurmeet Singh and 'Pradhanmantri' Bajeka, all of whom have been lodged in Dibrugarh jail of Assam. I feel there was delay in taking action against Amritpal Singh, because of which his supporters gained courage. He should have been arrested the day his supporters laid siege to Ajnala police station. Better late than never. The police action must now be taken to its logical conclusion. Amritpal Singh is 30 years old, he returned from Dubai in August last year. How could it be possible for him to amass so many arms and ammunitions and spread his network? How did he purchase luxury vehicles worth crores of rupees and bulletproof jackets? How did he become so powerful as to challenge the State? A detailed probe into his network must be done and the sources of funding must be traced, both inside and outside the country. Police must find out who helped him and reveal their names. This can happen only when Amritpal is nabbed. Both the central and state agencies must coordinate effectively because it is a matter of national security and territorial integrity. There must be no attempt to take undue credit, nor there should be any political mudslinging.
YOGI BULLDOZER IN ACTION
On Monday, the home of gangster Atiq Ahmed's sharpshooter Mohammed Ghulam Rasool was demolished with the help of bulldozers in Prayag, Uttar Pradesh. Ghulam Rasool is still evading police. He carries a reward of Rs five lakh on his head. He was the shooter who fired at Umesh Pal in broad daylight, killing him on the spot. He is now underground and his family has no roof on its head. The punishment for his crime is being borne by his family. It was reported that Atiq Ahmed spent Rs 8 lakh for Ghulam Rasool's treatment. This was the reason why became a killer. He remembered the debt that he owed to Atiq Ahmed, but he forgot about his mother who nurtured him since childhood. There are people who question why bulldozers are being used to demolish properties of those hiding. But I feel that bulldozer action is required against those who challenge law, commit murders, extort money, and grab other's properties. This will create a sense of fear in the minds of criminals, and the common man can heave a sigh of relief.
LOGJAM IN PARLIAMENT
The logjam in both Houses of Parliament continued on Tuesday, with no official business transacted. Opposition MPs displayed banners and posters both inside and outside the House. Two points are clear from the current deadlock: One, what Rahul Gandhi said in London about Indian democracy cannot be justified. And two, his remark has given a handle to the BJP for counter-attack. Congress may be right in saying that Rahul's remark is being made an issue in order to bypass the demand for debate on Adani controversy. Congress should have known by now that if the opposition gives any chance, BJP will not leave them easily. They will utilize it to the fullest extent. The moot point is that because of this logjam, it is the people who are bearing the brunt since Parliament is not working. It is a loss for our democracy. The Speaker of Lok Sabha should try to bring all parties on board to break the logjam. There are some opposition parties who want that pandemonium should end, so that they can raise their issues and seek government's replies. MPs from Shiromani Akali Dal come daily to Parliament with placards on which it is written 'Allow the House to work'. Mamata Banerjee's Trinamool Congress also wants the House to function. TMC leaders do not take part in meetings of opposition parties convened by Congress.
WHY MAMATA DOES NOT LIKE RAHUL
Trinamool Congress supremo Mamata Banerjee has said that 'Rahul Gandhi is Modi's biggest TRP'. She has accused BJP of trying to make a hero out of Rahul Gandhi to divert attention from burning issues. She is peeved after Congress defeated her candidate in the recent assembly byelection. During her meeting with Akhilesh Yadav, Mamata Banerjee made it quite clear that Rahul Gandhi cannot lead a united anti-Modi front. She has said that Rahul Gandhi cannot help in winning elections. On the other hand, Congress has clearly said that any opposition unity without Congress will be fruitless. Congress is not going to tie up with any leader who opposed Rahul Gandhi. It is really strange that on one hand Mamata is blaming BJP for trying to make a hero out of Rahul, and on the other hand, Congress is blaming Mamata for having entered into a secret deal with Modi to keep Rahul out of power. If both the parties are quite clear about their political line, opposition unity before the 2024 elections will continue to be a mirage.