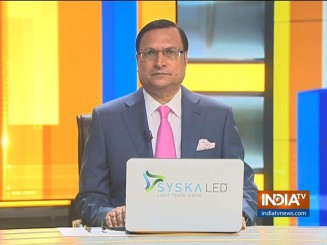 Home Minister Amit Shah gave a strong message to China from the first frontier village of Arunachal Pradesh on Monday. He said, "the time is gone when anyone could encroach our land. Now not even an inch of our land ('sui ki nok' – needlepoint) can be encroached by anybody". He was launching Vibrant Villages Programme at Kibithoo, India's first village near the Line of Actual Control in Anjaw district of Arunachal Pradesh. The Chinese foreign ministry reacted sharply, saying 'Zhangnan (China's name for Arunachal) is part of China's territory. The activity of a senior Indian official (read Amit Shah) in Zangnan violates China's territorial sovereignty, and this is not conducive to peace and tranquillity in border areas. Amit Shah's Arunachal visit is significant because China had renamed 11 places of Arunachal in Chinese. China considers Arunachal as Zangnan (Southern Tibet), but India strongly opposes this claim. In Kibithoo, Amit Shah inaugurated nine micro-hydel projects. Under Vibrant Villages Programme, 2,967 villages near the Chinese border in four states and one UT, will be developed at a cost of Rs 4,800 crore. These villages will be connected to the rest of India with latest technology. What China says or does, is not important. China has been doing the same with other neighbouring countries too. The point that is significant for us is how our government responded to China. Also, how opposition parties in India react to Chinese claims. Even if China changed the names of 11 villages in Arunachal Pradesh on paper, the ground realities do not change. Changing names does not mean China has occupied our villages. There are opposition leaders who continue to allege that China has occupied our villages. Within a week of China changing the names of Indian villages, Amit Shah immediately flew to Arunachal Pradesh and visited some of them. One village, whose name China claims to have changed, was the place where Amit Shah stood on Monday and said "not an inch of land will be allowed to be grabbed". China understands the meaning of Amit Shah's speech. That is why, its foreign ministry immediately reacted. This is not the first time China has staked claim on Indian territory. It has been doing so in the past too. During earlier regimes, Chinese claims used to be downplayed saying there was no point in irritating China. Times have now changed. There is no scope for bowing in Narendra Modi's policy. The very fact that India's Home Minister goes to the same village whose name China changed, reflects India's changing mood. India has given a befitting reply to China.
COMMUNAL CLASHES
Communal clashes took place in West Bengal, Bihar, Jharkhand, Chhattisgarh, Haryana and Gujarat during and after Ramnavami. This is a matter of concern. Anti-national forces are active and they want to incite communal passions. After Biharsharif, Nalanda and Sasaram in Bihar, there were clashes in Jamshedpur(Jharkhand), Bemetra (Chhattisgarh), and Sonepat (Haryana) on Sunday. In Bihar, VHP and BJP leaders are alleging that police is rounding up innocent Hindu youths, while Deputy CM Tejashwi Yadav has blamed BJP for violence. AIMIM chief Asaduddin Owaisi claims that more Muslim youths have been detained instead of Hindus. Chief Minister Nitish Kumar is busy visiting 'iftaar' parties. Bihar Police must investigate in depth and find out who the conspirators are. There are several hundred videos of violence in Biharsharif and Sasaram. These videos clearly show the stone throwers and youths indulging in arson. Tejashwi Yadav and Nitish Kumar have the right to make political remarks, but they should also understand that they hold Constitutional posts, and if they start pointing fingers at one community or outfit, it sends a wrong message and this can adversely affect police investigation. That is why VHP is demanding probe by a central agency. The pattern appears to be the same in Jamshedpur, Jharkhand, too. Hindu leaders were holding a meeting inside a temple when stone pelting started. Rapid Action Force had to be deployed after violence spread. BJP leaders say, the saffron flag was insulted by tying meat with the flagpole, but police is yet to arrest the culprit. In Bemetara, Chhattisgarh, a quarrel between children flared up, two homes were set on fire, and a mob killed a Hindu youth. Now BJP, VHP and Bajrang Dal workers are taking out protest march. VHP leaders allege that illegal Rohingya Muslims are being given shelter in Chhattisgarh. Rohingya Muslims have spread out to Bengal, Bihar, UP, MP, Delhi, Chhattisgarh, Maharashtra, Karnataka and Kerala. This is a worrying trend. CM Yogi Adityanath had carried out a door-to-door survey to identify Rohingya settlers in western UP. This has given good dividends. Similar surveys should be carried out by other states too. All illegal Rohingya settlers must be identified and deported.
KEJRIWAL CAN NOW USE THE BROOM SYMBOL ACROSS INDIA
The Election Commission, on Monday, recognized Aam Aadmi Party as a national party, but downgraded the status of Trinamool Congress, CPI and NCP from 'national party' to 'state party'. This was done after a review of political parties' poll performances during 2014 and 2019 Lok Sabha elections and 21 state assembly elections. A 'national party' is entitled to use a single poll symbol across India, it can have more star campaigners, free airtime on national media for campaigns, and office space in Delhi at subsidized rate. There are now only 6 national parties in India: BJP, Congress, CPI(M), BSP, AAP and National People's Party. The withdrawal of 'national party' recognition is a severe jolt for NCP chief Sharad Pawar and TMC chief Mamata Banerjee. Within minutes, Delhi CM Arvind Kejriwal tweeted to say it was a 'chamatkar' (miracle). He said, no one can stop an idea whose time has come. AAP's time and India's time has come, he added. With AAP getting state party status in Delhi, Punjab, Goa and Gujarat, and getting more than 6 per cent votes in assembly polls, it was bound to get national party recognition. Telangana CM K Chandrashekhar Rao's party lost 'state party' status in Andhra Pradesh. It was KCR who had recently changed his party's name from Telangana Rashtra Samithi to Bharat Rashtra Samiti. This is not the first time any party has got 'national party' recognition, but Arvind Kejriwal is showing off as if he now controls a big party. 'National Party' status does not matter much during elections. In 2012, Kejriwal formed AAP, and it has acquired national party recognition after 11 years. Similarly, Late P A Sangma who left NCP in 2013 to form National People's Party is, on paper, a 'national party' but few people across India know about it. NPP is the ruling party in Meghalaya and Conrad Sangma is the chief minister. It got national status because it has got 'state party' recognition in Manipur, Nagaland and Arunachal Pradesh too. As a national party, it is entitled to get land in Delhi at subsidized rate. Kejriwal's party can now use the 'broom' symbol across India.