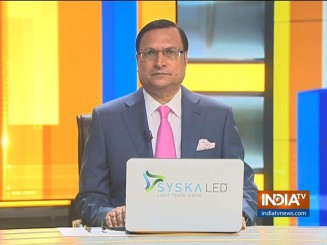 Both Houses of Parliament were rocked for the second consecutive day today on the issue of Gautam Adani's group of companies. Opposition leaders demanded discussion on what they called 'financial irregularities' in sanction of loans from public sector banks to Adani group in the light of Hindenburg research report, whose allegations have been comprehensively denied by the group.
Congress and other opposition leaders are pressing for setting up a Joint Parliamentary Committee to probe into the entire issue. Reserve Bank of India has sought details from all banks which have sanctioned loans to Adani group. Gautam Adani has clarified that his companies have not committed any financial irregularities, and all its transactions are in black and white. He has also clarified that his companies have not defaulted on any payment nor have caused financial loss to anybody. He has also announced that he was withdrawn his FPO (Follow on Public Offer) due to current market volatility, though it has been fully subscribed.
The questions that arise now is whether the short seller firm Hindenburg has Adani group shares? Will it be right to accept a foreign research firm's report as authentic? Or, should we repose our trust in RBI and SEBI?
Congress has raised questions on why LIC and SBI heavily invested in Adani group shares. Both LIC and SBI have said that they have not faced any loss. Is the Adani issue a mere façade for the opposition to target Prime Minister Narendra Modi? One must understand that Adani group's business, its share value and wealth increased when the UPA government was in power.
Even during the last nine years of Modi's rule, Congress-ruled state governments went out of their way to invite Adani group to invest in projects in their states.
The attack by opposition on Adani issue is not new. Years before the Hindenburg research report came before public, Congress leader Rahul Gandhi had been harping on the Adani-Ambani theme, and alleging that Prime Minister Modi was working to favour these two top industrialists. With the steep drop in prices of Adani group shares in the stock market, the opposition has got a fresh weapon to attack Modi.
The fact remains that Adani group's fortunes took a meteoric rise when Prime Minister Rajiv Gandhi was in power and Chimanbhai Patel was the chief minister of Gujarat. During P V Narasimha Rao's rule, when the new economic era dawned, Adani opened new businesses, created brand values and achieved tremendous growth.
When infrastructure picked up during Prime Minister Modi's rule, Gautam Adani's group took wings, setting up ports, power plants and other projects. Political analyst Dr Ajay Alok says, Gautam Adani's success story is an inspiring one which should be taught to students. From Rs 2 crore net worth during Congress rule, Adani's turnover rose to Rs 80,000 crore during Dr Manmohan Singh's UPA rule.
It is a known fact that Adani group got projects when Rajiv Gandhi, Dr Manmohan Singh, Chimanbhai Patel, Uddhav Thackeray, Ashok Gehlot and even Kerala's CPI-M leader Pinarayi Vijayan were in power. The entire hullaballoo that is now being created is more political, and less financial. Gautam Adani says, the allegations that have been made in Hindenburg report were 15 to 20 years old, and his group has already got a clean chit from Supreme Court.
Life Insurance Corporation of India, on Thursday, clarified that its investment in Adani group companies is merely one per cent of its total capital market investment. Even if Adani group's market capitalization declines to zero, LIC will not face a financial loss. LIC said, it invested Rs 30,127 crore in Adani group companies, whose market value was Rs 56,142 crore as on Monday.
State Bank of India said, it has given $ 2.6 billion ( Rs 21,000 crore) loan to Adani group companies, but till now, Adani group has not made any default in loan repayments. On the basis of Adani group's capital assets pledged as guarantee, SBI's investments are secure.
Punjab National Bank said, it gave Rs 7,000 crore loan to Adani group. Several private banks have also given loans to the group. Even if all the loans of Indian and international banks are clubbed together, it is lesser than the total value of Adani's personal properties. Adani's net worth is more than the bank loans, it has adequate cash flow, and in the last several years, the group's earnings have been more than its loans. So, there is no question of default in servicing debts.
Overall, neither Prime Minister Modi has fewer enemies, nor Gautam Adani has fewer people who are jealous about his meteoric growth. The Hindenburg research report has come as an excuse to target both Modi and Adani. People are trying to create an impression that Adani's miraculous growth is just a bubble about to burst and his business will wind up, but they are misleading people. Adani group is not sinking.
Let me tell you the value of Gautam Adani's businesses and assets. His group owns Gangavaram, Mundhra and Hazira ports. In Vizhinjam, Kerala, Adani group is building a deep water port comparable to Singapore and Colombo. Adani group's thermal power units generate 13,500 MW, most of which come under clean energy category. The group has capacity to generate 650 MW solar power. Its 18,000 circuit km transmission lines and 30,000 MVA transfer capacity is Asia's largest.
Adani group owns six airports, apart from partnership in Mumbai airport. Navi Mumbai airport to be opened in 2025 will be operated by Adani group. It owns two top cement companies, ACC and Ambuja Cement. India's busiest special economic zone port in Mundra belongs to Adani group. It owns coal mines in Australia that supply high-grade coal to power plants in India. It is partner in NTPC's under construction solar and wind energy plant.
Adani Ports, Adani Power, Adani Green Energy, Adani Wilmar, Adani Total Gas, all these companies that come under the flagship Adani Enterprises Ltd make immense contribution to India's infra development and growth.
In conclusion, let me say, Gautam Adani is an industrialist. It does not matter if his net worth rises or declines, but the ports, thermal power stations, airports and power transmission lines that his group has built, are not meant for his personal use. They are national assets.
If we make political attacks on any industrialist, whosoever he may be, it will only cause harm to our national interest. We must remember one point: All over the world, people support their wealth creators, they give them due respect, but there are people in India, who raise doubts, create scares and controversies and deride our wealth creators. I think such a mindset needs to be changed.