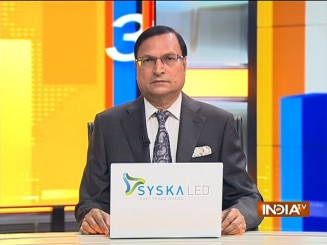 The Centre on Monday accepted the suggestion of Supreme Court for setting up a committee of experts to suggest ways to strengthen the regulatory mechanisms for the stock market in the wake of recent crash in the prices of Adani group shares triggered by Hindenburg Research report.
Solicitor General Tushar Mehta, appearing for the Centre and SEBI, offered to provide names of domain experts and the scope of the mandate in a sealer cover to the court this week.
Mehta told a bench headed by Chief Justice D Y Chandrachud, "we will suggest names of the experts to be included in the committee in a sealed cover. Some names may appeal to the Supreme Court, and some may not. But these names should not be discussed and opposed by the petitioners. The court can choose from the list." He said, no "unintentional" message should go out that the market regulator is not capable of handling the situation, as it can have adverse impact on the inflow of money.
The court then listed two PILs, relating to 'exploitation of innocent investors' and 'artificial crashing' of Adani group share value, for hearing on Friday (February 17).
The Congress immediately reacted. Party general secretary Jairam Ramesh in a tweet said, "Today in Supreme Court Solicitor General said, Govt has no objection to a committee to examine the Hindenburg report on Adani. Then why the stubborn refusal to a joint parliamentary committee, which will anyway be dominated by BJP and its allies? But will the proposed committee investigate Hindenburg or Adani?" Congress MP Ranjeet Ranjan said, it is now clear that the government is trying to bypass Parliament and accept a Supreme Court monitored prove. "We stand firm on our demand for JPC", she said.
More than 2,000 kilometres away in Wayanad, Kerala, Congress leader Rahul Gandhi, while addressing a meeting, again hit out at Prime Minister Narendra Modi. He said, "The Prime Minister thinks he is very powerful and people will get scared of him. He does not realize that the absolute last thing I am scared of is Narendra Modi. Because one day he will be forced to face his truth."
Rahul Gandhi said, parts of his speech in Lok Sabha was expunged even though he did not insult anybody. "I was asked to show proof with regards to what I said, and I have written a letter to the Speaker with eery point that they have removed along with supporting proof…I do not expect my words will be allowed to go on record. The PM of the country directly insulted me but his words were not taken off the record. He said why is your surname Gandhi and not Nehru. …Truth always comes out. All you have to do was to look at my face when I was speaking and his face. Look how many times the PM drank water and how his hands were shaking while drinking water."
In Parliament, there was uproar again with opposition members shouting slogans against Modi and Gautam Adani. In Rajya Sabha, Congress members raised the issue of expunging of several parts from the speech of Leader of Opposition Mallikarjun Kharge, while in Lok Sabha, the issue of privilege motion notice against Rahul Gandhi was raised.
BJP member Nishikant Dubey, while giving notice of privilege motion, alleged that neither Rahul Gandhi authenticated his allegations against Modi, nor did he speak the Speaker's permission before levelling charges against the PM, who was then not present inside the House. This, he said, was in violated of Rule 353 under Rules of Procedure and Conduct of Business.
Rahul Gandhi has been asked to reply to the notice by February 15. Union Parliamentary Affairs Minister Pralhad Joshi said, the ruling party will not back out come what may, because Rahul Gandhi had been levelling baseless allegations frequently.
Breach of privilege is a purely technical and parliamentary issue. There may be debates and it may take time. Since the next phase of Budget Session will now resume from March 13, the names of Adani and Hindenburg may not crop up frequently now.
Rahul Gandhi will continue to repeat his charges outside Parliament. He will say, 'Modi fears me and I do not fear anybody'. Rahul may allege, 'Modi gave away most of the contracts to Adani', but the fact remains that he has been making such allegations for the last eight years. After the shares of Adani group companies crashed in stock market, Rahul expected that the Supreme Court could order a probe into Adani case and this would surely embarrass the government. But the reverse happened.
The Supreme Court is not worried about Adani group. It is worried about investors' money. The government claims that its regulatory mechanisms are robust and investors may not ultimately face loss. Yet, on the apex court's suggestion, the government agreed to set up a committee of experts. I think this committee will recommend ways and means to make our system more robust, but Rahul Gandhi may continue to repeat his charges.