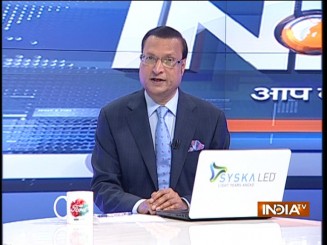 Never in India's history since Independence was a Chief Secretary of senior IAS rank assaulted in Delhi by ruling party MLAs in the presence of their Chief Minister at the latter's official residence. This shameful incident took place around midnight on Monday, when the Chief Secretary was summoned for a meeting by AAP supremo Arvind Kejriwal.
The Chief Secretary Anshu Prakash is an experienced civil servant who has served in many positions. There had been no complaints against him. The Chief Secretary wrote a written complaint to Delhi Police alleging that he was abused, heckled and assaulted by AAP MLAs. His complaint should be taken seriously. Summoning a senior bureaucrat to the chief minister's residence at midnight and then assaulting him is an act that cannot be condoned in a democracy. Kejriwal is on record of having once said that he cameto power, he would teach BJP and Congress leaders how to run a government. If this is the manner in which he wants to run his government, then God save Delhi.
Contrast this with Kejriwal's predecessor Sheila Dikshit, who was Chief Minister of Delhi for 15 years. Out of these 15 years, there were six years during which the BJP was ruling at the Centre. There was not a single incident of misbehaviour with any officer of Delhi government during her tenure. At one cabinet meeting, one of Sheila Dikshit's ministers spoke to a bureaucrat loudly, and the Chief Minister promptly took the minister to task in front of all. She then called the minister to another room and explained to him how to behave with bureaucrats. The erring minister came out of the room and apologized to the then Chief Secretary. What happened on Monday midnight was sordid. Such acts have no place in a healthy democracy.
Click Here to Watch Video | Get connected on Twitter & Facebook