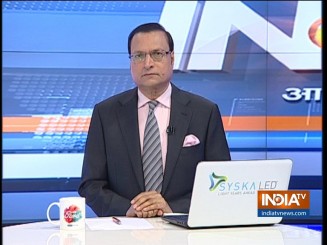 Thursday May 2 was a red letter day, personally for me and for our institution India TV, when Prime Minister Narendra Modi came to Jawaharlal Nehru stadium for a mega interview in the presence of more than 2,500 strong audience, with more waiting outside to come in.
The question-answer session, that went on for nearly two hours, in front of a rapturous audience, was engaging.
In this no-holds-barred interview, the Prime Minister revealed for the first time the circumstances in which Indian Air Force Wing Commander Abhinandan was released by Pakistan.
He also revealed, for the first time, how on the spur of the moment, he rang up the then Pakistan PM Nawaz Sharif to congratulate him on his birthday from Kabul, and the Pakistani leader suddenly invited him to drop in at a family wedding taking place at his estate near Lahore.
The Prime Minister also revealed how Chinese President Xi Jinping rang him up in May, 2014 to congratulate him and suddenly said that he wanted to visit his hometown Vadnagar in Gujarat. According to Modi, Xi Jinping told him that the hometowns of both leaders in India and China had a common link – the 7th century Chinese Buddhist monk traveller Xuanjang (whose name we read in history books as Huien Tsang), who had visited both the places 1400 years ago.
Modi also revealed how the wife of Argentine President Mauricio Macri and his wife served him tea in Buenos Aires, and when they visited India, the leader's wife served him tea in similar looking cups. He also disclosed how Singapore Prime Minister Li Hsien Loong and his wife took him to a South Indian restaurant for a quiet dinner.
The Prime Minister also spoke on the current general elections, Gandhi family, poll violence in West Bengal and several other current topics. Towards the end, he looked a bit introvert and spoke extensively about his personal life.
Do watch this exclusive mega interview with Narendra Modi this Saturday May 4 from 8 pm onwards on India TV.
Click Here to Watch Full Video| Get connected on Twitter, Instagram & Facebook