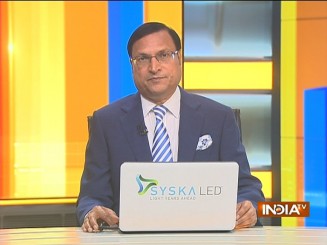 The Sports Ministry on Thursday sought a response from Wrestling Federation of India within the next 72 hours on 'sexual harassment' allegations levelled by female wrestlers against the Wrestling Federation of India president and some coaches.
This followed a meeting between the protesting wrestlers and senior ministry officials. However, the wrestlers said they would continue with their sit-in protest at Jantar Mantar, Delhi, on Friday since they are not satisfied with assurances.
Tokyo Olympics bronze medallist Bajrang Punia said, "there has been no concrete action so far, we have only got assurances. There are five to six female athletes who have proof about sexual harassment". Punia demanded the resignation and arrest of WFI chief Brij Bhushan Sharan Singh.
India's leading women wrestlers Vinesh Phogat and Sakshi Malik have already levelled allegations about BJP MP and WFI chief Brij Bhushan Sharan Singh "sexually exploiting" several women grapplers at national camps for years.
These allegations have rocked Indian sports and have brought a bad name for sports administrators. Vinesh Phogat has won the World Championship title twice and has won gold at Commonwealth Games thrice. She alleged that Singh gave her death threats through some influential WFI office-bearers. The protest began on Wednesday when Vinesh Phogat along with Olympics bronze medal winner Sakshi Malik and Tokyo Olympics medalist Bajrang Punia sat on dharna at Jantar Mantar, and continued their sit-in on Thursday.
Think about the biting cold weather in which our famous wrestlers had to sit under open sky to protest against sexual harassment of women grapplers. The allegations are indeed astounding. It is a matter of serious concern for all sports lovers in India.
Bajrang Punia has alleged that an atmosphere of dictatorship is going on inside WFI, selection rules are being framed arbitrarily, and wrestlers who have won medals for India are not being given coaches. Sakshi Malik alleged that WFI coaching camps are deliberately held in Lucknow because the WFI chief Brij Bhushan Sharan Singh is the Lok Sabha MP from Kaiserganj near Lucknow. She alleged that female wrestlers were forced to meet Singh, and those who opposed were given death threats.
Normally players do not get themselves involved in politics, nor do they sit on dharna, but the sight of gold and bronze medal winning wrestlers sitting in protest was a sorry spectacle.
WFI chief Brij Bhushan Sharan Singh, who rushed from Barabanki to Delhi on Wednesday, said that he was innocent and he was ready to face death punishment if the sexual exploitation charges are proved. He sent WFI secretary Vinod Tomar to speak to the wrestlers, but the latter refused to talk to him.
Singh alleged that a top industrialist was behind this protest by wrestlers in Delhi. He said, the wrestlers have not yet come forward with any concrete proof to substantiate their allegations. Singh refused to resign and said he was ready to face a CBI probe into all allegations.
It is a shame that the president of a federation has to face sexual exploitation allegations from his players, particularly from those who brought glory to India from the wrestling ring.
Remember, it was because of these wrestlers that India won 12 medals in wrestling at the 2022 Commonwealth Games. It was because of these wrestlers that India won two medals at 2020 Tokyo Olympics. One of these medals was won by Bajrang Punia. Because of these players, India has won seven medals in Olympic history till now. If such renowned wrestlers have to sit on dharna, there can be nothing more shameful.