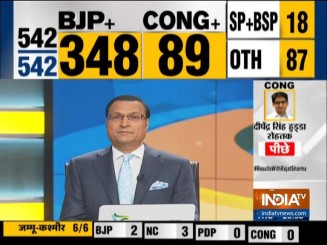 India on Thursday gave a resounding mandate to Prime Minister Narendra Modi and his Bharatiya Janata Party for another second term in power, cutting across deep fault lines of caste, religion, family loyalties and class drawn over several decades. The BJP won 303 LS seats and the BJP-led National Democratic Alliance won 352 seats in the Lok Sabha.
The main opposition party Congress faced a humiliating defeat and it could barely manage to hike up its 2014 tally of 44 to 52 seats this time. Congress President Rahul Gandhi was defeated by Union Minister Smriti Irani in his family borough of Amethi in Uttar Pradesh. His win from Wayanad in Kerala was the only saving grace.
The Samajwadi Party and Bahujan Samaj Party who forged an alliance in UP were defeated, while the Rashtriya Janata Dal-led 'Maha Gathbandhan' was crushed by BJP-JD(U)-LJP alliance in Bihar.
It was indeed a historic day in India's post-Independence history. Prime Minister Narendra Modi naturally deserves congratulations for this hard-earned victory, but I want to congratulate and thank the people of India for this landslide win. The Indian voters showed they were mature enough in electing a strong and stable government led by a decisive leader. In the process, they have strengthened India's democracy and have paved the way for India's likely emergence as a world superpower.
I salute the people of India for rejecting the crass politics of caste and religion, for openly showing unhappiness over dynastic politics that has been perpetuated over the decades since independence. The people voted as one and kept the interests of India in their mind.
I congratulate Modi for his boundless energy, his utmost dedication, his clean image and his sincerity in winning the hearts of the common people. It was he who guided the voters to keep nationalism above dynasty, caste and religion based politics.
Normally, members of Parliament elect their leader as Prime Minister, but it was in reverse order this time. It was the PM who single handedly got his candidates elected as MPs. The message is clear: the people of India voted Modi to power for his government's performance over the last five years. For the first time in post-Independence history, a non-Congress government has been re-elected for another term at the Centre. After Jawaharlal Nehru and Indira Gandhi, Modi became the third leader to win a successive mandate. To be brief: the victory this time was purely Modi's.
On Thursday, Modi was at his best when he showed humility while accepting the accolades of thousands of his party workers at the party office. The people of India trust Modi for delivering on his promises. In an earlier episode of my show 'Aap Ki Adalat' several years ago, Modi had said that the Indian government should stop writing 'love letters' to Pakistan. He put his own advice into action, when he ordered a surgical strike after Uri terror attack, and then directed an air strike deep inside Pakistan to punish the perpetrators of crime in Kashmir's Pulwama.
The people of India wholeheartedly praised Modi's actions against Pakistan. This was the new face of a changing India. The people supported his "ghar mein ghus ke marengey" (we will strike inside their home) assertions with full throated vigour. They gave him more than 300 LS seats, so that he can head a strong government that can give a stern message to the wrongdoers.
The debacle of India's Grand Old Party was all the more saddening. The Congress lost because of its president Rahul Gandhi's exceeding overconfidence, his use of slur words like "Chowkidar Chor Hai' against the Prime Minister, his baseless allegations of "Modi put Rs 30,000 crores in Anil Ambani's pockets" at almost all his rallies, his threat of throwing Modi behind bars if Congress came to power, his dragging of names of Modi's parents in the heat of poll campaign. The common voter disliked this and then decided to give the party and its leader a tight slap. Rahul was defeated in his family borough of Amethi. The last defeat of his family in Amethi was in 1977, when Sanjay Gandhi was defeated after Emergency.
Several senior Congress leaders I had spoken to, had told me that the common voters were not taking Rahul's words on unemployment, farm distress and Rs 72,000 per annum NYAY promise, at face value. His rantings on Rafale deal did not cut any ice among the electorate.
The result: Had the Congress not won 18 LS seats from Kerala, the party's overall tally in Parliament would have gone much below 44 that it had won five years ago. Rahul has faced a major political defeat. I believe that he could have avoided delaying the entry of his sister Priyanka Vadra into politics. He practically wasted the campaigning power and stamina of his sister in this election.
The surprising results from Bihar and Uttar Pradesh signify the emergence of a new brand of politics in these two caste conscious states.
On Wednesday, a day before counting, I had a word with all our camera persons and reporters, who traversed the length and breadth of UP and Bihar to bring election news to your homes on television. Most of them told me that the Modi government along with Yogi's and Nitish Kumar's state governments, ensured that the fruits of welfare schemes reached the homes of poor and lower income groups. These poor voters benefited immensely from direct benefit transfer, and they cut across caste and religion to vote for Modi.
You may have noticed during the campaign that SP supremo Akhilesh Yadav and RJD leader Tejashwi Yadav used to say that Modi's speeches begin with toilets and end with toilets. They were poking fun at Modi on the issue of Swachh Bharat. On the other hand, Modi used to describe in his speeches how his government had saved women from the indignity of being forced to defecate in the open, by building toilets in villages. This touched an emotional chord in the hearts of women in these two Hindi heartland states.
Similarly, millions of small traders benefited from Mudra loan yojana, poor women in villages got LPG cylinders in their kitches under Ujjwala yojana, and low income families got houses under Pradhan Mantra Awas Yojana. Clearly Modi had succeded in providing welfare benefits to the poorest of the poor, and the voters cut across caste and religion lines to vote for him. They refused to kowtow to decades old so-called "vote banks" based on caste, clan, dynastic and religious loyalties. They were now voting for performance at the ground level.
In West Bengal, the common voters gave a warning signal to Trinamool Congress chief Mamata Banerjee by electing 18 BJP MPs, and limiting the TMC to 22 seats. How did this miracle happen? Eight years ago, Mamata's party had wrested power from the Left Front after years of struggle
, but in the process, her party adopted the same formula used by the Left, that led to its downfall. BJP workers this time fought political battles against Mamata over issues of appeasement of minorities and restrictions on Durga idol immersion. Several of their party workers laid their lives because of political violence, while the silent majority in Bengal kept watching. The common voters did not come out on the streets to shout slogans. They decided to quietly walk into the polling booths and cast their votes for BJP. Mamata Banerjee has now alleged tampering of electronic voting machines, but none in Bengal is going to buy her theory.
In Punjab, the ruling Congress party managed to win only eight out of total 13 seats. The party could have won more seats, but chief minister Capt. Amarinder Singh blamed this on his minister Navjot Singh Sidhu for allowing himself to be hugged by Pakistan Army Chief General Bajwa. This sent a wrong message to the common voters in Punjab, who decided to teach the Congress a lesson.
To sum up, the voters of India have sent all those leaders packing who had been seeking votes in the name of caste, clan and religion. It is clear that the electorate will now elect its representatives only on the basis of performance and positive thinking. Modi built toilets, and women voted for him. Modi built houses, and the poor voted for him. Modi gave expensive medical treatment facility up to Rs 5 lakh to poor people, and the downtrodden voted for him. If a political party gets votes for providing LPG cylinders and electricity to the poor, there is nothing wrong in it. Modi told the middle class that he was using their money from the taxes they were paying to help the poor, and the middle class trusted him.
Had the Opposition understood Modi's line of thought, it could have had a chance to give him a sensible fight. The opposition chose the traditional method of 'vote banks', 'vote mathematics' and 'family loyalties', and this was a major blunder. The opposition failed to understand Modi, but the common voter understood Modi, and saluted him by extending his wholehearted support.