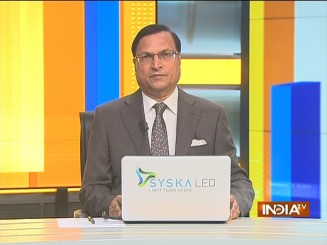 Top leaders of 26 opposition parties, in their meeting in Bengaluru on Tuesday, decided to form an alliance named Indian National Developmental Inclusive Alliance, with the acronym INDIA, to take on Prime Minister Narendra Modi-led National Democratic Alliance (NDA) in the run-up to Lok Sabha elections next year. The name was accepted after much deliberations on the second day of the conclave. In Delhi, the National Democratic Alliance consisting of 38 parties met on Tuesday to chalk out its future plans. On Monday evening, the opposition leaders met informally at a dinner. This was followed by a closed door meeting on Tuesday which continued for nearly four hours. A coordination committee will be set up, and it has been decided to hold the next opposition meeting in Maharashtra, Congress president Mallikarjun Kharge announced. The opposition meeting was attended by Congress leaders Sonia Gandhi, Rahul Gandhi, Kharge, Tamil Nadu CM M K Stalin, Bihar CM Nitish Kumar, Delhi CM Arvind Kejriwal, Jharkhand CM Hemant Soren, West Bengal CM Mamata Banerjee and RJD supremo Lalu Prasad, NCP supremo Sharad Pawar, former CM Uddhav Thackeray and leaders of other parties. After the meeting, Kharge said, all the opposition parties have decided to come together "to save the country" because of alleged misuse of CBI, ED and other agencies. One thing to note is that, while the opposition alliance has regional leaders like Mamata Banerjee, M K Stalin and Arvind Kejriwal who run the states where their parties are in power, most of the other leaders attending the Bengaluru meet have lost their political support base. For example, Shiv Sena (UT) chief Uddhav Thackeray is in the alliance, but most of his party MLAs led by Eknath Shinde are now part of NDA. Sharad Pawar attended the Bengaluru meeting, but a large section of his party led by his nephew Ajit Pawar and Praful Patel is now in the NDA. Nitish Kumar, who was the original initiator of the campaign for opposition unity, has his political base slipping. Nobody knows which leader in his party Janata Dal (U) may leave. Several small parties from Bihar have left his Mahagathbandhan and have joined NDA. Similarly, from UP, leaders who had dreamed of making Akhilesh Yadav the chief minister, are now in the BJP camp. Overall, BJP's strategy is to accommodate as many local parties with mass base from UP and Bihar in the NDA. This experiment proved successful in 2014 Lok Sabha elections. Though one may not find big political leaders in the 38-party NDA, there are leaders who have their own support bases. If one adds the LS seats from UP and Bihar, it comes to 120, and small parties command 8 to 9 per cent votes. These parties can change the final result in close fights.
KISSA PAWAR PARTY KA
There were fast-paced developments in Mumbai on Sunday and Monday, when breakway NCP legislators led by Ajit Pawar met NCP supremo Sharad Pawar, and implored him to join NDA camp, but the patriarch was unwilling. The initial reason cited was, the legislators wanted to meet Sharad Pawar, whose wife Pratibha underwent hand surgery in Breach Candy Hospital. Soon after, the real reason for meeting the patriarch was revealed. Sharad Pawar went to Y B Chavan Centre on Monday where he met his old associates Praful Patel, Ajit Pawar, Sunil Tatkare, Chhagan Bhujbal, along with 37 MLAs and 6 MLCs. Nephew Ajit Pawar has met his uncle thrice in the last three days. Naturally, these meetings will be analysed minutely. Sharad Pawar camp may be saying that since the patriarch's political dominance spans almost the whole of Maharashtra, both Ajit Pawar and Praful Patel met him to offer apology. On the other hand, those from Ajit Pawar camp may say that both Praful and Ajit had said from Day One, that for them, Sharadrao is God, and that they had gone to Saheb to help keep unity in the party. The ground reality is different: Sharadrao and Ajit Dada may have political differences, but they do not have any personal differences. In the past too, Ajit Pawar distanced himself from his uncle, but in both situations, he returned home. But this time, Ajitdada, while leaving, has taken almost the entire party with him. It is for Sharad Pawar to decide whether to allow his nephew to return. For Sharad Pawar, this will mean, joining hands with Modi. According to insider information, Ajit Pawar made on offer to his uncle on Monday. The offer was: his uncle may continue as NCP president and lead the party, Supriya Sule may continue as executive president and join NDA, and she may also join the Modi government as minister. This will ensure a secured future for her and Pawar Saheb will not have to visit each and every village at the age of 82 to garner votes. The ball is now in Sharad Pawar's court: whether to take up the offer or leave it.