Why Modi Mentioned Israel's Operation Entebbe
July 05, 2017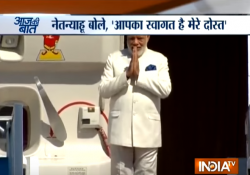 "Today is July 4, exactly 41 years since Operation Entebbe. The day when your Prime Minister, and my friend, Bibi, lost his older brother Yoni, while saving the lives of so many Israeli hostages. Your heroes are an inspiration for the younger generations."
PM Modi made a special reference to Operation Entebbe in his arrival speech in Tel Aviv, Israel. The Raid of Entebbe is considered a landmark rescue operation in the history of counter-terrorism. 41 years back, on 27th June 1976, a flight from Tel Aviv to Paris was hijacked by members of Popular Front for the Liberation of Palestine and German Revolutionary Cells. More than 100 Israeli passengers were captured by the militants in the hijack.
The hijackers diverted the plane to Entebbe in Uganda, where it was welcomed by the Ugandan dictator Idi Amin. The defence forces of Israel with the help of Israeli intelligence agency Mossad, executed a meticulous operation to rescue its citizens.
On 4th July 1976, a team of 100 Israeli commandos landed 5000 kilometres away to launch the raid. Within a time span of 90 minutes, the plane passengers were rescued. The operation witnessed one casualty, that of, Benjamin Netanyahu's elder brother, Yonatan Netanyahu .
Prime Minister Modi mentioned this operation in his speech because India wants cooperation with Israel to fight terrorism. The manner in which the entire Israeli political leadership welcomed our Prime Minister was historic. You will be surprised to know that Israel was formed in 1948, but India had no diplomatic relations with the Jewish state for 44 years. It was in 1992 that the first diplomatic relation was established. No Indian PM visited Israel for the last 70 years. It now seems as if Israel was waiting for the Indian Prime Minister to visit their country all these years.
Click Here for the Video
Days of Terror in Kashmir Valley are Numbered
July 04, 2017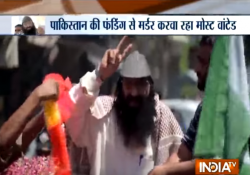 The recent interview given by US-designated global terrorist and United Jehad Council chief Syed Salahuddin to a Pakistani TV journalist is explosive. For the first time, he has admitted on camera that Pakistan is funding, training and providing weapons to so-called Kashmiri terrorists. He spewed venom against India saying his Hizbul men can wreak havoc anywhere in India. Behind this veil of sheer bravado, lurks his fear of his outfit being stamped out by the security forces in Kashmir. Army and security forces in the Valley have been given a free hand: to eliminate all terrorists. Targeted operations are taking place. In the last 42 days, 75 terrorists have been killed. Almost all top commanders of Lashkar-e-Toiba and Hizbul Mujahideen have been eliminated. On top of it, the US, to whom Pakistan looks up for support, has declared Salahuddin, a global terrorist. There is panic in the terrorist camp. More such 'interviews' may come forth, more venom may get spewed against India. However, the writing on the wall is clear: the days of terror in Kashmir valley are numbered.
Credit Goes to FM Arun Jaitley for GST's Timely Implementation
July 01, 2017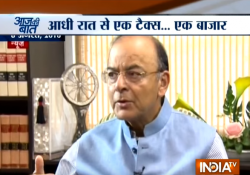 Goods and Services Tax has been rolled out in the country.  I have christened this revolutionary tax reform as "Doosri Azadi" or India's Second Independence as the GST law will transform India's economic landscape.
US President Donald Trump, in fact, is so impressed with India's GST move that he is considering implementing the same in his country. However, India is leading the way today with the implementation of the new indirect tax regime.
Just like any revolutionary reform, the execution of GST law is not bereft of struggles. There might be initial hiccups, common man and traders might face a few challenges. Many are already criticising the GST legislation. To ward off their apprehensions, PM Modi has decided to address various groups and answer all their queries.
Very few had expected that Modi government would be able to conform to the GST deadline of 1st July. The country has witnessed similar empty promises by many Government regimes before. Huge credit goes to Finance Minister Arun Jaitley for GST's timely implementation. The GST Council comprised members of different parties and ideologies. But Jaitley accomplished this nearly impossible task of achieving consensus on GST legislation.
Click Here for the Video