Killers caught manipulating law in Bihar, should act as a warning to all
June 13, 2017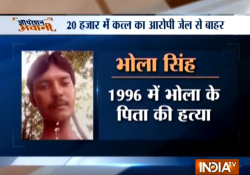 The sordid state of affairs in Bihar exposed by Operation Bhavani, showed killers walking out of jails, posing as juvenile delinquents, with the help of fake school certificates. This is indeed unnerving. INDIA TV's team of reporters met families of victims, painstakingly compiled details of killers who came out of jails to again commit murders, obtained audio recordings of stings carried out on a principal, and found to their dismay, that in more than 150 cases of heinous offences, killers procured fake age certificates from a rogue principal by paying fixed bribes. This exposé should act as an eye-opener and should serve as a warning to the legal system, where the police and courts are being conned.  This should be taken up as a big challenge by lawmakers. A senior police officer from Bihar had once told me that one could easily prove in courts that a snake was indeed a rope, and vice-versa. It seems that his words have come true.
Click Here to Watch the Video
MP CM Sitting on Fast is a Brave Gesture
June 10, 2017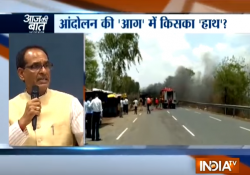 Madhya Pradesh chief minister Shivraj Singh Chouhan has taken a brave decision to sit on fast at Dussehra ground in Bhopal to meet the representatives of farmers. In one stroke, he will be trying to achieve two objectives: one, to wean away farmer leaders from falling into the trap of violence, and two, he will now be interacting with farmer leaders directly. It has now been conclusively proved that local Congress leaders took a major part in instigating mobs to carry out stoning, arson and loot, in the guise of farmers. There are videos that clearly show local Congress leaders including a woman MLA, asking mobs to set fire to a police station. Congress leaders Rahul Gandhi and Digvijaya Singh were prevented from visiting violent-hit areas by police on
It has now been conclusively proved that local Congress leaders took a major part in instigating mobs to carry out stoning, arson and loot, in the guise of farmers. There are videos that clearly show local Congress leaders including a woman MLA, asking mobs to set fire to a police station. Congress leaders Rahul Gandhi and Digvijaya Singh were prevented from visiting violent-hit areas by police on Thursday because there was a possibility of the situation turning for the worse. Digvijaya Singh may claim that he had gone there to appeal for peace, but it does not match with the actions of local Congress leaders.
Rahul should have appealed to protesters to maintain peace
June 09, 2017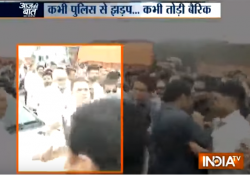 On Thursday, Congress leader Rahul Gandhi spent almost the entire day playing hide-and-seek with police on the Rajasthan-MP border. Rahul has the democratic right to register his protest over police firing in which five farmers were killed. He also has the right to meet the families of those killed. But I feel, it would have been better if Rahul Gandhi had issued an appeal to farmers to maintain peace and shun violence. But what did he do? He rode a motorbike with the local MLA, who a day earlier had tried to instigate farmers in Mandsaur. This fuelled doubts that the Congress leader was trying to reap political advantage. Police too had to intervene. Now supporting anti-social elements who stoned a bus full of passengers in Devas, with women and children ducking under their seats and crying for relief, is out of the question. Police must take stringent action against such anti-social elements.
Coming to Maharashtra, nearly Rs. 740 crore worth fruits, vegetables and milk were thrown on the roads. This turned out to be sheer wastage and as a result, thousands of farmers and vendors had to suffer losses. Farmers, under these circumstances, are worried about vegetables, fruits and flowers rotting in their fields, and if the agitation is not called off soon, they will have to bear the full brunt of losses. The leaders representing these farmers should understand this. They have the right to agitate, boycott programmes of state ministers to keep up the pressure on the government, but they should at least allow farmers to send their fruits and vegetables to markets so that they can feed their families.
Click here for the video.
The Story Of Danish Ahmed, A Militant Who Returned To Mainstream
June 08, 2017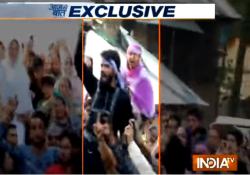 On Wednesday, a Hizbul Mujahideen terrorist Danish Ahmed surrendered to police and Rashtriya Rifles in Handwara, Kashmir and expressed his desire to return to the mainstream. Only a few days ago, he was seen holding a grenade and shouting slogans at the funeral of Sabzar Bhat, the Hizbul commander, killed in an encounter with security forces. Danish was a third-year student of an agriculture science and technology college in Dehradun. He was attracted towards militancy after coming into contact with terrorists through social media. He left studies, started throwing stones at police, was let off after warning, and he then took up the gun. At the time of his surrender, Danish revealed how terrorists in South Kashmir were mainly indulging in extortion and loot, and money was flowing freely into the Valley from Pakistan for militancy. He said, he has realised the futility of joining militant ranks. He will now be given all assistance from the state under the Surrendered Militants Rehabilitation Policy.
The Director General of Police, Jammu and Kashmir has promised that surrendered militants will not be troubled any more by police. The state police is taking the help of parents in bringing militants back to the mainstream. Several of these militants have now realised that returning to the mainstream will be beneficial both for them and the people of Kashmir, who want an early return to normalcy.
Click here to watch the video
Farmer leaders should talk, shun violence
June 07, 2017
Whenever farmers come out to protest on the streets, it becomes an emotional issue. People of India revere farmers as "annadata"(providers of food). They know that farmers toil from morning till night, raise crops and feed themselves and the nation. That is the reason why no government, of whichever political persuasion, ever thinks of collecting income tax from agriculture.
In Madhya Pradesh, the state government has gone to the extent of giving an interest-free loan. If a farmer takes Rs 100 worth loan, he has to repay only Rs 90. But the problems with farmers is not the loan. They want remunerative prices for their produce. The irony is that if there is a bumper harvest, prices of produce fall. There arises the need to hike support prices. But farmer leaders must understand: violence is not the way out, they should find out solutions through talks.
Comparing Gen Rawat with Gen Dyer is shameful
June 06, 2017
On a media website, a historian has published an article comparing Indian Army chief Gen Bipin Rawat with the infamous Brig Gen Reginald Dyer of British Raj, known as the Butcher of Amritsar, the man whose troops fired 1,650 rounds on an unarmed crowd of some 20,000 people gathered in Jallianwala Bagh.
Such writers forget that Brig Gen Dyer had ordered troops to fire on those people who were shouting 'Bharat Mata Ki Jai'. These brave people were our freedom fighters, those who gave away their today for a better tomorrow for us and our future generations.
On the other hand, the jawans of Indian army fire on those who kill and maim innocent Indians, who behead our soldiers, who use children as human shields to attack our troops.
There must be no mercy for such brutal terrorists, because they do not have a shred of sensibility left in their hearts. To speak about the "human rights" of such attackers is meaningless. Those who compare Gen Rawat with Brig Gen Dyer must feel ashamed.
The basic difference between Modi and Trump
June 03, 2017
On Thursday, when US President Donald Trump announced his decision to exit the Paris climate change accord and ranted against India and China, Prime Minister Narendra Modi was asked a question at the St. Petersburg International Economic Forum, whether he supported or opposed Trump's action. Modi gave a classic reply.
He said, he would rather take the side of the future generation. Modi quoted a verse from the Vedas to say that 'exploiting nature was a crime, but milking of nature was a right of mankind'.
Trump is trying hard to prove that he is fighting for the interests of Americans, and has exited the Paris accord to provide more jobs to his countrymen. He even warned that 2.7 million Americans may lose their jobs by 2020, and he would not allow this to happen.
But Modi took a wider view, and said he was more interested about the future generation. This shows the basic difference in the thought processes of Modi and Trump.
Moreover, on Friday, Modi was at his best while selling the dream of a new India to investors and global businessmen who had gathered in St. Petersburg. His sales pitch was really commendable, and India should hope more foreign investments would flow in.
Aggressive approach in Kashmir is yielding results
June 02, 2017
Our armed forces have been successful in eliminating a large number of terrorists and infiltrators in Kashmir in the last two weeks. Three years ago, when Prime Minister Narendra Modi came to power, he had offered the olive branch to our neighbour Pakistan. He invited Pakistan Prime Minister Nawaz Sharif to his oathtaking ceeremony. Later he broke protocol to visit Lahore, but in return, Pakistani terrorists wreaked havoc in Pathankot and Uri, and beheaded two of our army jawans The Centre has now given a free hand to our armed forces to take action against terrorists inside the Valley and also across the Line of Control. In the last two weeks, our forces have identified and eliminated a large number of terrorists, and destroyed terrorist camps across the LoC. Though the army has not shared operational details with the media fully, I have definite information that in cross-LoC action, a large number of Pakistani terrorists and soldiers have been killed. This aggressive approach is meant to teach terrorists a lesson, and it is yielding results.
Yogi has changed a lot since becoming CM
June 01, 2017
On Wednesday, UP chief minister Yogi Adityanath visited Ayodhya, paid obeisance to Lord Ram at the disputed site, and then promised the people of Ayodhya that his government would facilitate all efforts towards a peaceful resolution of the dispute. He told those assembled that he knew what they were expecting to hear from him, and since the Supreme Court had suggested a dialogue between both the parties, his government would facilitate any such initiative. Those in the opposition were waiting to pounce, had Yogi uttered any inflammatory remark about building a Ram temple. Yogi made his point, but in a subtle manner, and in consonance with the dignity of his Constitutional post. A day before, I was in Lucknow and Yogi was the guest in my show Aap Ki Adalat, where I asked him many questions. I noticed that Yogi has changed a lot since becoming chief minister. The man who had once said, he would prefer to have a rosary (mala) in one hand, and a spear (bhaala) in the other hand, has now changed his stance to 'mala' to pray for the welfare of all, and 'bhaala' to protect every citizen. I asked Yogi about the law and order situation in the state, and the promises that he had made to the people. I also asked about hooliganism by some small-time leaders of Bajrang Dal and Hindu Yuva Vahini. Yogi did not hestiate from replying to all these questions. He revealed many details about his personal life. The Aap Ki Adalat show with Yogi Adityanath will be telecast on India TV on Saturday at 10 pm.