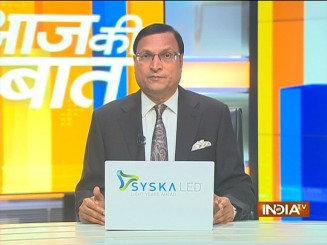 There was furore in Maharashtra assembly on Wednesday, when Samajwadi Party state chief Abu Azmi alleged that Muslims are being forced to recite 'Vande Mataram', the national song penned by Bankim Chandra Chatterjee during freedom movement. Speaking in the assembly, Azmi, while raising the issue of riots in Aurangabad (now Sambhajinagar), said, Islam does not allow any Muslim to sing 'Vande Mataram'. He said, "Islam teaches us to bow only before Allah, who created this world. We do not bow our heads even before our mother. If I cannot recite Vande Mataram, it does not reduce my respect for my nation or my patriotism, and no one should have any objection to this." This led to pandemonium and the Speaker Rahul Narwekar had to adjourn the House for a brief period. When the House reassembled, Deputy CM Devendra Fadnavis said, "Vande Mataram is not a religious song, it is our national song. By opposing Vande Mataram, Abu Azmi is hurting the sentiments of millions of Indians." On Aurangabad riots, Fadnavis said, police had fired rubber bullets, and the man, who was hit by a rubber bullet, was part of a violent mob. State minister Sudhir Mungantiwar said, Abu Azmi must know that if he has to live in India, he must accept Vande Mataram. AIMIM MLA Mufti Ismail said, "the Constitution gives freedom to every citizen to follow his religion. Islam does not allow Muslims to bow before anybody except Allah. How can any Muslim be forced to recite Vande Mataram?" Congress and NCP leaders refused to comment on this controversy. BJP MLA Nitesh Rane described Abu Azmi as "a poisonous snake" and added, 'such snakes should be crushed'. I think nobody can support Nitesh Rane's language. To describe a political leader as a snake, is not a democratic language, nor does it come within the limits of decency. Nitesh Rane must be careful while making such utterances. As far as Abu Azmi is concerned, his remark about Vande Mataram was deliberate and he wanted the BJP to pick up the issue. About the riots in Aurangabad, I have already shown visuals in my show 'Aaj Ki Baat', how AIMIM MP Imtiaz Jaleel sat inside a temple for three hours and fended off a violent mob from ransacking the temple. Police also showed restraint. The entire nation watched those visuals. To raise the Aurangabad riot issue and then link it with Vande Mataram is unfair. Fadnavis did the right thing in replying to Abu Azmi's charges with facts. Since Azmi raised the Vande Mataram issue, BJP leaders have now started asking leaders of INDIA, the opposition alliance, their stand about the national song. They are asking whether Akhilesh Yadav, Rahul Gandhi, Sharad Pawar, Uddhav Thackeray and Nitish Kumar support Azmi's remarks. Opposition leaders named their alliance as INDIA, but will INDIA stand with those who refuse to recite Vande Mataram?
RIFTS APPEAR IN 'INDIA' ALLIANCE
It seems leaders of opposition parties who resolved to forge an alliance in Bengaluru, are yet to bond completely. In Bengaluru, they were praising one another as 'defenders of democracy', but the moment they reached their respective states, some of them started labelling the other as 'murderers of democracy'. The first case came from West Bengal, where CPI(M) leader Brinda Karat alleged on Wednesday that Mamata Banerjee is " indulging in politics of violence, stifling the voice of common people and murdering democracy". She said, looking at the manner in which panchayat polls were conducted in an atmosphere of terror, it will not be possible for Left Front to work with Trinamool Congress. The second case came from Punjab, where the state Congress chief Amarinder Singh Raja Warring said his party's alliance with Aam Aadmi Party would be at the Centre, but in Punjab, his party will continue to take the AAP chief minister Bhagwant Mann to task. There are clear signs of rift between INDIA alliance partners in West Bengal, Kerala, Delhi and Punjab. If similar rift surfaces in UP, Bihar and Jharkhand, what will happen? How can the alliance partners reach consensus on seat sharing? How many seats will Nitish and Lalu leave for Congress? How many seats will Hemant Soren leave for Nitish and Lalu? Will Akhilesh Yadav agree to leave at least five seats for Congress in UP? Whatever claims opposition leaders may make, when the question of seat sharing will arise, the alliance can work only in states like Odisha, Karnataka, Telangana, Chhattisgarh and Andhra Pradesh, where other non-Congress parties do not have much of a presence. In the remaining states, CPI-M general secretary Sitaram Yechury's words may prove true. He had said, there cannot be seat sharing between the Left and Congress in states like Bengal and Kerala. These parties will field candidates against each other. Already there are differences over who will be projected as the PM candidate. On Wednesday, Trinamool Congress MP Shatabdi Roy said that she would be happy if her leader Mamata Banerjee is made the PM candidate. AAP MP Raghav Chadha said, his dream is to see his leader Arvind Kejriwal as the Prime Minister. There is no doubt that Mamata Banerjee wants to anoint her nephew Abhishek Banerjee as West Bengal chief minister, so that she can become active in national politics. She is working on this strategy, and this cannot be achieved without support from Congress. Arvind Kejriwal, too, has ambitions to become the PM, but he knows that his party AAP has only one MP in Lok Sabha. Until and unless, the number of AAP MPs rises to 40, he cannot stake claim. This target cannot be achieved in next year's general elections. Hence, he would prefer to wait. He will try to expand his party's strength by joining the opposition alliance.
WHY NITISH, LALU, TEJASHWI LEFT BENGALURU EARLY?
Bihar chief minister Nitish Kumar considers himself a serious contender for PM post. He wants to be active in Delhi politics. He has expressed his wish in no uncertain terms several times in the recent past. His pact with Lalu Prasad in Bihar was on condition that Lalu's son Tejashwi will be made the CM and Nitish will enter national politics. Nitish started working to bring all opposition parties together almost 11 months ago. He had expected the alliance to name him as convenor after the Bengaluru meeting, but Congress did not allow this to happen. A miffed Nitish Kumar left for Patna without attending the press conference. Nitish Kumar remained silent for 24 hours and then said in Bihar, 'all issues were discussed at the Bengaluru meeting. My opinion was heard carefully. Since most of the issues were decided at the meeting, I opted to leave early for Patna instead of attending the press conference.' At his public meeting in Rajgir, Nitish Kumar said, he wanted to attend the first day of 'Mal Maas Mela' on Tuesday itself, and therefore, decided to return from Bengaluru early, but this was unnecessarily made an issue. 'Faltu ki baaten phailayi gayi' (unnecessary speculations were made), he said. Nitish Kumar is giving clarifications now. This could be his compulsion, but I don't find any logic. When he left from Bengaluru on Tuesday, Congress president Mallikarjun Kharge said, some leaders had to leave early because of their flight timings. The ground reality was: Nitish, Tejashwi and Lalu Prasad had gone to Bengaluru in a chartered plane. The plane was due to take off after two hours. They were not missing their flight. Now, Nitish Kumar is clarifying that he wanted to attended the Rajgir programme and therefore left Bengaluru early. The fact is: Nitish Kumar's programme in Rajgir was scheduled two weeks ago for Wednesday. He was to inaugurate the Mal Maas Mela on Wednesday, and Bihar government had published ads in newspapers. Tejashwi Yadav was also supposed to attend, because it was organised by RJD minister Alok Mehta who looks after the Revenue department. But neither Tejashwi Yadav, nor Alok Mehta attended the inaugural function. Nitish Kumar reached the function at 2 pm on Wednesday. It will, therefore, be incorrect to say that Nitish left Bengaluru in a hurry in order to reach Rajgir. One new fact has also emerged. Both Lalu Prasad and his son Tejashwi wanted to attend the opposition press conference in Bengaluru, but because of Nitish Kumar's stubborn stance, they had to leave. Both Lalu and Tejashwi are now unhappy with Nitish Kumar. This was the reason why Tejashwi did not attend the Rajgir fair. No matter how much Nitish may try to hide, he cannot alter facts.