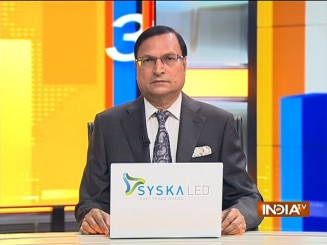 I am surprised why Congress has opposed the award of Gandhi Peace Prize to Gita Press, Gorakhpur. Congress leader Jairam Ramesh has probably forgotten that it was Prime Minister P V Narasimha Rao's government, which had honoured Gita Press on Mahatma Gandhi's 125th birth anniversary. It was Rao's government which issued a postage stamp in 1992 to honour Hanuman Prasad Poddar on his centenary. Poddar was the founding editor of 'Kalyan' magazine published by Gita Press. During Narasimha Rao's regime, Jairam Ramesh was made Deputy Chairman of Planning Commission. Why wasn't his conscience got pricked at that time? Gita Press has been doing yeoman's service since the last 100 years by publishing Bhagwat Gita, Ramcharitmanas and Ramayana at affordable prices for the common people. Mahatma Gandhi used to write articles for 'Kalyan' magazine. For Jairam Ramesh to say that Gita Press "had stormy relations with the Mahatma" and that "the decision is really a travesty and is like awarding Savarkar and Godse" is really strange. Gita Press neither seeks donations nor advertisements. This is an institution where work begins every morning with prayers. How can anybody oppose this institution? Those staff who put covers on religious books printed in Gita Press, take off their shoes before doing so, and the paper used for printing religious books is never kept on the floor. If those who work with such devotion are not awarded, then whom should we honour? Gita Press has been working for popularizing Sanatan culture the world over. It should have been honoured long ago. Gita Press has said it will accept the Gandhi Peace Prize commendation certificate, but will not take Rs 1 crore prize money. Why did Jairam Ramesh criticize such an august institution? I would rather thank Jairam Ramesh. Had he not opposed this, there would have been no controversy, and we would not have got the chance to tell people in detail about the contribution and devotion of Gita Press owners and its staff in Gorakhpur.
'ADIPURUSH' : WHY CINEGOERS FELT OFFENDED
With Hindu outfits staging protests outside cinema theatres screening 'Adipurush', there is raging controversy over the manner in which the characters of Lord Ram, Ravana, Sita and Hanuman have been depicted in the movie, along with dialogues which are offensive. The makers of 'Adipurush' argue that they did some 'experiments' in order to kindle interest in the new generation about the story of Ramayana. But I consider these as lame excuses and afterthoughts. After nationwide protests from cinegoers, the procuer, director and screenplay writer of the movie have realize the humungous mistakes that they have committed. They may change some of the offensive dialogues, but there are several such sequences in the movie which hurt the sentiments of the people. Since the movie has been completed, it will not be possible to make changes in sequences. Now the screenplay writer and dialogue writer are blaming each other. The director and writer should have given careful thought before making a movie on such an emotional topic. For millions of Indians, the legend of Rama is not just a story. It is connected with the faith and trust of people. Goswami Tulsi Das became immortal by writing Ramcharit Manas in a simple language understood by people in north India. For hundreds of years, Ram Leela has been enacted in streets and public places, and in most of them the actors are neither good, nor do they have proper costumes or good sound effect. Yet millions of people sit for hours and days and watch with devotion, as the story of Ram unfolds on the dais. When Ramanand Sagar made the TV serial 'Ramayan', people used to take early morning bath, light incense sticks in front of TV sets to watch the life and times of Lord Ram. There are so many Ram Katha exponents from Murari Bapu to Kumar Vishwas, whom lakhs of devotees listen when they explain the different nuances about the life and times of Lord Ram. For millions of devotees, Sita is the Mother, Ram is brave and obedient, and Hanuman is the ultimate devotee. Their stories are known to almost every child living in this ancient land. This is the reason why millions of cine goers got offended and insulted when they watched 'Adipurush' movie on screen. If the director and writer wanted to do 'experiments', they should have taken up some other topic and should not have fiddled with the intrinsic sense of devotion that emanates from Ram Katha. Here, I want to make four points: One, those vandalizing cine theatres as mark of protest cannot be true devotees of Lord Ram, Two, the demand for ban on the movie is unjustified, Three, Ramayana gives everybody the right to express one's view. Four, politicians who use this movie to grind their own axe cannot be true Ram Bhakt (devotee). Everybody in India knows that the main storyline of Ramayana is, Triumph of Good over Evil.
KEDARNATH GOLD : WAIT FOR THE PROBE TO END
The chairman of Shri Badrinath-Kedarnath Temple Committee, Ajendra Ajay, has described allegations being made on social media platforms that the gold plating of the sanctum sanctorum of Kedarnath shrine is actually brass, as "vicious political conspiracy". The short videos show workers pulling out tin cans with 'gold wash' written on the lids. Santosh Trivedi, a priest in Kedarnath shrine, who is also the vice-president of Tirth Purohit Panchayat, has alleged a multi-crore scam in the gold plating of the shrine's inner walls. The temple committee chairman clarified that gold plating was done by a donor from Maharashtra, in which 23.777 kg gold (market rate Rs 14.38 crore) was used with nearly 1,000 kg of copper plates as the base (cost Rs 29 lakhs). , who had asked jewellers to prepare copper plates as a base for plating. He said there was no scam in gold plating and the work was done under supervision of Archaeological Survey of India. Uttarakhand Tourism Minister Satpal Maharaj said, investigation is one to determine how much gold and other metal was used in Kedarnath shrine, and facts will be revealed shortly. Kedarnath shrine is a centre of pilgrimage for millions of Hindu devotees. It is one of the 12 sacred Jyotirlingas. Since the allegations are serious, and since the minister says, investigation is on, people must wait for the outcome of the probe.