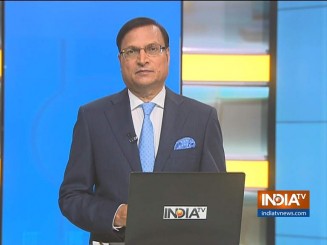 Democratic Progressive Azad Party chief Ghulam Nabi Azad, who spent 50 years of his life in Congress, was my guest this weekend in 'Aap Ki Adalat'. The show will be telecast by India TV on Saturday at 10 pm. In the show, Azad lamented how Rahul Gandhi wasted nine years by following 'Abuse Modi' strategy. Azad cautioned that if Rahul did not change his strategy, he would neither emerge as a tall leader nor will Congress return to power. 'Nobody becomes a leader by abusing', he said, and added, "Rahul Gandhi spent the last nine years only abusing Prime Minister Modi. This has badly hurt the Congress politically." Azad has been a close adviser of former prime ministers Indira Gandhi and Rajiv Gandhi. He worked with Sonia Gandhi for nearly 25 years. In the show, Azad frankly spoke about his connections with Indira, Rajiv and Sonia Gandhi. One of his significant remarks was: 'If Indira ji and Rajiv ji can work 20 hours daily, can't Rahul work for even 24 minutes a day? Indira, Rajiv toiled hard to become prime ministers, but Rahul doesn't want to work for even 24 minutes…At this rate Rahul can never give a fight to Narendra Modi who works 24×7." Azad made several disclosures in the show. "Nobody will benefit if Rahul goes on saying ad nauseum that 'Modi is a chor (thief)", said Azad. When I told Azad that there are other senior leaders in Congress, like Digvijaya Singh, who do not agree with his views, and allege that Azad has become 'Modi's demolition man for Congress', the veteran leader replied sarcastically: "Behind closed doors, even Digvijaya Singh agrees that Rahul is sinking the Congress ship, but he lacks courage in saying this openly." The 'Aap Ki Adalat' show will give viewers a clear image about questions that are hovering in their minds.
MODI'S ADVICE FOR 2024 LS POLLS
At the BJP Foundation Day celebration on Thursday, Prime Minister Narendra Modi gave his 'mantra' to party workers on how to prepare for 2024 Lok Sabha elections. Since it coincided on Hanuman Jayanti, Modi told them that Lord Hanuman's 'can do' attitude should be the source of inspiration for the party. The PM said, Hanuman exterminated demons, and BJP should not show any leniency in taking action against corruption and dynastic politics. Modi said, even though most of the people assume that BJP will win the 2024 LS mandate, party workers must not remain complacent due to over-confidence. 'Our aim must not be to win elections, but to win the hearts of the people', he said. Without naming Congress, Modi said, the British left behind a 'slavery mindset', and post-Independence, some families tried to impose dynasticism. 'The scene changed after 2014 and the era of monarchy is over. Now when they failed to get people's mandate, they have started cursing, 'Modi teri qabr khudegi'', the PM said. Modi has already set the agenda for 2024 polls. He is going to make corruption and dynasticism the main issues and corner opposition parties. Modi knows why opposition leaders are busy abusing him, but their efforts will not bear fruit. He asked BJP workers to visit each home, and take technological help while reaching out to voters through social media. Modi's advice to BJP workers should also be a lesson to learn for the opposition, which is already entangled in pointless issues.
SAD DAY FOR DEMOCRACY
The acrimonious Budget Session of Parliament ended on Thursday with a discordant note, with both Houses unable to function normally even for a single day. Opposition MPs went out on a 'tiranga (tricolour) march' from Parliament to Vijay Chowk. Congress President Mallikarjun Kharge alleged that it was the ruling party which 'killed democracy' by stalling the proceedings. Whatever happened during the budget session is not good for democracy. First, the opposition raised the Adani issue and levelled charges against Modi without concrete evidence. BJP cornered Rahul Gandhi demanding apology for denigrating India on foreign soil. It was clear from Day 1, that both sides were trying to suppress the other and were working on their own agenda. The result: most of the time during the budget session was wasted. Who were the ultimate losers? The people of India. Whose money went waste? People's money. It is true that much of the responsibility in running both the Houses lies with the government, and it could have found out a middle path to reconcile issues, but the government failed. The opposition went to the extreme. Members of 13 opposition parties did not attend the Speaker's customary tea party at the end of the session.