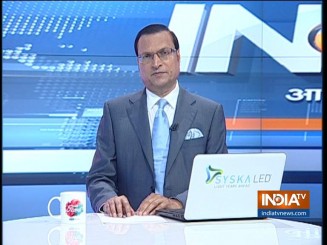 The exit poll projections are out and almost all of them have predicted a clear majority for Prime Minister Narendra Modi-led National Democratic Alliance in the Lok Sabha elections. While BJP leaders have welcomed the projections, Congress leader Priyanka Gandhi has cautioned her party workers not to fall prey to rumours emanating from exit polls and lower their guard at counting centres Trinamool Congress chief Mamata Banerjee said, "I don't trust exit poll gossip. The game plan is to replace or manipulate thousands of EVMs through gossip."
Nationalist Congress Party chief Sharad Pawar said exit poll predictions are 'nautanki' and the truth will be out on May 23. Pawar is an experienced politician, but his comments in the last few weeks have not been commensurate with his political stature. Pawar said that if his daughter Supriya Sule loses from Baramati, then it would mean EVMs have been manipulated. He also remarked that people will come out on the streets if her daughter lost. Surely this was a dangerous remark. Pawar also questioned why the Prime Minister who shoulders the responsibility of the nation spent a whole day meditating in Kedarnath. Pawar made this remark at an iftaar party. He should take note of comments being made on social media that in the earlier regimes, pictures of iftaar party used to be published, but times have changed, and pictures of Char dham yatra are now being shown. An experienced politician like Pawar will surely gauge the changes that are taking place in the minds of public.
Coming to the exit polls: I do not think they are reasons to doubt the veracity of exit poll projections. If you add the sample size of all exit polls, it comes to more than 20 lakh respondents. That brings an average of roughly 3,000 voters expressing their opinion in each LS constituency. This is surely a big sample size, and if all the exit polls predict a majority for Modi, there can be no reason to doubt the projections. Figures may vary, but even if NDA gets 250+ seats, it will be Modi who will be forming the government.
I think, there could be several reasons for this assumption. One, majority of the young voters are connected through social media and internet, and most of them have supported Modi. There is a report in The Hindu daily newspaper, which says that issues like Rafale deal and unemployment did not cut much ice in the minds of young voters. GST, which affected shopkeepers, and was described as Gabbar Singh Tax by Rahul Gandhi, affected only 12 pc of the voters. Rahul Gandhi's much touted NYAY scheme that promised Rs 72,000 annually to below poverty level families, failed to catch the imagination of the voters.
On the other hand, most of the voters, according to this report, felt that Narendra Modi was not corrupt, and corruption was not an issue in this election at all. The most important reason behind support for BJP was that there was no credible opposition candidate for the post of PM to match the stature of Modi. It was simple TINA – There Is No Alternative. Most of the voters rejected dynastic politics completely.
In short, Modi was the only figure that dominated the Lok Sabha elections – for or against. NDA had a clear PM candidate, whereas the Opposition had too many claimants, and this amused most of the voters. If the exit poll projections are correct, it means the opposition has no capability to digest them. India TV reporters told me that at many places, while the common voters were unhappy with their BJP candidates, they were unequivocal in saying that they would vote for Modi.
The opposition kept its hopes alive for Uttar Pradesh, where the SP-BSP alliance was expected to decimate the BJP, but this has not happened. The figure-crunching pundits were questioning how the BJP would make up for the losses that it may face in UP. They were banking on TMC's win in West Bengal. But there has been a sea change in the outlook of Bengal voters and Mamata Banerjee is facing the toughest challenge of her political career. There could be major upsets in favour of the BJP both in West Bengal and Odisha.