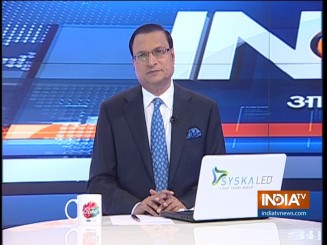 Prime Minister Narendra Modi on Wednesday tore into Congress President Rahul Gandhi's remark for saying that the he had made "a woman" (Nirmala Sitharaman) defend him in Parliament over the Rafale deal. Modi described this as an insult to Indian women. Rahul Gandhi had said at the Jaipur rally, that the 'chowkidaar' with a 56-inch chest ran away from the Rafale debate and told a woman, Nirmala Sitharaman Ji to defend him".
After Modi's remark, Rahul Gandhi had to later tweet in the evening and say "With all due respect Modi Ji, in our culture respect for women begins at home".
After the Congress win in three states, Madhya Pradesh, Rajasthan and Chhattisgarh, Rahul Gandhi is in full cry and he is hitting at PM Modi at his election rallies. In the coming days, the barbs are going to fly thick and thin, from both ends.
Some sections of media had earlier thought that Prime Minister Modi will be on the defensive this time, as he would have to give an account of his five-year rule. Modi has belied this, and he is hitting at the Gandhi-Nehru family over the issue of corruption. In Agra on Wednesday, the PM said that all the thieves (chor) have joined hands to oust the 'chowkidaar', but he would never show leniency on the issue of corruption.
Modi has become aggressive at his rallies and he referred to what he called 'Michel Mama (uncle)' , the middleman arrested in connection with Agusta Westland helicopter deal. He said, 'Michel Mama' has revealed many things during questioning and has implicated Gandhi-Nehru family in other deals too.
The Congress will have to be ready with answers now that the PM himself is levelling charges at the Gandhi-Nehru family. The election campaigns in the coming weeks are going to be quite interesting.
Click Here to Watch Full Video | Get connected on Twitter, Instagram & Facebook