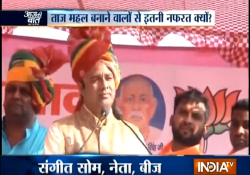 The irrepressible BJP MLA Sangeet Som has again stirred a hornets' nest by making controversial remarks about Taj Mahal. Som has said, "Those who are feeling pain over the omission of Taj Mahal in the UP government booklet on tourist places, should know what the Mughal history is all about". Som went to the extent of saying that Taj Mahal was built by a Mughal emperor who imprisoned his father and tormented Hindus in UP and in the whole of India. Som promised to remove the names of "Mughal invaders" Babur, Akbar and Aurangzeb from history books.Whatever Sangeet Som may say, his remarks on the world heritage site Taj Mahal is unacceptable. Taj Mahal is, in fact, the Taj (crown) of India. The Taj Mahal is regarded as the most beautiful monument of love across the world. Every year, millions of tourists visit India to see the Taj Mahal.
On one hand, Prime Minister Narendra Modi and UP chief minister Yogi Adityanath are constantly working on the "development", and on the other hand, individuals like Sangeet Som, Sadhvi Prachi and Sakshi Maharaj are trying to derail the vehicle of development. They are intentionally raising issues which are bound to cause a gulf between Hindus and Muslims. Even on Monday, Yogi said, not a single communal riot took place in UP during his seven-month-long tenure, because his government believed in "Sabka Saath, Sabka Vikas".
It is now time that Prime Minister Modi and Yogi Adityanath should ask Sangeet Som to stop spewing venom and prevent such small-time leaders from seeking cheap publicity. These individuals, in their greed to grab headlines, are causing harm to the people at large, and are trying to create unrest in society. It is because of individuals like Sangeet Som, that the good work being done by the Centre and UP government fade into the background, creating doubts and apprehensions in the minds of people.
Click Here for the Video