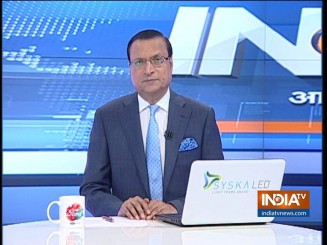 West Bengal chief minister and Trinamool Congress supremo Mamata Banerjee is worried over reports of heavy polling that took place in the fourth round on Monday in her state. In the last several elections, including assembly and panchayat polls, there were incidents of large scale violence and there were allegations about TMC workers trying to prevent Congress and BJP supporters from voting. There used to be incidents of bomb throwing and stabbing in the recent past.
On Monday too, clashes took place in some pockets, but voters at large were unafraid because of heavy presence of central paramilitary forces outside polling stations. The TMC supremo is naturally worried and she has alleged that, in one incident, security forces forced people to vote in favour of BJP. Her allegation is yet to be verified.
The second point to note is that there has been heavy polling in those constituencies on Monday, where BJP has fielded strong candidates. This has caused more worry for the TMC supremo.
Mamata Banerjee is also wary about Prime Minister Narendra Modi, who told a rally in West Bengal on Monday that at least 40 TMC MLAs are in touch with BJP and they may cross over if her party suffers electoral defeat on counting day (May 23). Mamata has asked her party leaders to lodge a complaint with the Election Commission blaming the PM for "encouraging horse trading".
Naturally Modi's remark has let the cat among the pigeons in the TMC camp, and the party leaders are now busy giving clarifications.
In one of his recent interviews, the PM had revealed how Mamata Banerjee used to send her kurtas and rosogollas. A furious TMC supremo publicly said in her rally that she would now be sending soil and stones in the shape of rosogollas to the PM.
Modi knows how to turn abuses and threats made by rivals into weapons. He promptly told his rally in West Bengal on Monday that he would love to have rosgollas made of Bengal's sacred soil on which titans like Netaji Subhash Chandra Bose, Rabindranath Tagore and Dr. Shyama Prasad Mookerjee walked. Mamata Banerjee had no answer to this quip. Such are the hassles of reacting to remarks without putting any serious thought.
Click Here to Watch Full Video| Get connected on Twitter, Instagram & Facebook