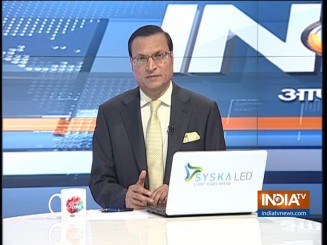 Three developments took place in West Bengal on Tuesday – one, 2 Trinamool MLAs and 56 TMC councillors joined the BJP in Delhi in the presence of central leaders, two, Chief Minister Mamata Banerjee sacked two of her ministers and elevated some others, and three, Mamata announced that she would attend Prime Minister Narendra Modi's swearing-in ceremony on Thursday.
This was the very same Mamata, who had angrily said this month during the election campaign that she does not recognize Narendra Modi as Prime Minister. On Tuesday, she said, she had spoken to other chief ministers, and since they were attending, she has also decided to attend the swearing-in ceremony.
The entry of 2 TMC MLAs and 56 councillors in BJP signifies that all is not well inside the ruling party in Bengal. BJP has already expanded its base in rural areas, and the TMC is now mostly confined to urban and semi-urban areas. Municipal body elections are due next year and the TMC is worried. If the BJP makes handsome gains in municipal elections, it will have a cascading effect on state assembly polls due in 2021. Naturally, Mamata is now busy doing damage control.
On Tuesday, she sacked two of her ministers and elevated the portfolios of some other ministers, because she suspects some may cross over to BJP. During 2014 Lok Sabha elections, TMC had won 34 parliamentary seats. Her party was leading in 258 out of a total of 294 assembly segments. BJP had then won only 2 LS seats, and had led in 28 assembly segments. This time, BJP has won 18 parliamentary seats, and was leading in 128 assembly segments. Clearly a gain of 100 assembly segments. That is why, Mamata is now in damage control mode, because the exodus has just begun.
The most satisfying thing is that all the 12 chief ministers of non-BJP ruled states have been invited to the swearing-in ceremony in Delhi. Since the elections are over, abusive rhetoric against Modi are now passe, and the presence of Opposition chief ministers at the oathtaking ceremony will be a good augury for Modi 2.0 government. Constitutional bodies and parliamentary traditions should be held in high esteem. it remains to be seen how many opposition CMs will attend.
Reports of post-poll violence are still coming from West Bengal. Such violent incidents bring West Bengal a bad name. We hope the state police will ensure that such incidents are not repeated.
Click Here to Watch Full Video| Get connected on Twitter, Instagram & Facebook