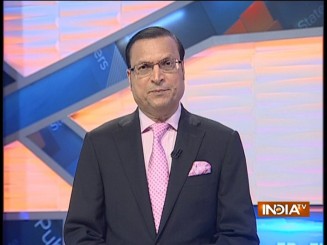 A high-powered committee of saints belonging to Vishwa Hindu Parishad on Friday issued an ultimatum to Centre to enact a legislation to build a Ram temple at the disputed site in Ayodhya by January 31. The saints said they were unwilling to wait any more for the Supreme Court to give its verdict on Ayodhya title suit, and would go ahead with laying the foundation of the temple. The saints decided to hold mass rallies across India next month, and this will be followed by presenting petitions to Governors at state capitals.
The Supreme Court will begin hearing in the Ayodhya case from October 29 onwards, and it is expected that the hearing will take place at a fast pace, and a verdict is expected at the earliest. Secondly, eight years ago, the Allahabad High Court had given its verdict on the dispute site, where the Babri mosque wias built during the Mughal period after demolishing a temple. The High Court had even divided the disputed land among Hindus and Muslims. The present case pending before the apex court relates to the title suit.
The sooner the apex court's verdict comes, the better. Politicking over this issue will continue even after the apex court gives its verdict. Already the opposition is levelling charges that the temple issue is being brought to centrestage in the wake of forthcoming assembly polls in MP, Rajasthan, Chhattisgarh and Telangana, and next year's Lok Sabha polls. The BJP's stand has been that since the matter is already before the apex court, it cannot bring a legislation on an issue that is sub judice.
The argument put forth by the VHP saints is that if the government can bring an ordinance to enforce ban on triple talaq, why can't it bring a legislation to build the Ram temple on the disputed site. If the Supreme Court's order on SC, ST atrocities act can be overruled by enacting a legislation, why can't the Centre bring law to build the Ram temple, which the Hindu masses really want.
Click Here to Watch Full Video | Get connected on Twitter, Instagram & Facebook