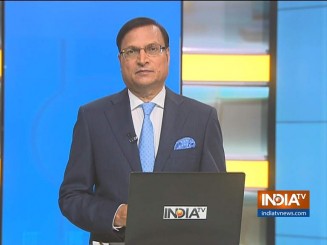 Official sources have now confirmed that Indian and Chinese troops fired 100 to 200 warning shots in the air several times between September 7 and 11 near Pangong lake and Chushul at the Line of Actual Control in eastern Ladakh. The incident took place days before Foreign Minister S. Jayashankar met Chinese foreign minister Wang Yi in Moscow and agreed on a five-point plan to defuse tensions that still remains on paper.
The firings took place when chinese troops first fired warning shots in a provocative manner on September 7 and 8, and Indian troops fired warning shots in retaliation. This was confirmed by some senior Indian army officers while giving details to our Defence Editor Manish Prasad. The senior officers clarified that Indian jawans did not fire warning shots towards the Chinese side, but the message was clear. If the enemy resorts to firing, our army jawans are ready to respond.
Army officers revealed that the Chinese troops fired warning shots in air from the northern bank of Pangong lake because they were desperate to dislodge Indian jawans from at least 24 features (heights). For the first time since 1962, our jawans have set up posts on strategic heights in places where they never patrolled in the past. Our troops are now in a position to keep a watch on Chinese troop movements.
India TV has learnt that when our jawans were moving towards the western side of Finger three, Chinese troops came ahead between Finger 3 and Finger 4 to dominate the area. Due to this transgression, nearly 100 to 200 warning shots had to be fired. At first, the firing was intense from the Chinese side, and then our jawans retaliated by firing warning shots.
According to our Defence Editor, the first warning shots were fired on September 7 in Chushul sub-sector, while firing of warning shots at Pangong lake took place on September 8. Our jawans had to fire in the air to force the Chinese to retreat from committing transgressions. Two days later, on September 10, the two foreign ministers met in Moscow.
Prime Minister Narendra Modi has given a free hand to our armed forces to retaliate, depending on the situation. The only conditions are: our jawans must not fire first, they must not cross the LAC, but if the enemy creates trouble, they should not wait to act. The Chinese generals have realized that their moves are not working any more. They have now resorted to propaganda war by releasing old videos of war drills.
One of the war drill videos released on Wednesday related to a live force confrontation exercise in which the 77th group of Chinese PLA, along with armoured units, air defence and artillery units took part in south western Sichuan province. No mention was made about when the war exercise took place. Most of the Chinese army videos of fighter aircraft and attack helicopters are edited.
The Chinese army is also carrying out fake propaganda over how Indian jawans will face sub zero temperature and Coronavirus pandemic together. Our Defence Editor has sent us visuals of how Indian army is effectively carrying out screening of all officers and jawans at forward bases. A special transit facility has been created where the officers and jawans undergo physical screening along with scrutiny of their baggages. Only after full medical clearances, these jawans are allowed to move toward forward posts.
The situation overall looks like this: the Chinese army is carrying out aggressive postures, we have the Coronavirus pandemic on our hands, and our officers and jawans have to prepare for a conflict in sub-zero temperature. It's a tall order nevertheless, but hats off to the morale of our officers and jawans that they are raring to go against the enemy.
I spoke to several senior army officers who had worked in the icy regions of Ladakh. One of them revealed an interesting fact. The Chinese may well carry out fake propaganda war, but their generals clearly know that their young officers and soldiers lack the morale required to fight battles on mountain tops. They clearly lack the will to fight for their country, their army.
The retired army officer explained the reason why young Chinese officers and soldiers are unwilling to offer the supreme sacrifice for their country. He said, most of the young officers and soldiers in China join the army due to compulsions. Joining the army is mandatory in China for all youths. Among these youths are those who are the scions of rich Chinese families, accustomed to living a life of luxury. Yet they have to serve the army for a definite period. These young officers and soldiers are in a hurry to complete their compulsory service and return to the luxurious life they are accustomed to.
This is the reason why they do not want to give the supreme sacrifice for their nation. On the other hand, the morale of our young army officers and jawans has always been high. They are ready to fight even Death in order to protect their motherland. It is this level of morale that is prevalent in our armed forces. The nation salutes our brave officers and jawans who are out there to protect our borders.