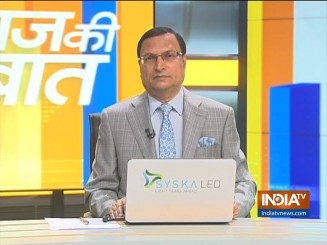 The new Parliament building will be inaugurated less than 24 hours from now, on Sunday, and already visuals of the new Lok Sabha and Rajya Sabha have amazed people across India. The new complex is a spectacular mix of tradition and modernity, and even opposition leaders could not restrain themselves from praising the new building. Already a controversy has cropped up about Sengol, the traditional five-feet-long golden sceptre used by the ancient Chola dynasty and handed over by Lord Mountbatten to Jawaharlal Nehru on the midnight of 14-15th August, 1947, to symbolize the transfer of power. While Congress leaders described this claim as bogus, BJP leaders hit back saying Congress hates India's ancient tradition and culture. Congress leaders claim that Sengol had nothing to do with transfer of power in 1947. They say that Hindu saints from Tamil Nadu came to Delhi and handed over Sengol to Pandit Nehru, and it was not Lord Mountbatten who handed over the sceptre to Nehru. I think, the issue is not who gave the Sengol to Nehru. The issue is why Sengol was given to Nehru at the time of independence in 1947? Congress leaders cannot deny the fact that Sengol was the symbol of supremacy for the Chola dynasty, and it used to be handed over every time to the new monarch. Congress leaders cannot deny that the sadhus from the South were invited to come to Delhi by train to bring the Sengol, and the holy water used for bathing the Lord was also brought to Delhi by a special aircraft. It is also recorded in history that the sadhus, before handing over the sceptre to Nehru, mistakenly gave it first to Lord Mountbatten. It was again consecrated with holy Ganga water and then handed over to Nehru, as a symbol of independent India. To say that Sengol has no historical relevance is incorrect. The question is: why was the Sengol displayed in Allahabad museum for 75 years as Pandit Nehru's 'walking stick'? If Narendra Modi gave glory to Sengol again, in the biggest temple of Indian democracy, by installing it near the seat of Lok Sabha Speaker, what is wrong in it? Why is this move being opposed? I think, opposition parties have already registered their protest and put forth their arguments. It will be better if they participate in the historic inaugural ceremony of the new Parliament building, keeping political rivalry to the sidelines. This will send a good message to the entire world.
CONGRESS SNUB TO KEJRIWAL
Aam Aadmi Party supremo Arvind Kejriwal waited the whole day, on Friday, for an appointment to meet Congress leader Rahul Gandhi and party president Mallikarjun Kharge, but it did not materialize. In the morning, he tweeted that he needed Congress support on the Delhi ordinance issue, and that he would meet Rahul Gandhi and Kharge. By afternoon, news came that Kharge gave 5.30 pm time to meet Kejriwal. At 4 pm, meeting began at Kharge's residence to clear names of new Karnataka ministers. It was attended by Rahul Gandhi. But soon after the meeting, when party general secretary K C Venugopal was asked about the meeting with Kejriwal, he feigned ignorance. He said, our doors are open, but first Kejriwal should come with a formal proposal, and only then will a meeting be fixed. "Any decision on supporting Kejriwal will be taken after consulting Delhi and Punjab unit party leaders", he added. Congress spokesperson Pawan Khera said, Kejriwal should first apologize for the remarks that he made against party leaders in the past, and only then, a meeting will be fixed. It seems, Kharge will meet Kejriwal, but chances of Congress supporting Kejriwal are less. Neither Kejriwal will apologize for his past remarks, nor will the Congress extend support. Kejriwal knows this, but he is seeking a meeting, only to allege afterwards that it is the Congress which has become the main obstacle in the path of Opposition unity.
WHY MAMATA IS OPPOSING 'THE DIARY OF WEST BENGAL' MOVIE
In West Bengal, a fresh controversy has begun, after the trailer of a movie 'The Diary of West Bengal' was released, and soon after the state police sent the director Sanoj Mishra, a legal notice under Section 41A of Criminal Procedure Code to appear for interrogation. The movie highlights the 'atrocities' committed on Hindus in West Bengal. It was uploaded on YouTube a month ago, and is slated to hit the theatres in August. Director Sanoj Mishra claims, he has only shown the truth, but the state police is treating him like a terrorist. Trinamool Congress leader Kunal Ghosh said, this movie is a 'propaganda tool' of BJP, which wants to spread hatred among communities in Bengal. Such film makers should be jailed, he said. The movie is yet to be released, only the trailer has been released. The Central Board of Film Certification has approved this movie. To send a legal notice to the director and producer before a movie is released, is unjustified. Chief Minister Mamata Banerjee had earlier imposed ban on "The Kerala Story", but the Supreme Court described it as illegal. I hope, Mamata Banerjee will at least learn from the Supreme Court verdict.