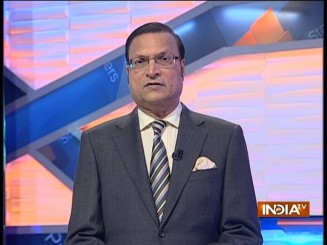 India TV on Friday night telecasted a detailed report on how our politicians and bureaucrats working and living in Lutyens Zone are facing monkey menace. Several politicians described on camera how monkeys are making life hell for them.
I personally know many of the ministers, MPs, bureaucrats and judges, who told me how it has become a daily problem for them to shoo off the monkeys from their residences and offices. But because of the dread of being made a laughing stock in public, they do not air their grievance in public.
These simians bite people, break household goods, and even attack guests and outsiders, but the VVIPs refrain from airing their problem in public. A few years ago, local authorities had called in 'langurs' to shoo off the monkeys, but there was a big hue and cry from animal lovers, particularly Maneka Gandhi. Later some guidelines were framed and the VVIPs are now unable to take any action in violation of those guidelines.
Some of the politicians have hired people who can mimic the voices of 'langurs' to scare off the monkeys. In Rajya Sabha, some members raised the monkey menace issue, and the Chairman M. Venkaiah Naidu revealed that he was himself a victim of this menace.
Now that the winter session of Parliament will begin, the Lok Sabha Secretariat has issued an advisory to MPs how to tackle the monkey menace. This advisory may not be of much help and the MPs would be best advised to approach animal rights activist Menaka Gandhi to seek a durable solution.
Click Here to Watch Full Video | Get connected on Twitter, Instagram & Facebook