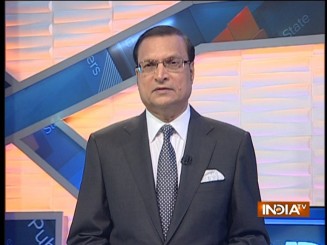 Former Indian cricketer and presently Punjab minister Navjot Singh Sidhu has been used by the Pakistani establishment to the fullest extent during his two visits to Pakistan.
Pakistan Prime Minister Imran Khan raised the Kashmir issue at a religious gathering of Sikhs and wryly asked whether Pakistan should wait for Sidhu to become Prime Minister of India in order to get the Kashmir issue solved.
Sidhu publicly hugged the Pakistan Army Chief Gen Qamar Javed Bajwa during his first visit to Pakistan. A known pro-Khalistan separatist Gopal Singh Chawla was invited by Pakistani authorities to sit in the front rows during the Kartarpur corridor ground-breaking ceremony attended by Sidhu and two Indian ministers.
This anti-Indian person, Chawla then posted his picture with Sidhu on his Facebook wall, and yet Sidhu, on his return to India, says he does not know any individual by the name of Gopal Singh Chawla. "I was captured in 5,000 to 10,000 photographs. I do not know who was Gopal Chawla", Sidhu said.
Pakistan PM Imran Khan used Sidhu to the full extent to throw barbs at India. The most surprising part is that Sidhu was so much overwhelmed by the lavish hospitality accorded by Pakistani authorities, that he plainly overlooked the sentiments of the Indian people.
Sidhu appears to be so naive that he is unable to understand why people are staging protests against him in India and are questioning the stand of his Congress party on Pakistan. I fail to understand why Sidhu is unable to realize his grave mistake.
On Thursday, India TV telecast a video of pro-Khalistan separatist Gopal Singh Chawla holding an AK-47 rifle and threatening India with dire consequences. Now that we have shown the true face of Gopal Singh Chawla, Sidhu should apologize for siding with our enemies who vow to dismember India.
Click Here to Watch Full Video | Get connected on Twitter, Instagram & Facebook