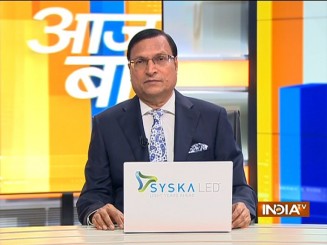 For a chief minister to wash the feet of a tribal in his residence, before hugging him and offering him a coconut and shawl while tendering apology, requires immense courage. Madhya Pradesh chief minister Shivraj Singh Chouhan showed his large-heartedness and fulfilled his responsibility as the head of his state. Chouhan told Dashmat Ravat, that he hung his head in shame when he watched the video in which a person urinated on him. "I wanted to take the load of pain off my chest by washing your feet", Chouhan said. For some, this may be a common thing, a 'nautanki', as some opposition leaders said, but for a chief minister who rules a state, it needs courage to apologize to the victim in front of cameras. News about atrocities on tribals, Dalits and weaker sections often come from almost all states, sometimes a Dalit bridegroom is killed because he dares to ride a horse, a Dalit child is killed for drinking water from a hand pump, somebody is forced to lick the spit or drink urine, Dalits are thrashed on entering some temples, but I never saw a chief minister publicly apologizing for this. Two days ago, when we telecast the video of an upper caste man urinating on Dashmat, I felt angry and at the same time there was a tinge of sadness and shame about the society we live in. After watching visuals of Shivraj Singh washing the feet of Dashmat, I heaved a sigh of relief. Dashmat hails from Kubri village of Sidhi district and works as a porter at the local mandi (agricultural market). On Thursday, when he reached the chief minister's residence in Bhopal, Chouhan was at the gate to receive him. The CM held his hand, took him inside and asked him to sit on the sofa. Chouhan himself sat on a stool near his feet. Dashmat looked uncomfortable. He never ventured outside his village in his entire life. This was his first Bhopal visit. The chief minister then proceeded to wash his feet on a thali. Dashmat hesitated, pulled back his feet, but the CM insisted that he wanted to wash them as part of penance (prayashchit). After washing the feet, Chouhan held the thali of water to his head, garlanded Dashmat, and offered him a coconut, shawl and a small statue of Lord Ganesha made of brass. He hugged Dashmat and told him, "for me, you are like Sudama. I was sad the day I saw your video, and after this act of penance, I now feel better. Please apologize me." The CM joined him for breakfast, and enquired about the education of his children and whether they get scholarship and ration from PDS shop. Chouhan also spoke to Dashmat's family members on phone. This act of penance on part of the chief minister gives us a ray of hope. Any human being, rich or poor, Dalit or upper caste or backward or tribal, Hindu or Muslim, should never be subjected to an atrocious act like urination. No civil society can tolerate this. Everybody criticized the act when the video surfaced and Shivraj Singh Chouhan took quick action. Pravesh Shukla, the perpetrator, was arrested and sent to jail under National Security Act, and the illegally built portion of his father's house was demolished with a bulldozer. The message is clear: the government will not tolerate disrespect to tribals, Dalits or poor people. Those who commit such atrocities will not be spared. Congress leaders Kamal Nath and Digvijaya Singh were trying to make this Sidhi incident an issue of insult meted out to tribals, but Shivraj Singh Chouhan, by apologizing and taking quick action, has taken the wind out of their sails. This was the reason why Kamal Nath described the feet-washing gesture as 'nautanki'(drama). One can understand his compulsion. Assembly elections are due in Madhya Pradesh, where tribals account for more than 1.75 crore votes. In several constituencies, tribal voters decide the outcome. I think, for the Congress, there are many other issues, and this incident should not be given a political colour. An entire community should not be defamed because of a single incident.
UCC : LET US ALL BE PATIENT
The All India Muslim Personal Law Board has sent a 74-page letter to the Law Commission on Uniform Civil Code demanding that not only tribals, but every religious minority be kept outside the purview of the code. Citing the Law Commission notice inviting suggestions from people as "vague, general and unclear", the AIMPLB said, it appears the motive behind bringing the UCC was to put an end to Muslim Personal Law, though the Constitution provides for freedom to preach, practice and propagate any religion. Jamiat Ulema-e-Hind led by Maulana Arshad Madani, has sent a 22-page letter saying that enacting the UCC would be harmful for national unity and integrity. On Thursday, a delegation of AIMPLB met Congress President Mallikarjun Kharge and NCP leader Sharad Pawar to discuss the UCC. AIMPLB members requested Congress to make its stand clear on UCC. Last week I had said, the chances of a Uniform Civil Code being introduced in the monsoon session of Parliament are slim. Already, indications have been given that the rights, traditions and culture of tribals will be kept out of the purview of UCC. As far as other religions and communities are concerned, it has been explained that the UCC is not going to enforce rules and traditions for marriage or funeral rites, or other social traditions and customs. It may be confined to ensuring uniform minimum age for marriage, uniform law for divorce, restrictions on polygamy and equal rights for women in matters of succession and property rights. I think Uttarakhand government will initiate the process of enforcing a uniform civil code, and its draft could become the basis for a central code. The Centre may gauge the reactions of people in Uttarakhand first, and only afterwards, all religious heads including maulanas, Sikh leaders, priests and other communities will be consulted before preparing a draft Uniform Civil Code. There is no need to spread rumours, and people must patiently wait for the Law Commission report. Only then, the provisions of draft uniform civil code will become clear.