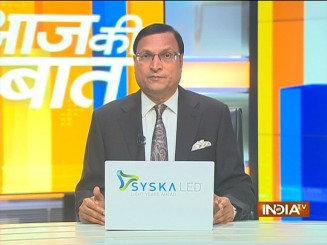 The remarks made on Ramcharitmanas by Bihar Education Minister Chandrashekhar have stirred a raging controversy with Hindu sadhus and saints demanding his dismissal from the government.
The minister Chandrashekhar had remarked that the famous epic poem Ramcharitmanas written by Goswami Tulsidas 'spreads hatred in society' and propagates discrimination against lower castes. The minister, who belongs to RJD, has refused to apologize.
Let us first read what the minister said while addressing the 15th convocation of Nalanda Open University. Chandrashekhar said, "Nearly 700 years ago, in the 15th-16th century, Ramcharitmanas was written by Tulsidas. In the Uttar Kand, it is written पूजिए विप्र शील गुण हीना…पूजिए न शूद्र ज्ञान प्रवीणा. If such thoughts prevail, our dream of making India great cannot be fulfilled. It means, Dr Bhimrao Ambedkar, who was a learned man, is not worthy of reverence. Such texts spread hatred in our society. In Ramcharitmanas is written जे बरनाधम तेलि कुम्हारा स्वपच किरात कोल कलवारा….जे बरनाधम….(who are described as 'adham' (irreligious)? Backward castes like Teli, kumhar, kahaar, Kol, Kalwar, tribals, Dalits, etc.. It is also written "अधम जाति में विद्या पाए… भयहुं यथा अहि दूध पिलाए." It means people from backward castes, after getting education become venomous like a snake drinking milk. If such religious texts are there before us, I can only say, India cannot become great by spreading hatred."
BJP leader Ashwini Choubey described the Bihar education minister as 'illiterate'. He said, nowhere in Ramcharitmanas has such things been written. The Ramcharitmanas says, Hindutva is a way of life."
Former Law Minister Ravishankar Prasad said, "it is surprising that Bihar education minister does not know the true story of Lord Rama and is insulting Hindu sentiments. He should either apologize, or Nitish Kumar should sack him. The story of Lord Rama binds all Indians. These leaders only give speeches but do not read properly. By insulting Ramcharitmanas, the minister has insulted India."
RJD spokesperson Mrityunjay Tiwari said, "Chandrashekhar should have also read other portions of Ramcharitmanas too. Lord Rama embrached people from all castes, and changed the outlook of people. Our party respects all religious texts. Whatever Chandrashekhar said could be his personal outlook, but it is not the stand of our party."
Late Ramvilas Paswan's son Chirag Paswan, a Dalit himself, said: "Lord Ram is India's ideal, he is the sould of this nation. Ramcharitmanas is worshipped in every Hindu home. It does not behove of a minister to speak so lightly about the book. Nitish Kumar could be behind this, because he is holding on to his chair by dividing society."
Bihar state Congress chief Akhilesh Prasad Singh took a middle line. He was silent about the demand to sack the minister, but said, "No Indian will tolerate insult of Lord Ram, Ramayana or Ramcharitmanas. A man holding the post of education minister should not have made such a remark. He must withdraw his comment."
Union Minister Giriraj Singh demanded that the minister be sacked. He alleged, "Nitish Kumar, in his quest for vote banks, is following a policy to insult all Hindus, and he is using his ministers to do this. The people of Bihar will never forgive Nitish Kumar for this insult."
Chief Minister Nitish Kumar said he was not aware of what his minister actually said. Acharya Satyendra Das, the main priest at Shri Ram Janmabhoomi temple, said, "Only an illiterate can make such remarks. Such persons should not be made education minister. The minister should either apoligize or he should be sacked."
Poet Kumar Vishwas, who has been spreading the story of Lord Ram across the world, through his Ram Katha events, said, "Chandrashekhar is an illiterate education minister. A person who has poison in his mind will say such things about Ramcharitmanas. " He challenged Chandrashekhar to say such things about other religious texts.
In conclusion, I can only quote a line from Ramcharitmanas: जाकी रही भावना जैसी…प्रभु मूरत देखी तिन तैसी. (A person views God according to his outlook). I do not claim to be an authority on Ramcharitmanas, but I can only say, the portions quoted by the Bihar minister were from Uttar Kand chapter. It is claimed that this chapter is not part of Goswami Tulsidas's original Ramcharitmanas. These were probably added later.
Even if one consider these lines to be part of Ramcharitmanas, I can only say that the interpretations of some words are incorrect. The meaning of the word "Vipra" is not Brahmin. It applies to "a person of good character", while the word "Shudra" applies to "a person of bad character". In Sunder Kand, 'Vipra" is used for Hanuman, and Ravana is described as 'Shudra'. The verse means, those who are of good character must be respected, and those who are of bad character, despite being a learned person (like Ravan) must not be respected. The demon king Ravana was a great pandit, he studied the four Vedas, and worshipped Lord Shiva, but was a tyrant. That is why Ravan is not worshipped by Hindus. Such interpretations cannot be understood by people like Chandrashekhar. Neither will they ever try to understand. Because their main aim is to divide society.
Already, Chief Minister Nitish Kumar has initiated caste-based census in Bihar. His ministers are doing the rest by making such obnoxious remarks. Kumar Vishwas has rightly said, such an 'illiterate' education minister must be sacked forthwith.