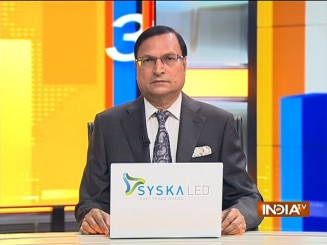 The horrific crash that took place on Tuesday morning on Delhi-Meerut Expressway should ring an alarming bell for all drivers and for the entire traffic management system. Six members of a family died and two are battling for life after a private bus, that came from the wrong side for nearly eight kilometres, crashed into a Mahindra TUV vehicle. The Meerut-based family was going to Sikar, Rajasthan to visit a temple. The crash took place near Ghaziabad. The bus driver, coming from the wrong side, tried to swerve to the right, but ended up crashing into the TUV, because the car driver too steered to his left. Road accidents occur in India daily, but this crash raises questions about our system. CCTV cameras were installed on the expressway, the authorities claimed that vehicles are monitored round-the-clock on cameras, apart from patrolling, but a bus driver travelled on the wrong side for nearly 8 km, but nobody stopped him. Question has been raised whether the driver, Prem Pal, who committed this grave traffic violation, would walk out of the jail. Indian Penal Code says, "whoever causes the death of any person by doing any rash or negligent act, not amounting to culpable homicide shall be punished with imprisonment up to two years, or with fine, or both". Is the punishment adequate? Those who died in the crash included Narendra, his wife Anita, their two sons Himanshu and Deepanshu, his brother Dharmendra's wife Babita and her daughter Vanshika. Dharmendra and his son are battling for life. Gas cutter was used to cut open the mangled vehicle to bring out the corpses. Narendra's relatives say, it was the toll company which is responsible for this crash, because the bus driver used to regularly take the wrong side daily. Had he been stopped earlier, the lives of six persons could have been saved. Is the work of toll company staff only to collect toll? Is it not the responsibility of administration to stop vehicles travelling from the wrong side? The bus, belonging to a private transport company, used to ferry school children, but of late, it was ferrying employees of a private firm. Police said, the bus was challaned 18 times, for dangerous driving, overspeeding and other traffic violations. At a time when India is witnessing a spectacular growth in road infrastructure, with new expressways being built across the country, you will surprised to know that more than 1.5 lakh people lose their lives in road accidents annually. India tops the world's list of countries where road accidents occur. Wrong-side driving, after overspeeding, is the second biggest cause of road accident deaths in India. About 43,000 lives were lost between 2017 and 2021 in India due to wrong side driving. I had asked Union Road Transport Minister Nitin Gadkari in my show 'Aap Ki Adalat' about how road accidents can be prevented. Gadkari said, "I have no hesitation in accepting that I could not lower the number of road accidents during the last 8-9 years of my tenure". He gave four main reasons: (1) road engineering, by identifying 'black spots' and building underpass, overbridges, (2) automobile engineering, by making 6 airbags in vehicles mandatory, and seat belt fastening on rear seats mandatory, (3) making theoretical and practical tests mandatory for all driving license applicants and (4) creating awareness about sticking to road lanes by taking support from celebrities like Amitabh Bachchan and Akshay Kumar. Gadkari also revealed a surprising incident. Once, he ordered eyesight check for drivers of all government buses in Maharashtra, and found that at least 40 per cent drivers could not see properly, with most of them suffering from cataract. Some bus drivers could not see at all from one eye. He told me, one driver of a minister's car could not see from one eye, and yet he used to drive the vehicle using his sixth sense. Gadkari said, the situation has still not improved till now. In a country where drivers of government vehicles have failing eyesight, what will be the fate of passengers and others? Gadkari is right when he says, in India, one gets a driving license easily without undergoing strict tests. Secondly, punishments for serious traffic rule violations are not severe. In western countries, traffic rules are stringent and the punishments are severe. In Norway, overspeeding can result in fines up to Rs 65,000, drunken driving and jumping red lights invite fines in several lakhs of rupees. In Ontario, Canada, if a driver is challaned twice in two years, his license is cancelled for the next two months. Any driver caught driving on the wrong side five times, will invite cancellation of license. In Britain, if any driver gets penalties twelve times in three years, his license is suspended for six months. Frequent overspeeding results in suspension of license for six months. Those caught for drunken driving are sent to prison. In the US, traffic violations invite fines ranging from Rs 15,000 to Rs 25,000, overspeeding invites penalty points, and after getting 12 points, the driver's license is suspended. In Croatia, Japan, Singapore, Australia and China, a driver is first given learner's license, and his license is confirmed only after he completes 100 to 200 hours of driving. Time has come for enforcing stringent traffic rules in India to prevent major road accidents.
BRIJ BHUSHAN : JUSTICE MUST BE DONE
Delhi Police chargesheet filed in Rouse Avenue court against former president of Wrestling Federation of India Brij Bhushan Sharan Singh clearly shows his involvement in sexual harassment of female wrestlers. The chargesheet says, Singh is "liable to be prosecuted and punished for offences of sexual harassment, molestation and stalking" under Sections 506 (criminal initimidation), 354 (outraging modesty of a woman, 354 A (sexual harassment) and 354 D (stalking) of Indian Penal Code. The chargesheet includes 'technical evidence' that includes two photographs allegedly showing him making advances towards a complainant, his phone location matching another wrestler's testimony, a set of photos that confirm his presence at a event when an incident of sexual harassment took place. The chargesheet includes statements of 108 persons, out of which 21 persons have given testimonies in favour of the victims. Six of them have given their testimony under Section 164 of CrPC. Among the witnesses are relatives of female werstlers. Police had filed more than 1,000 pages of chargesheet on June 13, and Singh has been summoned to appear in court on July 18. Congress leaders have demanded that Singh should be expelled from BJP and he must be arrested. The chargesheet substantiates the allegations made by women wrestlers against the ex-chief of WFI. This was bound to happen. The charges are serious. But Brij Bhushan never cared for these allegations and his conduct was irresponsible, adamant and he projected his image of a 'Bahubali'. Brij Bhushan's action has brought disrepute to the government's image. Women wrestlers who brought fame for India by winning medals, had to face atrocities. The case must now be taken to its logical conclusion. 'Justice must not only be done, but must be seen to be done'. Each of the incidents mentioned in the chargesheet are in public domain. Questions were raised about partiality on part of Delhi Police, but the chargesheet clearly shows, Delhi Police has done its investigation astutely. The testimonies of witnesses are so solid that it may be difficult for Brij Bhushan Sharan Singh to wiggle out.