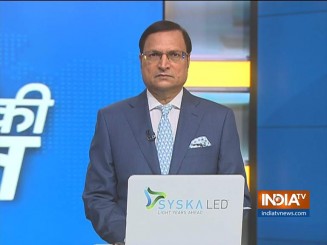 France is facing widespread turmoil since the last three days. Violent protests are taking place in Paris, Marseille, Lyon, Toulouse, Lille and Strasbourg after the killing of a 17-year-old youth of Algerian and Moroccan descent, Nahel, by French police. Nearly 45,000 police personnel have been sent to the streets to battle rioters indulging in looting and arson. The youth was shot by a French police officer at a traffic stop in the working class suburb Nanterre in Paris. Buildings, including the world famous Marseille library and vehicles have been torched and stores have been looted by mobs. In Marseille, the second largest city of France, rioters looted a gun store on Friday night and stole hunting rifles. All hotels and restaurants have been asked to close early, while bus and tram traffic across France have been closed from 9 pm onwards. There are reports that President Emmanuel Macron may be forced to declare emergency if the unrest continues. This is the first time in Europe when public unrest has been seen on this massive scale in the last several decades. The police officer who shot the teenager has been sent to jail, resulting in discontent among police personnel. Shoot-at-sight orders against rioters have been issued. There are several reasons behind this violent unrest. In 2017, the French government enacted a law which relaxed rules for policemen shooting at civilians. After this law was passed, there was a spurt in number of incidents in which policemen fired at running vehicles. Secondly, there is widespread discontent among the working class over pension reforms introduced by Macron's government. In April this year, Macron government raised the retirement age limit from 62 years to 64 years. This resulted in protests in several cities. Thirdly, the French people is groaning under the weight of price rise of essential commodities caused by the ongoing Ukraine war. People lost patience when the killing of the teenager took place. One point to note is that social media played a key role in fomenting public unrest. President Macron has warned social media platforms to immediately remove videos of violence and not to upload videos showing violence in future. Stern action will be taken against social media companies if they disobey the order.
SETBACK FOR TWITTER
In a setback for American social media company Twitter Inc, the Karnataka High Court on Friday dismissed its petition challenging a series of blocking orders issued by the Centre from February 2, 2021 till February 28, 2022. Justice Krishna S. Dixit imposed an exemplary cost of Rs 50 lakh on Twitter for indulging in "speculative litigation". The amount is payable to Karnataka State Legal Services Authority within 45 days, failing which Twitter will have to pay an additional Rs 5,000 per day. In its petition, the microblogging site had alleged that the blocking orders were "arbitrary" as they failed to provide notice to the content originator in advance. The petitioner had claimed that the Centre's orders were "unconstitutional" as they did not fulfill the requirements under Section 69A of the Information Technology Act. In his judgement, Justice Dixit said, "the petitioner (Twitter) is not a poor farmer, a menial labourer, a villager of a novice who could have pleaded inability to understand the objectionability of the tweets". The High Court said, "….their highly objectionable tweets had a great propensity to incite anti-national feelings." Justice Dixit said, "there is a wilful non-compliance with the blocking orders." The Centre had asked Twitter in 2021-22 to close 1,474 accounts and block 175 objectionable tweets, apart from blocking 256 URLs and one hashtag. The Centre's argument was that an effort was made to spoil the atmosphere through these accounts and these tweets could harm sovereignty and national unity. Twitter said, removing 39 out of the 256 URLs would go against the fundamental rights of citizens. After hearing all sides, the High Court in its verdict said, any company doing business in India must follow the rules and laws of this country. IT and Electronics Minister Rajeev Chandrashekhar said, social media companies and internet giants must follow the law of the land in India instead of indulging in non-compliance. You may remember, Jack Dorsey, former CEO of Twitter had alleged a few days ago that there was pressure from the Indian government to close Twitter accounts of political rivals. Questions were raised after Dorsey's remark, and the government was criticized. Friday's High Court judgement is a perfect reply to all those who had questioned the intent of the government. The implication of this verdict is that companies working in India must follow laws and rules of the country. The question is not that they must follow Indian laws because they earn from India, but because they must understand the fact that objectionable tweets incite ill-will and cause disturbance in the country. These companies will have to bear the responsibility.
WHY BIREN SINGH DECIDED NOT TO QUIT?
There was big drama for nearly six hours on Friday when Manipur chief minister N. Biren Singh headed to Raj Bhawan with his 20 MLAs to submit his resignation letter to Governor Anusuiya Uikey, but a huge crowd of women supporters stood in the way of the convoy. After persistent requests from elderly Manipuri women, Biren Singh drove back to his residence, where the crowd stayed put. After some time, Biren Singh tweeted: "At this crucial juncture, I wish to clarify that I will not be resigning from the post of chief minister." The immediate provocation for the CM to resign was an ultimatum given by "mothers" of Imphal's all-women market asking him to end the unrest immediately and stop further killings. This ultimatum was given after three persons were killed by armed attackers near Imphal West border. There was pressure on Biren Singh to resign since several days, but everybody knows, resigning is not the solution. Biren Singh is not a professional politician. He started his career as a footballer, became a national level player, joined Border Security Force, left and entered journalism, started a daily newspaper, formed his own political party, won assembly election, then joined the Congress to be come a minister, quit Congress in 2017 to join BJP, and has been the first BJP chief minister of Manipur since then. Hence, his responsibility to restore peace is greater. It is true, the situation in Manipur has not improved. Thousands of homeless people are still living in relief camps as their homes have been burnt and their properties have been looted. Home Minister Amit Shah visited the state for two days recently. Army is conducting flag marches. Rahul Gandhi has gone to Manipur and appealed for peace. He did not make any political remark. This is a welcome step. The first priority is to restore peace in the state.
WILL VASUNDHARA BE THE CM FACE IN RAJASTHAN?
On Friday, in Udaipur, Home Minister Amit Shah addressed a big public meeting to mark completion of 9 years of Modi government. It was, in fact, a launch of BJP's campaign in Rajasthan where assembly election will take this year-end. On the dais sat former CM Vasundhara Raje, state BJP chief C P Joshi, BJP leader of opposition Rajendra Rathore, Union Minister Gajendra Singh Shekhawat, MP Diya Kumari and former state party chief Satish Punia. First, C P Joshi spoke and then Amit Shah was invited to take the rostrum. Instead, Amit Shah said, Vasundhara Raje will speak first. In her speech, Vasundhara alleged there has been deterioration in law and order due to chief minister Ashok Gehlot's Muslim appeasement policy. She cited the daylight brutal murder of Kanhaiyalal in Udaipur by two jihadis. Amit Shah said, Kanhaiyalal's murder could have been prevented had the state government provided him security. He also alleged that state police did not arrest the killers, and it was the NIA which arrested them. He also alleged that the Gehlot government is yet to set up a fast track court for trial of these killers. Ashok Gehlot responded on Twitter saying Amit Shah was telling lies and misleading people. He claimed it was Rajasthan police which apprehended the killers within four hours. He asked Amit Shah why NIA has not yet filed chargesheet in this open-and-shut case. Gehlot pointed out that the killers of Kanhaiyalal were at one time active members of BJP. Polemics apart, the fact remains that BJP is already on election mode in Rajasthan. PM Narendra Modi visited Rajasthan twice, BJP chief J P Nadda visited Rajasthan on Thursday. Though factionalism in Rajasthan BJP has been absent after Modi's visit, and Vasundhara Raje has again become active, several state leaders like Satish Punia, C P Joshi, Gajendra Singh Shekhawat and Rajendra Rathore are reportedly working against Vasundhara. This has become a big problem for BJP high command. In the Congress too, the high command is worried over constant bickerings between Sachin Pilot's and Gehlot's camps. A meeting of Rajasthan Congress leaders has been called in Delhi on July 3, but the possibility of a ceasefire between the two camps appears to be negligible. Ashok Gehlot is recovering from leg injury and there are chances that he may not attend the July 3 meeting.