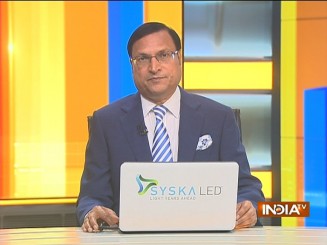 Several new facts have emerged about the Balasore railway accident. It is now almost clear that the crash did not take place due to 'technical error'. There was some 'interference' in the signal system. 288 people lost their lives because somebody at the last moment changed the line through which Coromandel Express was to pass. It passed through the loop line instead of the main line, and crashed at a speed of 128 kmph into a stationary goods train carrying 6,000 tonnes of iron ores. Some coaches fell on the other line derailing two coaches of Bengaluru-Howrah Express. Already, CBI has filed an FIR and has started its probe, but several political parties have questioned the need for CBI probe. Congress alleged that the government is trying to hide the truth by ordering a CBI probe. It said, normally, railway accidents are probed by Commissioner for Railway Safety. Congress leader Digvijaya Singh, Trinamool Congress supremo Mamata Banerjee and Samajwadi Party chief Akhilesh Yadav have questioned the need for CBI probe. But Janata Dal (S) chief and former PM H D Deve Gowda praised Railway Minister Ashwini Vaishnaw for toiling hard at the accident site for three days, till restoration work was complete. He said, it was not proper to question CBI probe. I feel, it does not matter who is conducting the probe. Whosever may investigate, the truth must come out before the public. It must be investigated who misguided the loco pilot of Coromandel Express by tinkering with the electronic interlocking system, which is considered failsafe and error-free? Whenever there is a flaw in the signal system, all signals glow red, and trains are halted. Then where was the error and how? Who tinkered with the electronic interlocking system? Different people have varied views. Some said, a manual change in the location box gave a green signal to Coromandel Express. Some said, the interlocking system was deliberately tinkered with as part of a conspiracy. Since everybody has his own theory and conclusion, it has now become a big challenge for CBI to find out how a foolproof system gave the wrong signal. Was it a technical glitch or negligence? Or, was the interlocking changed as part of a conspiracy? Unless one gets answers to all these questions, it would be better, and I think, Deve Gowda is right, that politicians must avoid indulging in games.
BRIDGE COLLAPSE : WHO'S RESPONSIBLE ?
After the under-construction bridge collapsed in Bhagalpur, Bihar, on Sunday, the IIT Roorkee experts committee report which was being awaited since 14 months, was submitted within 36 hours. Bihar government has suspended an executive engineer, issued show cause notices to the MD of Bihar Pul Nirman Nigam Ltd and S P Singla Construction company, and directed that the debris be removed from Ganga river within 15 days. The company may be blacklisted, said the Additional Chief Secretary. When a Rs 1700 crore worth bridge collapses like a pack of cards, questions will be raised and Chief Minister Nitish Kumar must reply. He has already said that he knew there were serious lapses in construction. The question arises: why no action was taken? Tejashwi Yadav says, government was awaiting the IIT experts' report. Then the question is: if the report was being awaited, why was permission given to resume work on the bridge? The biggest question is: How was the IIT experts' report which was being awaited since 14 months, was submitted within a day? Unless these questions are addressed, there will be suspicions on the intentions of Nitish Kumar's government. Both Nitish and Tejaswi Yadav will have to face political damage. Meanwhile, questions have been raised in Maharashtra about the same S P Singla construction company involved in 34 projects. When Uddhav Thackeray was chief minister, the contract for building Rs 6,000 crore worth Goregaon-Mulund Link Road (GMLR) project, which includes a 12 km road and a flyover, was given to the company in December, 2021 by Brihanmumbai Municipal Corporation. Now NCP, Congress and BJP have demanded probe into the quality of the project and the entire tendering process. Congress leader Ravi Raja has demanded that the contract be cancelled and the company be blacklisted. Shiv Sena (UT) leader Arvind Sawant replied that when Uddhav Thackeray govt have the contract to that company, Eknath Shinde was Urban Development Minister, and even today, the same department is with Shinde. Questions must be raised with the present CM Eknath Shinde, he said.
WRESTLERS' ISSUE : TIME TO RESOLVE NOW
Champion wrestlers Bajrang Punia and Sakshee Mallikh on Wednesday met Union Sports Minister Anurag Thakur and demanded that the Wrestling Federation chief Brij Bhushan Sharan Singh must be arrested. The Sports Minister has invited the wrestlers for fresh talks relating to sexual harassment charges. Though the meeting was inconclusive, there will be further rounds of talks. I think our champion wrestlers have shown much restraint and the government has taken an initiative to speak to them. Let us hope some action will be taken at the earliest. First, the wrestlers must be convinced that Delhi Police is not trying to shield MP Brij Bhushan Sharan Singh. If the wrestlers still persist in saying they do not trust the police, then the probe be given to some other agency. Second, Brij Bhushan Sharan Singh must be removed immediately from the post of President of the Wrestling Federation of India and it must be ensured that whenever WFI elections take place, no relative or son or nominee of Brij Bhushan Sharan Singh be made the president. Third, handling of day-to-day matters of women wrestlers be given to a female administrator. I think, some steps have begun in this direction. The only issue now left is about the wrestlers' demand for arrest of Brij Bhushan Sharan Singh. I think if police finds the MP guilty of sexual harassment charges, action must be taken against him. If required, he should be taken into custody and interrogated. A way can be found out if efforts are made from both ends to resolve the issue.