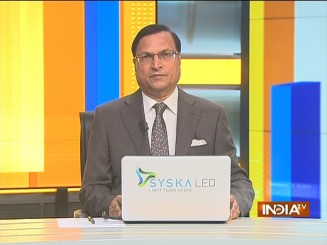 At the culmination rally of 'Bharat Jodo Yatra' in Srinagar on Monday, Congress leader Rahul Gandhi lashed out at Prime Minister Narendra Modi, Home Minister Amit Shah and National Security Adviser Ajit Doval. He clubbed them along with RSS and said, they were "instigators of violence".
Amidst a steady drizzle of snow at Sher-e-Kashmir stadium, Rahul Gandhi said, "I know what is violence. I have seen it and suffered it. Those who have not seen or suffered violence, will not understand it. Like Modi, Shah, RSS, they have not suffered violence….Those who instigate violence like Modi, Amit Shah, Ajit Doval, people of RSS, they will not understand pain. But the people of Kashmir, the people of CRPF, BSF and the Army, and their families will understand."
Trying to touch an emotional chord, Rahul Gandhi referred to the assassinations of his grandmother Indira Gandhi and father Rajiv Gandhi. He recalled how he received phone calls when he was a 14-year-old in school, and then as a college student in the US, informing him about the assassinations. Rahul said, the two phone calls were similar to the phone calls received by families of people of Kashmir and of security personnel, like those who died in Pulwama terror attack.
The Congress had invited 23 opposition parties to attend the culmination rally, but only JKPDP chief Mehbooba Mufti, National Conference chief Omar Abdullah and CPI leader D. Raja attended. None of the top opposition leaders from Samajwadi Party, Trinamool Congress, JD(U), RJD attended, while DMK, JMM, RSP, IUML and BSP sent their representatives. Congress leaders cited bad weather as the reason. After the rally, Rahul and his sister Priyanka Gandhi played with snow, to the amusement of onlookers. Rahul's Bharat Jodo Yatra began on September 7 from Kanyakumari and after 145 days of travel through 22 states, reached Srinagar.
Rahul Gandhi, said the aim of this yatra was not political. "This is not the yatra of Congress. Its aim is to unite India", said Rahul Gandhi, but in the same breath, he lambasted Prime Minister Modi and his government, alleging that the BJP and RSS were spreading hate.
Rahul Gandhi said, "Modi and Amit Shah are afraid. They cannot muster the courage to travel in Kashmir on foot. People tried to strike fear in me. Some wanted to colour my white T-shirt in red. Officers told me that if you walk on foot, hand grenade can be thrown. Jammu Kashmir is my home. No grenade was thrown at me, but the people gave me their affection."
In her speech, Mehbooba Mufti said, "Rahul's Yatra will bring back the affection that was snatched away from Kashmiris by people who follow Godse's ideology. Rahul has kindled a ray of hope among the people of Kashmir." National Conference chief Omar Abdullah said, "this yatra has proved that there exists in India a vast majority of people who do not follow the RSS ideology. Rahul must now travel from Gujarat to Assam also, and I will accompany him."
BJP spokesman Sudhanshu Trivedi replied to Rahul's allegations and said, "the return of peace in the Kashmir Valley has made it possible for Rahul and Priyanka Gandhi to play with snow. Rahul named his yatra 'Bharat Jodo', but he did not tell the nation that it was Congress which partitioned India. "
After watching Rahul Gandhi speaking at the rally on Monday, I could not understand for the first 10 to 12 minutes what exactly he wanted to convey. You must have noticed Congress leaders claiming that 'Bharat Jodo Yatra' has refurbished rahul's image, but on Monday, Rahul Gandhi said, he did not go on this yatra for his own interest. Rahul Gandhi is the tallest leader in the Congress, but he said, this yatra was not for the Congress too. He also said, this yatra was not for political objectives. But his attacks on Narendra Modi and Amit Shah were purely political. It is difficult to understand the meaning behind what Rahul speaks and does in practice.
Those who know politics say, Rahul undertook this yatra on the advice of his close confidantes. His advisers told him that a common impression has gained currency among people that Rahul is not very much interested in politics, and is reluctant, that he is unwilling to put in hard work, and often goes out of the country on vacation. Because of this, fresh contenders for the post of PM have come forward. Congress leaders are now happy that the yatra has put Rahul on a higher pedestal compared to those of Nitish Kumar and K Chandrashekhar Rao.
Congress leaders feel that they have got a new avatar of Rahul, who will regain the grand old party's lost glory. They believe the new avatar of Rahul will deliver what the earlier avatar could not. But leaders like Mamata Banerjee, KCR, Nitish Kumar, Tejashwi Yadav and Akhilesh Yadav, are out to puncture the plans of Congress.
Nitish Kumar, Tejashwi Yadav and Akhilesh Yadav, have now started rejigging their political gambit on the basis of caste instead of religion. That is why, caste census has been ordered in Bihar and Ramcharit Manas is also being targeted to reignite the caste cauldron. Opposition unity still continues to be a mirage.