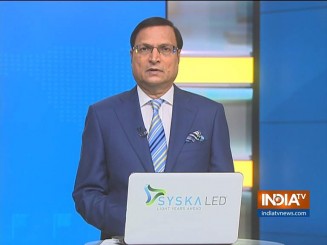 This weekend Union Commerce Minister Piyush Goyal is my guest in 'Aap Ki Adalat' show. I asked him whether Bajrangbali will bless BJP in Karnataka with a resounding win. You must listen to his reply. Goyal said, he has been a devotee of Bajrangbali since his youth days. Whenever he goes out of town, or visits abroad, he makes it a point to visit Hanuman temple on Tuesdays and Saturdays to offer his prayers. On Karnataka, Goyal was confident that Bajrangbali would bless his party this time. 'Bajrangbali is omnipresent, Karnataka is Bajrangbali's place of birth. I am fully confident, Bajrangbali will not allow any crisis for the people of Karnataka', he said. In 'Aap Ki Adalat' show, Goyal made scathing remarks on Congress leader Rahul Gandhi and said, even Congress leaders want Rahul must not campaign, because they fear the party may lose. He said, there are three claimants for the CM post in Congress: Siddaramaiah, D. K. Shivkumar and Congress President Mallikarjun Kharge. Goyal said, Rahul's 'Bharat Jodo Yatra' in Karnataka was in fact 'Party Jodo Yatra' in that state. Goyal also spoke on Maharashtra politics. I asked him about speculations that Sharad Pawar's nephew Ajit Pawar may join BJP camp along with NCP legislators, and, in that case, will the CM be replaced? Goyal emphatically said that Chief Minister Eknath Shinde will continue and the next assembly elections in Maharashtra will be fought jointly by Eknath Shinde-led Shiv Sena and BJP. Goyal described the resignation move by NCP supremo Sharad Pawar as "a drama". You can watch 'Aap Ki Adalat' show with Piyush Goyal on Saturday and Sunday nights at 10 pm and on Sunday morning at 10 am on India TV.
CONGRESS IN A QUANDARY IN KARNATAKA
Campaigning in Karnataka is in full swing with Prime Minister Narendra Modi taking out a huge road show in Bengaluru on Saturday, and Rahul and Sonia Gandhi to address election rallies. Modi added a fresh touch to the campaign by alleging that the Congress was indirectly supporting terrorism by opposing the movie 'The Kerala Story', which he said was based on Islamic terror conspiracy. Union Minister Smriti Irani, in an interview to India TV correspondent Devendra Parashar, alleged that Priyanka Gandhi had offered namaaz in Amethi during 2019 poll campaign. I think, Congress leaders should confirm whether Smriti's allegation is true or not. Congress in Karnataka is trying hard to shake off the Bajrangbali issue and wants to ensure that religion and faith must not overshadow the campaign. On the other hand, Modi continued to chant 'Jai Bajrangbali' at his public meetings in Tumkuru and Bellary. The problem with Congress is that Sonia and Rahul Gandhi may not be able to save the party on Bajrangbali issue. Congress leaders have realized they have committed a big mistake in comparing Bajrang Dal with PFI in its election manifesto. Narendra By making Bajrangbali a big issue, Modi has forced Congress leaders to run for cover. Congress leaders are profusely clarifying that the party has no intention to ban Bajrang Dal. Some leaders are carrying Hanuman Chalisa in their pockets to show to voters that they are devotees of Bajrangbali, while Priyanka Gandhi is making a round of temples to offer prayers to Lord Hanuman. Congress state chief D. K. Shivkumar has promised to build Anjaneya (Bajrangbali) temples across the state. On the other hand, Congress has lodged complaint on Bajrangbali issue with the Election Comission. Clearly, the confusion is worse confounded in the Congress camp, and BJP is trying to reap the harvest.
PAWAR: BACK TO SQUARE ONE
Four days after he announced his resignation as NCP chief, Sharad Pawar, on Friday said, he has decided to continue responding to the sentiments of party workers and appeals made to him by several national leaders. There is not an iota of doubt that there is no politician in India who can match Sharad Pawar in political experience and acumen. By offering to resign, and then withdrawing his decision, Pawar floored his nephew Ajit Pawar, who was eyeing the party chief post. The 82-year-old political warhorse is facing health problems, but his political mind works with great speed. For 63 years, he toiled in the hurly-burly of Maharashtra politics. It would have been better if he had chosen to remain as the guiding force for his party, but circumstances forced his hand to continue as party chief. One message that came out from this crisis is that most of the political parties in India which work under a single leader, do not have a succession plan. Who can dare to make a succession plan with the party supremo active at the top? No supreme leader wants to anoint a successor. The churning ('manthan') that took place in NCP during Pawar's resignation and withdrawal, has yielded one good result: a successor will be selected in NCP after some days. Pawar himself announced that he would reorganize the party setup, in such a manner, that a succession plan is put in place. If other parties also prepare similar succession plans for their party chiefs after retirement, it will be good for national politics.