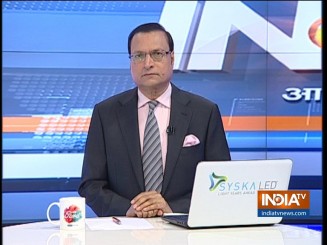 On Monday night, India TV reported on its Aaj Ki Baat show, how a large Pakistani unmanned aerial vehicle was sighted across Khemkaran sector in Punjab and Indian Air Force scrambled two Sukhoi-30MKI jet fighters to stop the intrusion. As a panic reaction, Pakistan Air Force then scrambled its F-16 fighters, but since there was no airspace violation from either side, tensions receded soon after. This incident took place on early Monday morning.
This incident clearly indicates the level of high operational readiness of both the armies which are virtually on razor's edge along the entire border and Line of Control. Fierce shelling from both sides is continuing across the 778-kilometre long LoC in Jammu & Kashmir.
Experts say there is much uneasiness in the Pakistani establishment since the successful Balakot air strike and the shooting down of a Pakistani F-16 fighter by an Indian MiG plane flown by Wing Commander Abhinandan Varthaman. Public opinion in Pakistan is openly against its own armed forces. To counter this, the Pakistani army has resorted to churning out baseless propaganda on social media.
Amidst the chest thumping exercise by the Pakistan army, there are intelligence reports of Pakistan preparing for another terrorist misadventure inside India to shore up its falling prestige. Our army, air force and navy are on high alert and ready to foil any such misadventure.
I have information from top sources in the Indian security establishment that if Pakistan carries out another terrorist misadventure of the Pulwama kind, it may invite swift retribution from India on a scale larger than the Balakot air strike.
Already there are intelligence inputs of Pakistan army regrouping the terrorists and sending them to terror training camps that have been restarted. These terror training camps are being provided army cover, and if any misadventure occurs, the next surgical strikes will be carried out against these terror camps inside Pakistan.
Click Here to Watch Full Video | Get connected on Twitter, Instagram & Facebook