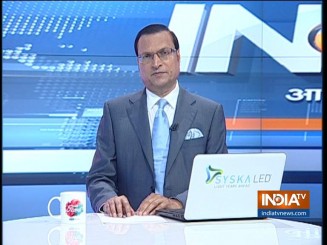 Prime Minister Narendra Modi on Monday alleged that West Bengal Chief Minister Mamata Banerjee repeatedly turned down his offer for providing aid to those affected by Cyclone Fani.
Modi said, "I tried to speak to Mamata Didi over telephone twice after the cyclone. I kept waiting, thinking maybe she would return the call. But she never called back. Such is her arrogance that she did not talk to me over cyclone. ..Didi has left no stone unturned to do politics even with cyclone relief."
Ten minutes later, Mamata Banerjee responded to Modi's allegation while addressing her party rally in Gopiballavpur in West Midnapore.
Mamata said: "I do not consider him the Prime Minister, so I did not sit with him for the cyclone review meeting. I do not want to be seen with him on the same platform. I will speak to the next prime minister. We can take care of the cyclone damage ourselves. We do not need the Centre's help ahead of the polls. "
Amidst such a vitriolic attack, all that I can says is that the people of Bengal are fortunate that the cyclone weakened when it crossed over from Odisha to their state. There was not widespread damage like Odisha. Had there been widespread damage, Mamata Banerjee would have mounted a big attack on the Centre alleging discrimination.
Mamata Banerjee is a good political fighter, no doubt. She knows how to respond to political attacks, but in times of natural disaster, when the common man is facing crisis, it is not proper to bring political rivalry to a personal level. It was wrong on her part to say that I do not consider Modi a Prime Minister and I will not talk to him.
Narendra Modi has a wide experience in natural disaster management. He learnt a lot from the 2001 Gujarat earthquake.
Cyclone Fani struck the Odisha coast on May 3. A day before, on May 2, the Prime Minister came to our show to give a mega interview. When I interviewed him in the evening, the Prime Minister said that he had just come in from a disaster management meeting with officials to minimize the damage from the cyclone.
At that meeting, both the Centre and Odisha government devised strategy to make solid preparations to avoid major damages. They had already started evacuating more than a million people to safer places in Odisha, and had posted disaster relief teams in advance.
Modi discharged his responsibility as Prime Minister, and Naveen Patnaik as chief minister provided the fullest cooperation. For saving nearly a million lives, the United Nations praised the disaster management efforts in Odisha. But unfortunately, Mamata Banerjee took a completely diverse stand. This does not augur well for Centre-State relations.
Click Here to Watch Full Video| Get connected on Twitter, Instagram & Facebook