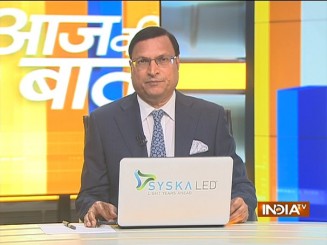 Mahant Narendra Giri Maharaj, the chief of the Akhil Bharatiya Akhara Parishad, a decision making body of sadhus across India, was found mysteriously hanging from a ceiling fan inside his Baghambari Math in Prayagraj on Monday afternoon. The Akhara Parishad is the apex body of 13 recognized akharas (monastic orders) of sadhus in India and it wields considerable influence among large sections of Hindus in northern India.
Police said, a four-sheet suicide note, written on either side, was found from the room, which was locked from inside. In the suicide note, the Mahant accused his discipline Anand Giri for "mentally torturing" him and forcing him to take the extreme step. Anand Giri was immediately picked up by Uttarakhand police from Haridwar. In the suicide note, Mahant Narendra Giri is purported to have written that "I have lived respectfully and want to die respectfully". A major part of the suicide note, which appears more like a will, mentions which of his disciples should get how much property.
The mahant was involved in a bitter property dispute with his disciple Anand Giri a few months ago which was resolved after intervention of a senior police officer and two politicians. In Haridwar, Anand Giri spoke to the media minutes before he was arrested. He alleged that the mahant did not commit suicide but was murdered. He said, it should be probed how the mahant who never wrote more than a few lines at a time, wrote such a long suicide note.
Mahant Narendra Giri was elected president of Akhara Parishad in 2014 and re-elected five years later in Haridwar. He was close to both BJP and Samajwadi Party politicians. In May this year, he had a public spat with his disciple Anand Giri, known as "chhotey mahant". Anand Giri was expelled from both Baghambari Math and Niranjani Akhara, on charge of violating the sect's rules of discontinuing all relations with family members after taking 'sanyas'. He was also accused of misappropriating temple funds.
On his part, Anand Giri had then sent his own complaint against his guru to the PMO and Uttar Pradesh chief minister. However, after some time, Anand Giri publicly sought forgiveness from his guru by touching his feet. He also tendered apology to the Panch Parameshwar of Shri Panchayati Akhara Niranjani. Mahant Narendra Giri had then forgiven him.
After going through circumstantial evidences, some points are clear. The mahant's body was found hanging from a ceiling fan in a room closed from inside. He had left behind a suicide note, which has been questioned by his disciple, who is now under arrest. The disciple alleges that the mahant was murdered and then his body was hanged from the ceiling to give it the shape of a suicide. The disciple also alleges that the mahant could not have written such a long suicide note, because he could never write more than a few lines. It is also true that the guru and the disciple had a public spat over violation of sect's rule and misappropriation of funds and properties. It is also true that the disciple had later apologized for his misdemeanours and the guru had forgiven him.
It is now up to the Uttar Pradesh police to probe whether the mahant committed suicide or whether he was murdered. The mahant has also named two other persons in his letter, and they too have been picked up by police. Since the inquiry is in a preliminary stage, nobody can be given a clean chit at this point of time, and the culprits, if any, must be punished. If any person incited the mahant to commit suicide, he must be charged for abetment of suicide. Police must reach the bottom of the truth at the earliest. The mahant had a large following and was widely respected. The community of saints shows the right path to millions of people and if a revered saint either commits suicide or was murdered, then it is a matter of grief and concern for the entire society.