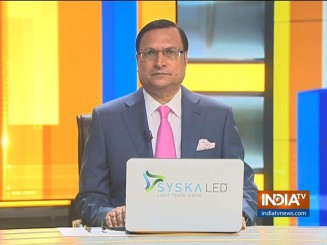 Within minutes of the Supreme Court rejecting Manish Sisodia's bail plea on Tuesday, Delhi Chief Minister Arvind Kejriwal accepted the resignations of two ministers, Sisodia and Satyendar Jain, and forwarded them to the Lt. Governor for approval. There are reports that two AAP MLAs, Saurav Bhardwaj and Atishi, may be inducted as ministers, to ease the work load on other ministers.
With Saytendar Jain in Tihar jail since the last nine months, Manish Sisodia as Deputy Chief Minister was handling 18 departments, which included Finance, Planning, Public Works, Labour, Excise, Education, Technical & Higher Education, Vigilance, Tourism, Home, Health, Urban Development, Irrigation and Flood Control, Power, Water and Industry. Jain was arrested in May last year in a money laundering case, while Sisodia is now in CBI custody in the Delhi liquor excise scam.
In the Supreme Court, on Tuesday, a bench of Chief Justice D Y Chandrachud and Justice P S Narasimha told Sisodia's counsel to approach either the trial court or Delhi High Court for bail.
The bench told Sisodia's counsel Abhishek Manu Singhvi: "This is a case under Prevention of Corruption Act. Can you not make the same arguments before the Delhi High Court, which is available to you as a forum to seek similar reliefs? Go to the High Court, which is bound by our judgements…. You can raise all these arguments before the competent court. Otherwise, what will happen is that we will be the first forum for entertaining bail petitions. An incident happening in Delhi does not mean, you will rush to the Supreme Court.. You have the full remedy of moving the competent court and the Delhi High Court. We should not be interfering in that process."
Meanwhile, CBI has indicated that it intends to seek extension of five-day remand for Sisodia. Soon after the apex court turned down Sisodia's bail plea, the deputy chief minister's three-page letter in Hindi was released to the media.
In his resignation letter, Sisodia wrote: " They tried hard to force me to leave you (Kejriwal). They even threatened and coerced me. When I did not bow down, they arrested me. But I am not the first person in the world who has gone to jail while fighting on the path of truth. ..All these charges levelled against me are fake and it is nothing more than a conspiracy hatched by cowards, who are afraid of Arvind Kejriwal's politics of truth. I am not their target, but you."
Praising the chief minister, Sisodia wrote: "Arvind Kejriwal has become a beacon of hope for people who are faced with financial crisis, poverty, unemployment, price rise and corruption. Your words are not viewed as 'jumlas' … The prayers of lakhs of government school children and their parents are with me. The biggest thing that I have is the blessings of thousands of teachers who brought about a revolution in the field of education in Delhi." He ended the letter with the famous revolutionary couplet, "Sarfaroshi ki tamnna ab hamare dil me hai, dekhna hai zor kitna baajoo-e-qatil me hai."
The question arises whether both Sisodia and Jain had given their resignation letters to Kejriwal in advance, as both were accepted by the chief minister soon after the apex court order. It is surprising that Kejriwal had not removed Jain from his cabinet even though he has been in jail for the last nine months. On the other hand, Sisodia's resignation was accepted within 48 hours of his arrest. Will Kejriwal now make it an issue of morality and go to the people?
Senior BJP leader Ravi Shankar Prasad had finished his press conference on Tuesday and was leaving when he got information about the acceptance of the resignations of both ministers. He returned and commented that it was the victory of his party's workers in Delhi that one minister is in jail and the other is in CBI custody.
AAP leader Sanjay Singh sought to play the victim card and said that Sisodia has been punished for revamping Delhi's education system. AAP leaders said, both Sisodia and Jain may not be ministers any more but the party stands solidly behind them.
On one hand, TMC chief Mamata Banerjee, Kerala CM Pinarayi Vijayan, Telangana CM K. Chandrashekhar Rao and former Maharashtra CM Uddhav Thackeray have publicly supported AAP, describing Sisodia's arrest as part of what they called 'political vendetta', but on the other hand, Congress spokesperson Supriya Shrinate raised the question why Kejriwal and his associates were silent when Congress leader Pawan Khera was arrested at Delhi airport.
Whatever CBI or the courts may say about Manish Sisodia, Kejriwal and other opposition parties will now sharpen their attacks on Prime Minister Narendra Modi and industrialist Gautam Adani. They will allege that the opposition is being muzzled and Modi is trying to shield his friends. But the main question is: Why did Sisodia and Jain resign?
Till now, Aam Aadmi Party had been saying there was no necessity for the ministers to resign, even if they are in custody. Satyendar Jain is in jail since nine months, but his resignation was never sought nor did he tender his resignation. In Sisodia's case, the AAP leadership waited for the Supreme Court hearing, and when the apex court denied bail, the announcement of resignations of both the ministers was made. Clearly, there was no way out for the ministers in custody, but to resign.
For Kejriwal, there is fresh trouble brewing. Transport Minister Kailash Gehlot is facing the sword of CBI probe in the DTC bus purchase case. On Tuesday, CBI sleuths went to Nand Nagri DTC bus depot in connection with the probe which was approved by the Lt. Governor in August last year.
Secondly, the Delhi liquor excise scam has its fallout in Punjab, where Chief Minister Bhagwant Mann's government had implemented the new liquor excise policy. Opposition leaders in Punjab have pointed out that the Punjab excise policy is similar to that of Delhi, and it appeared to have been drafted by Manish Sisodia and his team. Online licence renewal forms that were posted on the website of Punjab excise department's website have been suddenly removed.
Liquor traders and opposition leaders had been opposing the new excise policy. Both Shiromani Akali Dal and BJP have demanded a CBI probe into Punjab excise policy case. BJP leader Manjinder Singh Sirsa had drawn the attention of CBI and ED in September last year alleging a scam. He had alleged that the Punjab excise minister had gone to Delhi and there used to be meetings in Sisodia's residence to draft the excise policy.
Sirsa alleged that the policy was formulated in such a manner that the wholesale trade was given to only two parties. In his letter to CBI, Sirsa had demanded that case be filed against 14 persons including Raghav Chadha, Manish Sisodia, Vijay Nair, and AAP MLA from SAS Nagar Kulwant Singh. Sirsa alleged that companies that have been blacklisted are going to get liquor licences in Punjab.
If AAP ministers and leaders in Punjab face CBI action, as it happened in Delhi, it could become difficult for Kejriwal to give a credible reply. The sudden withdrawal of online licence renewal forms from Punjab excise department's website has already led to suspicions. The opposition in Punjab is bound to make it an issue.