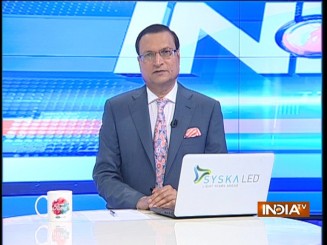 Ayodhya has turned into a virtual fortress with the Vishwa Hindu Parishad going to hold a Dharma Sabha on Sunday and the Shiv Sena supremo Uddhav Thackeray offering prayers with his party leaders on the bank of river Saryu. Both the outfits are pressing for early promulgation of ordinance by the Centre to build a Ram Temple at the disputed spot Ramjanmabhoomi, even as the Supreme Court is set to begin hearing on the title suit from January onwards.
Samajwadi Party chief Akhilesh Yadav has demanded that the Supreme Court should immediately take suo motu cognisance and consider deploying Army in the city of Ayodhya. Already, the UP government has deployed BSF, CRPF, Rapid Action Force and state PAC alongwith 4,000 policemen to maintain law and order.
Additional force has been deployed in Muslim-dominated areas, even as there are rumours of members of minority community shifting from their localities in Ayodhya.
Building of Ram Temple at the Ram Janmabhoomi site is no doubt a matter of faith for the Hindus and holding of meetings is well within the democratic rights of citizens. But spreading baseless rumours should be dealt with sternly. Already, the UP government has taken steps to maintain peace in Ayodhya.
Shiv Sena and VHP leaders must ensure that peace and tranquility is maintained and no baseless rumours should be spread to vitiate the atmosphere. These leaders should understand that building of Ram Temple at his birthplace surely requires an atmosphere of peace and devotion, and nothing should be done to build communal tension.
Click Here to Watch Full Video | Get connected on Twitter, Instagram & Facebook