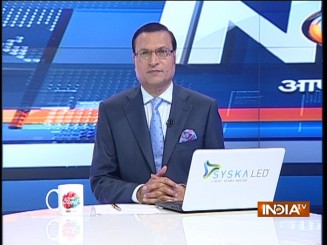 Congress President Rahul Gandhi jumped into the Vijay Mallya controversy on Thursday, when he alleged what he called "collusion" between the fugitive liquor baron and Finance Minister Arun Jaitley. He also demanded Jaitley's resignation and a probe into why Mallya met Jaitley in Parliament a day before he fled from India.
However facts point towards something entirely different. Even the Congress do not disagree that Mallya's companies were sinking in a sea of debts, he owed thousands of crores to the banks, and he had no interest in repaying back the loans. And yet, the UPA government of Dr Manmohan Singh went out of the way to pressurize public sector banks to lend more loans to his companies. Even these loans sank and there was debt restructuring. The banks were unwilling to give more loans to Mallya's companies but the then PM Dr Manmohan Singh and the then Finance Minister put pressure on banks to lend him money. Mallya even wrote letters to them to thank them for their help.
Naturally questions will be raised. It is also a fact that Mallya's companies did not get a single rupee as bank loan after Prime Minister Narendra Modi took over in 2014. On the contrary, pressure was exerted on his group to repay the loans, and legal action was initiated. It was because of this that Mallya was forced to leave his land and properties in India and flee to foreign shores.
Congress is yet to answer why despite knowing the fragile status of his group, thousands of crores of rupees worth loans were given from the banks, not once, but several times. Congress is making an issue out of how Mallya met Jaitley before fleeing. This issue should have ended the day when Mallya himself said that it was not a scheduled meeting with Jaitley.
The BJP, on its part, has shown letters from the then PM's office, to show how the UPA government was bending over backwards in accommodating Mallya. Both the then Prime Minister and the then Finance Minister were helping Mallya and his group of companies. Despite opposition from senior bank officials, pressures were exerted from the Congress to help Mallya and his companies. Arun Jaitley as Finance Minister did nothing of the sort. He put pressure on Mallya to repay the loans, and initiated action in UK courts to deport Mallya. The fugitive baron's lawyers raised the issue of "poor conditions of Indian jails", but when a video of the Arthur Road central jail was submitted to the British court, Mallya's lawyers had no answers.
The Congress may well claim that the Mallya-Jaitley meeting is a "big political issue", but it should not forget two things: One, even Jaitley's political rivals do not doubt his personal integrity, and Two, the final verdict in Mallya's case before the British court is going to come on December 10, and at that time, Mallya may spill out the beans, which can cause discomfort to the Congress party.
Click Here to Watch Full Video | Get connected on Twitter, Instagram & Facebook