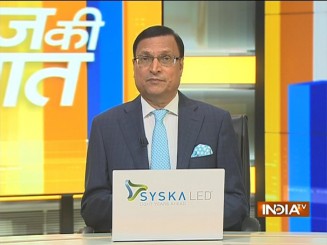 Prime Minister Narendra Modi on Friday flagged off the world's longest (3,200 km long) river cruise. The maiden voyage of M.V. Ganga Vilas cruise with German and Swiss tourists left Varanasi and will reach Dibrugarh in Assam via Bangladesh after 51 days. Modi hoped that this new era of cruise tourism would create job opportunities and self-employment. He said, more inland waterways are being developed to promote cruise tourism.
India, Modi said, is witnessing a level of infrastructure that was unimaginable a few years ago. He also inaugurated Rs 1,000 crore worth projects of waterway development for UP, Bihar, West Bengal and Assam, and also opened a Tent City project in Varanasi.
The cost of Ganga Vilas travel cruise is a minimum Rs 20 lakh per head, which could go up to Rs 50 lakh per passenger for the 51-day trip. Only vegetarian food will be served and alcohol will not be allowed. Spa, salon, gym and other facilities are available on the trip.
It will cover nearly 50 tourist destinations including world heritage sites, river banks, national parks and cities like Patna, Dhaka, Kolkata and Guwahati. After the PM flagged off the cruise, several opposition parties opposed it saying that it would cause job losses to fishermen and boatmen plying in the river Ganga.
Samajwadi Party chief Akhilesh Yadav queried what will happen to the boatmen and their boats. Congress described the cruise as useless, while JD-U chief Lallan Singh said, his state government in Bihar will not allow plying of goods by waterways. He described the cruise as a waste of money.
Modi, in his speech, described river Ganga as 'mother' and India's lifeline. He pointed out to the migration of labourers from cities located near Ganga due to lack of job opportunities. Modi said, the cruise and Varanasi's new Tent City will give a boost to tourism and job opportunities.
Samajwadi Party chief Akhilesh Yadav claimed that the present BJP government in UP is renovating launches and boats that were purchased during his rule and is presenting them as new boats and launches. He said, Modi's promise to clean up the river Ganga has not been fulfilled. Congress leader Jairam Ramesh asked Modi what happened to the Namami Gange project and why the Ganga river is still dirty. "They are only staging dramas like cruise and tent city", he said.
Uttar Pradesh chief minister Yogi Adityanath said, his government has provided CNG boats by replaced diesel-run boats, in order to stop pollution of Ganga. He said, UP is landlocked state, and since there is no seashore nearby, products that are made in small towns of the state fail to reach foreign shores, due to lack of infrastructure. With the Ganga river cruise, small artisans will benefit and they can sell their products in international markets, he added.
It is a fact that neither the Congress nor the Samajwadi Party ever thought of plying a Ganga river cruise. It was Modi's original idea which was implemented by him. It is also true that a luxury cruise will not create much impact on the state's economy, but it will give a boost to inland waterways linking cities.
An entire town flourishes with the incoming of tourists, and since this work has been launched by Modi, the opposition parties are bound to object. Boatmen or 'mallah' form a large vote bank, and they live on the banks of river Ganga. That is why Akhilesh Yadav alleged that the cruise will gobble up the jobs of boatmen, while Yogi said the cruise will be a boon for Gangaputra (children of Ganga).
Akhilesh Yadav should know that 36 foreign tourists on a single trip, and only six trips in a year, means a total of 216 foreign tourists travelling on the cruise. On the other hand, lakhs of tourists visits Benares every year. How can the cruise gobble up the jobs of boatmen?
Akhilesh should learn from Bihar deputy CM Tejashwi Yadav, who welcomed the cruise, saying it was a blessing for boatmen, will enhance job opportunities and improve economy in the towns located on the banks of Ganga. Foreign tourists can know about the great heritage of Bihar and visit the famous historic sites.
Tejashwi was speaking as a deputy chief minister at the event, and he spoke in a manner befitting his position. But Janata Dal(U) chief Lallan Singh, his alliance partner, spoke against the cruise.
Lallan Singh is trying to hard to project his leader Nitish Kumar as the prime ministerial candidate, and naturally, he was not supposed to support Modi. I think, in matters relating to development, politicians should rise above politics.