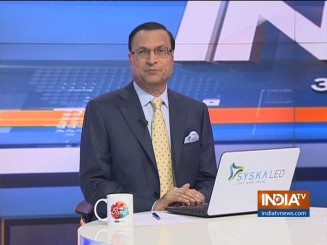 The exodus of lakhs of migrant workers from cities and industrial townships to their native places continue even as the Railways have so far run 468 trains to transport nearly 4.5 lakh migrant workers to their states. Most of the migrant workers walking on foot are in a miserable condition due to hunger, sore feet and exhaustion under a scorching sun.
In my prime time show 'Aaj Ki Baat' on Monday, we showed a migrant worker turning nostalgic while singing a plaintive song expressing his desire to return home. The worker is neither weeping nor seeking alms, he is only expressing his deepest emotions born out of unemployment and displacement from his work place.
Nobody knows the exact number of migrant workers in India. Some put it at 42 lakhs, some put it in the range of four to five crore. Everybody empathizes with the sufferings of these migrant workers but the ground realities are harsh. Most of these migrant workers are out of jobs, they have run out of money and their landlords are pressing them to pay rent.
The migrant workers know that walking a distance of 800 km or 1800 km is almost an impossible task, but they have no other alternative. The challenge is two-fold: one, providing succour to those thousands who are already walking so that they can safely reach home, and two, providing jobs to those lakhs of migrant workers, who are jobless in the cities and industrial townships.
I get thousands of videos every day that show how migrant workers are suffering, but I fail to find words to express my sympathy. There was this woman in her ninth month of pregnancy, who walked nearly 460 km from Pithampur industrial township in MP to Lalitpur, near Jhansi. She gave birth to a child on the roadside, and fortunately the mother and the infant were sent to a hospital.
The distance from Nashik (Maharashtra) to Satna (MP) is roughly 1,100 kilometres and a train normally takes 15 hours to reach its destination. A pregnant woman walking with a group of migrants, gave birth to a child on the roadside. The lady recovered after two hours, and carrying her newborn infant, started walking again.
She covered roughly 175 km and after five days, reached Sendhwa with her group on MP-Maharashtra border. Police at the border checkpost sent the mother and newborn, along with another pregnant woman, to a hospital and sent the other migrants to a quarantine center. The local administration later arranged a bus to send all the migrants to their native place.
In Jaipur, India TV reporter Manish Bhattacharya noticed a couple with two children, sitting under a bridge and begging for milk from passersby. Local residents arranged milk, but this poor couple had no utensil with them. A broken earthen pot was used to heat and then serve milk to their children. The couple said they had walked all the way from Jodhpur, 350 km away, and wanted to go to Varanasi, another 850 kilometres away. They had meagre amount of money with them but they did not beg. When the couple ran out of money, the children started crying for food and milk.
On the Lucknow-Agra expressway, where accidents frequently occur due to speeding vehicles during pre-lockdown period, there seems to be an endless caravan of workers walking, some on cycles and carts, and some even in autos. All of them were heading towards their homes, mostly in eastern UP, Bihar and Jharkhand. Similar scenes were noticed on Mumbai-Ahmedabad highway.
Prime Minister Narendra Modi on Monday had a detailed discussion with all chief ministers, his fifth meeting on the pandemic crisis. He appealed to them to take all possible measures to stem the spread of the virus to rural areas. He advised them not to fritter away the gains accrued from the lockdown.
Had the lockdown not been enforced in time, India's death toll in the pandemic would have ranged in lakhs. Most of the developed countries had made such a grim assessment about India because of its huge population, but they were proved wrong.
The second gain from lockdown was that it gave ample time to both the Centre and state governments to fine tune their response. Quarantine centers, isolation wards and temporary hospitals were set up. Nearly 20,000 train coaches were converted into hospital wards.
Lockdown cannot continue forever. The pandemic may continue for three or ten months, or for two years, nobody can say for sure. That is why, the government has decided on step-wise relaxations in lockdown restrictions. Agricultural activity was allowed, essential shops were permitted, most of the factories were allowed to reopen, and from Tuesday long distance trains will resume operations. Buses may ply and very soon, air travel may resume.
The nation has followed lockdown restrictions to a large extent during the last 45 days. People are using maks, hand sanitizers and keeping social distance. But I want to add a caveat. If one hundred people follow restrictions, and one out of them flouts them out of negligence, all the efforts go waste. If we want to overcome this pandemic, we must ensure that not a single person should boast that the virus cannot catch him.
Click Here to Watch Full Video | Get connected on Twitter, Instagram & Facebook