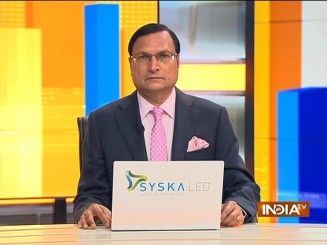 The countdown for the historic landing of Pragyan rover near the South Pole of Moon has begun. On Thursday, the lander Vikram successfully separated from the Chadrayaan-3 propulsion module and de-boost manoeuvres were carried out on Friday. August 23 is the D-Day and if Vikram makes a soft landing and Pragyan rover rolls out on the Moon's surface, it will be a red-letter day in the history of India. Two days prior to this soft landing, the Russian spacecraft Luna-25 will land on the Moon's surface on August 21. It will be a day of pride for all Indians when the rover Pragyan hoists the Indian tricolour flag on the Moon's surface. ISRO scientists are brimming with hope and they do not expect any last minute glitch. Vikram is presently orbiting the Moon and it is expected to reach a minimum altitude of 30 kilometres, before it makes a soft landing. Indian space scientists command a lot of respect across the world. Satellites from more than 50 countries including the US, Russia, France, Britain, Germany and Italy, are launched from India. The world relies on our space launch vehicles. It is also true that no Indian spacecraft could make a soft landing on the Moon in the 75 years of our Independence. Chandrayaan-2 will fill up this vacuum during the Amrit Mahotsav of Independence. India will be the fourth country after US, Russia and China which will land its spacecraft on Moon. India will become the first country to land its spacecraft near the South Pole of Moon. ISRO scientists have said that even if the engines of Vikram fail to work, a soft landing will be ensured this time. I have full faith in our space scientists and I hope they will succeed in their mission.
CHRISTIANS UNDER ATTACK IN PAKISTAN
Frenzied mobs torched 21 churches in Pakistan's Punjab province and set fire to more than 35 houses belonging to Christians. These attacks took place in Jadanwala town near Faisalabad. The rioters set the Bible on fire and ransacked the churches before setting them on fire. They did not even spare the cemetery. Hundreds of Christians are homeless and have taken shelter in open fields. The Muslim mobs alleged that the Christians have committed blasphemy. After announcements by Tehrik-e-Labbaiq imams from mosques, the mobs went on the rampage, looting and ransacking churches, homes and shops. A huge contingent of Pakistan Rangers and paramilitary forces has been deployed. The violence was sparked by baseless blasphemy rumours circulated by some imams. The main aim of the rioters was to grab land and properties belonging to Christians. Both Tehrik-e-Labbaiq and Ahle Sunnat, which are fundamentalist outfits, are said to be close to the Pakistan army. US and Britain have called on Pakistan to stop atrocities on minorities. This is not the first time that minorities in Pakistan have been subjected to atrocities. Hindus, Sikhs have also been attacked and their homes, temples and gurdwaras ransacked. Recently, an ancient Hindu temple in Sindh province was attacked by Muslim fundamentalists. Later, it was revealed that some interested groups wanted to build a shopping mall after demolishing the temple. Prior to that, an old Sikh gurdwara was also attacked. Authorities in Pakistan take cosmetic action against the rioters, but they are never punished, nor do the minorities get back their properties. It is time that the major powers of the world should exert pressure on Pakistan to stop such atrocities and Hindus, Sikhs and Christians must be provided security.
POLLS : RAJASTHAN, MP AND CHHATTISGARH
Preparations have begun in Madhya Pradesh, Chhattisgarh and Rajasthan, which will be going to assembly polls by the end of this year, along with Telangana. On Thursday, BJP released its first list of candidates for 39 seats in MP and 21 seats in Chhattisgarh. Most of these seats are considered 'weak' by the party leadership. All the 39 seats for which candidates were announced for MP, were lost by BJP five years ago. Congress had won 38 and BSP had won one at that time. Ranvir Jatav, close to Union Minister Jyotiraditya Scindia has not been given the ticket from Gohad. Jatav had won this seat last time on Congress ticket and later joined BJP. He lost the byelection. This time, BJP has given the ticket to Lal Singh Arya, who had lost in 2019. State Home Minister Narottam Mishra said, the party wants its candidates to concentrate more on their constituencies and win the seats this time. BJP's strategy for MP is clear. Shivraj Singh Chouhan will be projected the CM face once more. The leadership will keep a close watch on anti-incumbency factor. Winnability will be the criterion for getting a party ticket. In Chhattisgarh, BJP's performance last time was not satisfactory. This time the party has fielded Vijay Baghel, a relative of Chief Minister Bhupesh Baghel from Patan constituency to take on the CM. Vijay Baghel is presently the BJP MP from Durg. On Thursday, the chief minister remarked that the Congress would win more seats this time. Congress had won 68 out of total 90 assembly seats five years ago, and BJP had won only 15. But state BJP chief Arun Sao says, the party will get a majority and form government this time. Despite his claim, the fact remains that Congress is on a strong footing in Chhattisgarh. The biggest challenge to BJP is the governance of Bhupesh Baghel during the last five years. Baghel is brimming with confidence, and he has managed to end infighting in Congress. In the BJP, infighting continues and this could prove a hindrance. The most surprising development is happening in Rajasthan. BJP leadership wants to finalize its candidates at the earliest, but top BJP leaders in the state are at loggerheads. On Thursday, senior BJP leader Vasundhara Raje did not attend the party core committee meeting attended by three Union Ministers Pralhad Joshi, Gajendra Singh Shekhawat and Kailash Chaudhary. Vasundhara was invited but she did not attend. After the meeting, manifesto committee and election management committee were formed, but Vasundhara was not named in both the committees. Union Minister Arjun Ram Meghwal will head the manifesto committee with Ghanshyam Tiwari as co-convenor, which Narayan Pancharia will be the convenor of election management committee. There are speculations that Vasundhara may be given a bigger role in the party and she may be made the convenor of campaign committee. There is no doubt that Vasundhara Raje is the most powerful BJP leader in Rajasthan. She knows the art of fielding winnable candidates and leading the party to win elections. BJP leadership wants to project her as the CM face, but infighting in the top echelons has become a problem. Vasundhara has her own camp, while other BJP leaders are in the opposite camp. If infighting continues, BJP may lose a winning battle.
PAWAR FACES AN UPHILL BATTLE
NCP supremo Sharad Pawar, in his first major show of power, addressed a rally in Beed, Maharashtra, on Thursday. Beed is considered the stronghold of state minister Dhananjay Munde, who crossed over with Ajit Pawar and others to the BJP camp. The interesting part was: Dhananjay Munde's supporters had posted posters welcoming Sharad Pawar, with his nephew Ajit smiling on the billboards. But, in his speech, the NCP patriarch neither named his nephew nor Munde. He however said, "One of the local leaders here left my party. I asked him, what happened. He said, somebody told him that Pawar Saheb has now become old, and we have to think about our future by electing another leader. I only want to ask him: you are questioning my age…. How much do you know about me?" Pawar then spoke about Modi, with a light banter: "The Prime Minister addressed from Red Fort saying 'I'll come back'. I want to tell him, there was a CM in Maharashtra, Devendra Fadnavis. He also said, 'I'll come back'. He came back, but failed to become the CM. He had to take a post below the CM. Our PM is now saying the same thing. If he comes back, will he get back the same post? He must think." In response, Devendra Fadnavis replied in Shirdi: "People still fear my words 'Ill come back'. A national leader says, Modi is speaking like Fadnavis. When I said I will come back, people had elected me, but some people betrayed me and I could not return to power. But remember, we returned to power with the entire party of those who betrayed me. So, nobody should doubt my words". While Fadanavis was saying this, Chief Minister Eknath Shinde and Deputy CM Ajit Pawar were standing beside him. State BJP chief Chandrashekhar Bawankule said, "the day is not far off when Sharad Pawar will also stand with Narendra Modi." NCP leader Nawab Malik, who is now out on bail in an ED case, is being asked to join Ajit Pawar camp. Ajit Pawar and other NCP leaders have already met him. Sharad Pawar also sent Eknath Khadse to meet Nawab Malik. Pawar is trying to save the symbol and name of his party. Election Commission had sought replies from both camps on August 17. My information is that Sharad Pawar camp has sought four weeks' time from EC. The second big challenge before the patriarch is to win the trust of Maharahstra Vikash Aghadi partners. Shiv Sena leader Sanjay Raut is hopeful that Pawar will not join the BJP camp. People in Maharashtra have the impression that at the age of 82, the NCP supremo is fighting with his back to the wall. He is being forced to walk the streets to garner support. The reality is: Pawar is a born fighter. Age is not with him, his health may not be good, he has trouble speaking because of his medical condition, people find it difficult to understand his words, but there is no doubt that Pawar loves to fight political battles. Whenever a big challenge arises, he fights with all his energy. The only misfortune is that Pawar Saheb had wanted to give a fight to BJP, but he must now fight his nephew first. The first battle is going to be between the uncle and the nephew. The bigger misfortune is that, at a time when Pawar is ready to give a fight to Narendra Modi, he is being looked at with suspicion by his own allies. Sharad Pawar is facing an uphill battle, but he always loves to traverse such a path. It keeps him active.