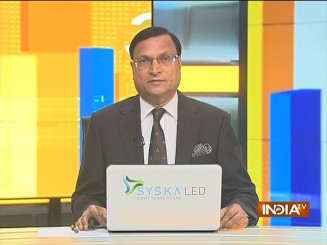 At a time when the nation seethes with anger over the parading of two naked women in Manipur, disturbing reports have come from West Bengal of two BJP panchayat poll women candidates beaten up and stripped by alleged Trinamool supporters. While in Manipur, four suspects have been arrested and sent to 11 days' police custody, 12 other youths have been identified and police is out to nab them. The house of one of the accused was set on fire by a mob of angry women in Manipur. But, in West Bengal, reports have come of women candidates of BJP being beaten up and stripped. BJP MP Locket Chatterjee broke down at a press conference, while narrating the ordeal one of her women candidates had to go through on July 8, polling day. The woman candidate was beaten, stripped naked and paraded in Panchla, Howrah district. Chatterjee alleged that police initially refused to file FIR, but was later forced to do so after BJP protest. In another incident in Domjur, Howrah, she alleged, a woman supporter of BJP was groped and assaulted by TMC workers inside a counting centre. Locket Chatterjee had a list of several dozen such atrocities, but FIRs were lodged in only two such cases. West Bengal Director General of Police Manoj Malaviya claims, there is no such evidence to show that these two incidents took place. He even claimed that the victim did not submit any medical report on her injuries, nor did central forces deployed at the booth report any such assault. Asked about what police investigated to arrive at this conclusion, the DGP said, the first case was reported five days after the incident, and in the second case, central forces deployed at the election booth did not report any such assault. The DGP is the seniormost police official in Bengal, and he knows rules and laws. The fact is, the FIR was filed five days after the online complaint was received, and police sent the victim a letter to come and record her statement. Naturally, the victim was living in fear and she did not go to the police station because she had no trust in police. After the Manipur incident caused nationwide anger, she mustered courage and came to the press conference to narrate her ordeal. The victim belongs to a poor family and lives in a village hut. BJP had fielded her as a gram sabha candidate. At the press conference, she disclosed, how on July 8, when she went to the polling booth, TMC supporters mandhandled her, dragged her by her hair, and tore her clothes. The victim managed to flee and save her life. The TMC goons, she alleged, went to her house, ransacked the hut and warned her that her family members will be killed if she went to police. There is another video of July 11, of a woman BJP candidate in Cooch Behar weeping at the feet of Union Minister of state Nishith Pramanik, when counting was in progress. On that day, TMC supporters had beaten her up. She lost the elections, and was in such a state of fear that she fell weeping at the meet of the minister. She was imploring the minister to take her away to a safe place and protect her life. On Friday, West Bengal CM Mamata Banerjee reacted at her Martyrs Day rally in Kolkata. She alleged that BJP is creating fake drama and the conspiracy was to defame Bengal and impose Central rule. Lest you forget, it was on July 21, 1993, 13 Congress workers were killed when police fired at a Congress rally in Bengal during Left Front rule. This day is commemorated as Martyrs Day by Mamata Banerjee's TMC every year. Mamata, on Friday, alleged that BJP is "creating such drama" to divert people's attention from what happened in Manipur. To forcibly disrobe an innocent woman, parade her naked, brings shame to the entire society, whichever state it may belong to. The horrendous acts with women, whether in Manipur of Bengal, are shameful. What happened in Manipur is condemnable. It was the outcome of a clash between two communities. In Bengal, it was the result of a battle between two political parties. Mamata's partymen assaulted, thrashed and threatened political rivals. If there is no video or picture, it does not reduce the barbarity of the act. Who else but Mamata Banerjee can understand the magnitude of such an atrocity? She became a mass leader in Bengal after fighting against CPI-M's hooligans for decades. She faced atrocities of Communists with courage. In the present cases, she must not delay action only because the culprits belong to her party. Mamata must not stop herself from speaking out over such horrific acts against women, only because the culprits were working to get her party elected. Whether it is Manipur CM N. Biren Singh or West Bengal CM Mamata Banerjee, I want to remind them of the Urdu couplet – "Tu idhar udhar ki baat na kar, yeh bataa, qaafila kyun luta, Mujhe rehjanon se gila nahin, Teri Rehbari Ka sawaal hai." (Do not obfuscate, tell us why our caravan was looted, I have no grudge against the robbers, the question is: about your leadership) – (literal translation).
MANIPUR OR RAJASTHAN : LET US NOT BE SELECTIVE
The question of leadership is not limited to Manipur and Bengal, it relates to atrocities that are happening against women and girls in Rajasthan too. Nowadays, political parties have become selective, the culprits have become an issue of Us vs Them, Congress remained silent over atrocities against women in Bengal, and Mamata is silent about gangrapes in Congress-ruled Rajasthan. Is it because of the new-found friendship bonding? Is political alliance forcing Priyanka Gandhi and Mamata Banerjee to speak only on Manipur? On Friday, at her Gwalior rally, Priyanka spoke about the Manipur incident and alleged that the Prime Minister has been silent on Manipur for 77 days. In her 32-minute speech, Priyanka Gandhi did not speak about incidents that took place in Congress-ruled Rajasthan and Chhattisgarh. But, in Rajasthan hours after a Congress minister Rajendra Singh Gudha told the state assembly that the Gehlot government had failed to ensure security of women, and that atrocities against women have increased, he was dismissed by the Chief Minister from the cabinet. BJP MLAs thumped the desks when Gudha spoke, but by the time he reached home, he became an ex-minister. Gudha said, he would continue to speak the truth even after his dismissal. Former CM and BJP leader Vasundhara Raje said, more than a million criminal cases were registered by Rajasthan Police in the last four and a half years, and the state has taken the No.1 position in India as far as number of rapes is concerned. Whether it is Rajasthan, Bengal or Manipur, politicians want to grind their axe on issues of crimes and atrocities. Some claim, we nabbed the culprits in two days, and then ask, why Manipur police took 70 days, some say, your own minister admits that number of crimes against women has increased, some other claim, our police have at least filed FIRs, your state police even refuse to file FIRs, some will blame the police, some will say, opposition is telling lies. But people know the truth. The hearts of all politicians bleed when such atrocities take place, but they become selective while pointing fingers. Everybody knows, whenever there is conflict in society, or whenever there is a political battle, women become the first casualties. Those who strip women and parade them naked, those who gangrape them, can never help politicians in the long run, nor can they become part of a civil society. But nobody wants to realize this. Political parties take their own stance in matters relating to heinous crimes against women.