Atal Ji shall always remain in our hearts: some reminiscences
August 17, 2018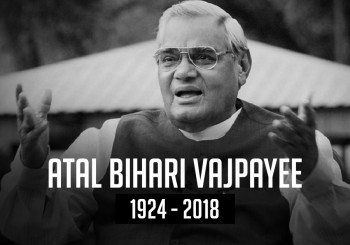 I never dreamt in my life ever that a day will come when I will have to pen a few lines about Atal Bihari Vajpayee's passing away. Never had I imagined that I would one day have to bid farewell to Atal Ji. The still, lifeless body of Atalji lying in state disturbs my mind. My heart is unable to accept that Atal Ji has left on his eternal journey.
I still visualize huge crowds of lakhs of people, flocking to hear and see Atal Ji. But today the leader is silent, in permanent slumber. I only hear the spontaneous outpouring of slogans 'Atal Ji Amar Rahe', 'Jab Tak Sooraj Chaand Rahega, Atal Tera Naam Rahega'. My heart feels, what I see is true, but my mind is unable to accept this fact. For me, Atal Ji was not only a leader, he was my guardian, my teacher, my friend, and most of all, my guide. With his passing away, I have lost all.
Atal Ji is out on his final journey, in the midst of lakhs of people, but somehow I feel, every individual is feeling himself or herself alone in this vast crowd. There is loneliness in my heart. The house where he used to live is empty. The house where I spent much of my time with Atal Ji, heard him recite his poems, is silent. The house, that used to resound with his laughter, is now silent. There is only a big portrait of Atal Ji, and all that is left, are his memories. I now remember the days that I had spent with Atal Ji, his conversations, his laughter, his anger, his advice, everything.
An era has ended today. Atal Ji was not only 'atal' (enduring) in name, he was 'atal' in his personality, he was 'atal' in his ideology, throughout his life he remained 'atal' in honesty, he remained 'atal' throughout his life in the cause of truth. Men like Atal descend on this earth in ages. A great orator, a sensitive poet, an outstanding statesman. For 60 years he remained in the black-stained Hall of Politics, but came out unscathed. He became the 'raja' (king) but continued to remain a 'faqir'(mendicant). You don't find such politicians any more.
I often feel that some of the words that Atal Ji wrote in his iconic poems may come true. He had written "Laut kar aaonga, Kooch se kyon daroon" (I shall come back, why should I be afraid of marching?) No more. No more shall we hear him vigorously reciting his poems, nor will I hear his scoldings, his gentle advices. I had the fortune of expressing my "mann ki baat" to him. At times, he also used to share his "mann ki baat" with me. I got his affection in abundance. A man who had a heart as crystal clear as that of a child. He sometimes used to sulk for the flimsiest of things, and he used to be pampered. No more sulking, no more pampering.
Memories are many. I wanted him to be my guest in my show Aap Ki Adalat. To bring him to the show was not so easy. I knew Atalji's foster daughter Namita from my college days. Ranjan Bhattacharya was with me in college. I took their help and persuaded Atalji to come to the show. Atalji used to fob off my requests with a laugh. Once I took hundreds of letters of my viewers to show him that people really wanted to see him on the show. He guffawed, and said you take all these letters from people when you meet them. At last he agreed, but on the day of recording, he backed out. He flatly refused to come. I rushed to Atalji's house, tried to persuade him, but he said his party has forbidden him to speak. I told him, 'well, I am seeing for the first time that you are following the party's diktat'. Atalji was somewhat angry, but Namita intervened. She told him, 'Baapji you had promised to go'. All of a sudden, Atalji stood up and said, let's go. That's how I got him in Aap Ki Adalat.
Atal Ji, as an individual, was a rarity. He never had shallow thoughts, nor would he ever make shallow remarks. After his first 'Aap Ki Adalat' show was telecast, he became Prime Minister and his government lasted for 13 days. H. D. Deve Gowda became the Prime Minister, and there was a dinner at Rashtrapati Bhavan. Atal Ji told me at that dinner that he wanted to meet me.
I met him the following day. He said, I have three things to tell you. In humility, I told him, 'you are my elder, you can say anything'. He replied: 'I have some burden on my heart, which I want to share with you. First, I am grateful to you. The process of my becoming the PM started with your show Aap Ki Adalat'.
Again, in humility, I told him: 'Atal Ji, you have a 50-year-long 'tapasya' behind you, and you are speaking of one TV show?' He replied: 'I have seen change in the eyes of people' (after they watched the show).
I replied: 'Atal Ji, you have something very big. I have nothing more to say'.
He said: 'No, I have two more things to tell you. And today you shall not talk, you shall hear me. The second thing I want to tell is that, I was PM for 13 days but I did not meet you'.
I said: 'Atal Ji, How many people could you have met in those 13 days?'
He replied: 'No, I should have met you. And the third thing: Hum aapse mitrata karna chahte hain' (I seek your friendship).
I returned home and could not sleep well for the next two or three days. I thought, a big politician like him should not have said such a big thing to me, nor was there any need to thank me, nor should he have expressed gratitude. Moreover, there was no need for him to say, I seek your friendship.
Soon thereafter, there were general elections, and I used to sometimes praise Atal Ji while anchoring my show. I used to make these comments from the depths of my heart.
One day, I got a call from Ranjan. "Atal Ji is calling you. He is at the airport, and will be there for two hours. He has come from Chennai and will be leaving for Patna", he said.
I called on Atal Ji at the airport. The moment we met, he said: "Aajkal bahut kripa ho rahi hai hum par?" (You have been favouring me too much nowadays?)
I replied: "Atalji, we do this somewhat in our shows."
He replied gravely: "Yeh theek nahin hai. Rajatji aapki taaqat aapki vishwasniyata me hai. Sab dalon me aapke dost hain. Sabse mitrata hai. Sab aapki baat sunte hain. Ismey koi samjhauta nahin hona chaiye. (This is not good. Rajatji, your strength lies in your credibility. You have friends in all parties. You are friends with them. They listen to you. There should be no compromise on this).
I replied: "Atalji, this is after all election time. Let the elections be over, then I will think".
His reply: "Prime Ministers will come and go. Governments will come and break. But as a journalist, your credibility should not go. Once your credibility goes, you won't get it nack."
Can an individual think so high? Such a towering personality, and his great thoughts. There can be no politician or statesman like him, who can think and speak like this.
This, in essence, was our Atal Ji. Such men do not disappear. Atal Ji shall always remain in the core of our hearts. His life was an open book. He was a 'faqir' (mendicant), he was 'faqqad mijaaz' (mind of a vagabond). He never compromised in life. I learnt a lot from his life, his personality and his closeness.
Once I told him: "Atal Ji, I want to learn the art of delivering a speech."
His reply: "Humse bolne ki kalaa mat seekho. Agar kuch seekhna hai, toh seeko, ki chup kab rahna hai" (Don't learn the art of oratory from me, if you want to learn, then learn the art of when to remain silent).
It was a brief reply, but loaded with endless possibilities. I fail to understand what to recount now, and what to omit. I only have his face in front of eyes, as I watch his lifeless body disappearing into oblivion. And my heart cries out in anguish: "Atal Ji, wake up just once, and say – Panditji, hum kahin nahin gaye, hum yaheen hain, tum sabke beech, tum sabke saath (I haven't gone anywhere, I am here, amongst you, with you, always).
जब मैंने अटलजी से कहा, मुझे भाषण देने की कला सिखा दीजिए
August 17, 2018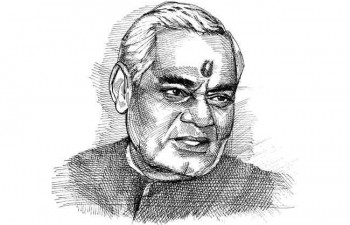 कभी इस दिन के बारे में सोचा नहीं था…. ये ख्याल दिल दिमाग में कभी नहीं आया कि एक दिन अटल जी को विदा करना पड़ेगा…अटल जी का निष्प्राण शरीर मन को विचलित कर रहा है…दिल ये मानने को तैयार नहीं है कि अटल जी अब इस जहां से दूर अनंत की यात्रा पर निकल गए हैं…आंखों के सामने अपनी भीड़ का जनसैलाब है…ऐसा सैलाब तो अटल जी को सुनने के लिए हर बार उमडता था….लेकिन आज उनका नेता खामोशी से सो रहा है…सिर्फ नारे सुनाई दे रहे हैं…अटल जी अमर रहें…जब तक सूरज चांद रहेगा…अटल तेरा नाम रहेगा…जो दिख रहा है वो सच है…ये दिल जानता है…लेकिन मन हकीकत को मानने के लिए तैयार नहीं है…क्योंकि मेरे लिए अटल जी सिर्फ नेता नहीं थे…..मेरे लिए …अभिभावक… टीचर… दोस्त…और सबसे बड़ी बात मागदर्शक थे….अटल जी के जाने से मैंने सबकुछ एक साथ खो दिया…अटल जी अपनी अन्तिम यात्रा पर निकल पड़े हैं….उनके साथ लाखों की भीड़ है…लेकिन इस भीड़ में हर शख्स खुद को अकेला महसूस कर रहा है….मेरे हृदय में भी वही खालीपन है…वो घर भी सूना है…जिस घर में मैंने अटल जी के साथ बहुत सारा वक्त बिताया…उनकी कविताएं सुनी…जो घर उनकी हंसी से गूंज उठता था….आज उसी घर में सन्ना है….वहां सिर्फ अटल की तस्वीर है…और उनकी यादें हैं…आज अटल बिहारी वाजपेयी के साथ बीते दिन….उनकी बातें….उनकीं हंसी…उनका गुस्सा…उनकी सलाह….सब याद आ रहा है….वास्तव में आज एक युग का अंत हो गया….अटल जी सिर्फ नाम से अटल नहीं थे….व्यक्तित्व से भी अटल थे….जीवन भर विचारधारा पर अटल रहे….जीवन भर ईमानदारी पर अटल रहे….जीवन भर सच्चाई की कसम पर अटल रहे….अटल जैसा व्यक्ति युगों में धरती पर आता है….ओजस्वी वक्ता…कवि….प्रखर राजनेता…साठ साल तक काजल की कोठरी में रहकर बेदाग व्यक्तित्व…राजा होकर भी फकीर….ऐसा इंसान अब कहां…..
बार बार लग रहा है कि जो अटल जी ने अपनी कविता में कहा वो सच हो जाए….उन्होंने अपनी कविता में लिखा था लौटकर आऊंगा..कूच से क्यों डरूं…अटल जी का कविता पाठ अब सुनने को नहीं मिलेगा….अब उनकी डांट…उनकी सलाह नहीं मिलेगा….मुझे वो सौभाग्य प्राप्त था कि मैं अटल जी से अपने मन की बात कह सकता था…वो भी अपने मन की बात मुझे बताते थे….अटल जी का बहुत स्नेह मुझे मिला…बुल्कुल बच्चे जैसा साफ दिल का इंसान अब कहां….छोटी छोटी बात पर रूठ जाना फिर उन्हें मनाना…अब न अटल जी रूठेंगे…न उन्हें मनाना पड़ेगा….बहुत सारी यादें हैं…मैं चाहता था अटल जी आपकी अदालत में आएं…लेकिन मनाना मुश्किल था…आपकी अदालत में आने के लिए कहता…अटल जी हंसकर टाल देते थे…एक बार मैं बहुत सारी चिट्ठियां ले गया कि देखिए लोगों ने आपको बुलाने के लिए इतने सारे लैटर्स लिखे हैं….जोर से हंसे , कहा कि आप जिसके पास जाते हैं उसीकी चिट्ठियां ले जाते हैं….आखिरकार वो तैयार हो गए…लेकिन जिस दिन शो की रिकॉर्डिंग थी…उस दिन फिर मना कर दिया…मैं घर पर पहुंचा…उनको मनाया…उन्होंने कहा कि हमें पार्टी ने मना किया है…मैंने कहा कि मैं पहली बार देख रहा हूं कि आप पार्टी की बात मान रहे हैं…थोड़े गुस्सा भी हुए लेकिन जब नमिता ने इंटरवीन किया…अटल जी की बेटी नमिता को मैं कॉलेज के जमाने से जानता था…और रंजन भट्टाचार्या मेरे साथ कॉलेज में थे…उस वक्त नमिता ने अटल जी से कहा कि बाप जी आपने वादा किया था…तो फिर एकदम खड़े हुए कि चलो….
अटल जी वाकई में विरले इंसान थे…न हल्की बात सोचते थे..न हल्की बात करते थे….आपकी अदालत का जब ये शो रिकार्ड हुआ तो उसके बाद अटल दी प्रधानमंत्री बने..तेरह दिन सरकार रही और सरकार गिर गई.. देवेगौड़ा प्रधानमंत्री बने….राष्ट्रपति भवन में डिनर था ….वहां अटल जी ने कहा कि आप से बात करनी है….मैं समय लेकर अगले दिन उनके पास गया….तो उन्होंने कहा कि मुझे आपसे तीन बात करनी है…मैंने कहा कि आप बड़े हैं..कुछ भी कह सकते हैं….उन्होंने कहा कि मेरे दिल पर बोझ है..ये आज उतारना चाहता हूं ..पहली बात हम आपके आभारी हैं ..हमारे प्रधानमंत्री की प्रक्रिया आपके अदालत के कार्यक्रम से शुरु हुई ..मैंने कहा कि अटल आपकी पचास साल की तपस्या है..एक कार्यक्रम ..उन्होंने कहा कि हमने लोगों की आंखो में परिवर्तन देखा…तो मैंने कहा कि इसके बाद मुझे कुछ नहीं सुनना है..इतनी बड़ी बात आपने कह दी है…उंन्होंने कहा नहीं.. हमें दो बातें और कहनी हैं…आज आप बोलेंगे नहीं सुनेंगे…दूसरी बात ये कि हम क्षमाप्रार्थी हैं कि हम 13 दिन प्रधानमंत्री रहे और आपसे मिले नहीं…तो मैंने कहा कि अटल जी कितने लोगों से आप मिल सकते थे उस समय…नहीं नहीं मिलना चाहिए था…और तीसरी बात ये कि हम आपसे मित्रता करना चाहते हैं…इन तीन बातों का मेरे दिल पर इतना असर हुआ…मैं जब घर वापस गया तो मैं दो तीन दिन सो नहीं सका…मुझे लगा कि इतने बड़े आदमी को इतनी बड़ी बात कहने की कोई आवश्यकता नहीं थी…न उन्हें धन्यवाद करने की जरूरत थी…न आभार प्रकट करने की जरूरत थी..ना उन्हें ये कहने की जरूरत थी कि उन्हे दोस्ती करनी है…उसके बाद फिर चुनाव आए….मैं अपने शो में अटल जी की तारीफ में दो चार बातें कह देता था..मेरे दिल से ये बात निकलती थी…तो एक दिन मुझे रंजन का फोन आया…उसने कहा कि अटल जी बुला रहे हैं…एयरपोर्ट पर हैं…दो घंटे के लिए रुके है…चैन्नई से आए हैं..पटना जा रहे हैं…एयरपोर्ट पर मैं गया तो मुझे कहा आजकल बहुत कृपा हो रही है हमारे ऊपर…महानता की पराकाष्ठा देखिए..मैंने कहा कि अटल जी…थोड़ा बहुत तो शो में करते हैं…उन्होंने कहा कि ये ठीक नहीं है…उन्होंने कहा कि रजत जी आपकी ताकत आपकी विश्वसनीयता में हैं…सब दलों में आपके दोस्त हैं…सबसे मित्रता है…सब आपकी बात सुनते हैं…इसमें कोई समझौता नहीं होना चाहिए…तो मैंने कहा अटल जी इलैक्शन हैं…इलैक्शन हो जाएंगे उसके बाद हम चिंता करेंगे..तो अटल जी ने कहा कि प्रधानमंत्री आएंगे…जाएंगे..सरकारें बनेंगी.. बिगड़ेंगी…लेकिन पत्रकार के तौर पर आपकी जो विश्वसनीयता है…ये नहीं जानी चाहिए..ये गई तो फिर वापस नहीं आएगी…क्या कोई आम इंसान इतना बड़ा सोच सकता है…इतना बड़ा व्यक्तित्व..इतनी बड़ी बात सोचने वाला…शायद कोई दूसरा नहीं हो सकता..ऐसे थे हमारे अटल जी…क्या ऐसा इंसान कभी दिल से विदा हो सकता है….अटल जी हम सबके दिलों में हमेशा रहेंगे…
अटल जी का जीवन खुली किताब की तरह रहा…वो फकीर थे..फक्कड़ मिजाज थे…लेकिन जिंदगी में कभी समझौता करना तो शायद उन्होंने सीखा ही नहीं था…उनके जीवन से…व्यक्तितव से…उनके सान्निध्य से मुझे बहुत कुछ सीखने को मिला….एक बार मैंने अटल जी से कहा कि मुझे आपसे भाषण देने की कला सीखनी है….अटल जी ने बहुत बड़ी बात कही….उन्होंने कहा कि हमसे बोलने की कला मत सीखो…अगर कुछ सीखना है…तो ये सीखो कि चुप कब रहना है…बात छोटी थी…लेकिन सबक गहरा और ये जीवन भर काम आता है….आज क्या क्या याद करूं, क्या क्या भूलूं…कुछ समझ नहीं आ रहा है…सिर्फ अटल जी का चेहरा सामने हैं…उनके निष्प्राण शरीर को जाते हुए देख रहा हूं…और बार बार मन में एक हूक सी उठती है….अटल जी एक बार उठ जाओ…और कहो… पंडित जी हम कहीं नहीं गए….हम यहीं हैं…तुम सबके बीच…तुम सबके साथ….
Centre must enact strict legislation to curb vandalism by kanwariyas, rioters
August 11, 2018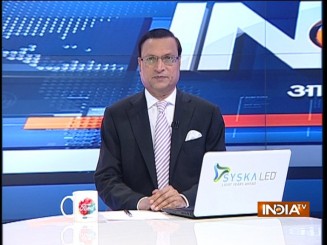 With reports coming in of Kanwariyas indulging in hooliganism at different places, the Supreme Court on Friday came down hard on what it called "gave incidents of vandalism" and said it would not wait for the Centre to enact a law to curb such acts of violence, and would soon issue guidelines. The judges gave specific instances of how kanwariyas blocked off half of the national highway between Varanasi and Allahabad and there were random road blockades.
Kanwar Yatra is a pilgrimage undertaken every year during the monsoon month of Sawan, when devotees march to Haridwar, Gangotri and other places to fetch Ganga water in pots and then walk to their respective temples to pour holy water on Shiva lingams.
During this period, they are supposed to practise austerity and walk barefooted. Because of their austerity, people and authorities en route pay respects to these devotees, and erect tents to provide them food and water. But, in recent years, most of the kanwariyas have been found consuming liquor, smoking hashish and cigarettes, and vandalizing properties.
Even police officials admit that many of the local criminals join these kanwariyas to save themselves from arrest. It was in this context the Supreme Court took a hard view of the situation. Of course, there were other issues of arson and violence by protesters and rioters, which were linked to this. The Attorney General of India K K Venugopal told the court that every week, there was rioting in some parts of the country, sometimes in the name of Maratha reservation, or in the name of unrest over SC/ST order.
In view of the Supreme Court's observations, the Centre should now seriously think about enacting a stringent law to prevent such acts of vandalism by rioters, in whatever garb they may be.
Click Here to Watch Full Video | Get connected on Twitter, Instagram & Facebook
Opposition lost the RS Deputy Chairman poll due to lack of seriousness
August 10, 2018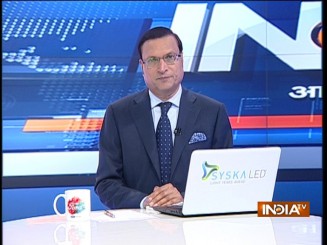 The BJP-led National Democratic Alliance scored a clear victory over opposition parties led by Congress in Rajya Sabha on Thursday, when their candidate, renowned journalist and Janata Dal(United) member Harivansh defeated Congress rival B K Hariprasad in a straight contest by a good margin (125-101).
Theoretically, non-BJP parties led by Congress were in a majority inside the House, but party chief Amit Shah turned the tables on them, first by mollifying close allies like Shiromani Akali Dal and Shiv Sena, and then pitching for vital support from Biju Janata Dal, AIADMK, Telangana Rashtra Samiti, Indian National Lok Dal and some independents.
On the other hand, from the Opposition camp, YSR Congress abstained, and members of Aam Aadmi Party and PDP were absent. Clearly the Opposition's strategy failed, because there was lack of seriousness on the part of their leaders.
Let me elaborate. The Leader of House in Rajya Sabha, Union Minister Arun Jaitley was in medical isolation at his home on the advice of AIIMS doctors for the last four months due to kidney transplant, but on Thusrday, he came to Parliament to cast his vote after taking permission from doctors.
This is a clear example of how the NDA took the election seriously, whereas those in the Opposition camp, despite being hale and hearty, were absent from voting. At least 12 of them were absent. Had they voted for the Congress candidate, the margin would have been close. Had Congress President Rahul Gandhi phoned Arvind Kejriwal, his candidate could have got all the three votes from AAP.
On the other hand, JD(U) supremo Nitish Kumar personally rang up his BJD counterpart Naveen Patnaik to seek his party's support. Rahul Gandhi could have done the same. On the whole, the NDA won because its leaders took the election seriously and there was good floor management.
Click Here to Watch Full Video | Get connected on Twitter, Instagram & Facebook
How R K Dhawan cleared his name in Indira Gandhi assassination case
August 09, 2018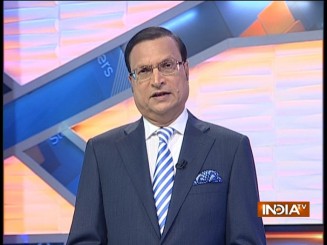 Former Prime Minister Indira Gandhi's close confidante R. K. Dhawan passed away at the age of 81, mourned by his admirers and relatives. He worked as Special Assistant to the then PM Indira Gandhi for 19 years. During those years, R K Dhawan was a power centre, who wielded enormous clout. He was then considered the second most powerful person in India after Indira Gandhi, but Dhawan never misused his clout. His strength lay in the fact that he used to help needy persons, and because of this, he had a large number of admirers.
The biggest tragedy that took place in his career was when fingers were pointed at him in the 1984 Indira Gandhi assassination case. I was at that time the Editor of Onlooker magazine and had exposed the manner in which Justice Thakkar Commission report was prepared in order to nail him.
At that time, R K Dhawan cautioned me that there were some powerful people behind this report and they could harm me. Undaunted, I exposed the entire game plan hatched by Arun Nehru, who was then wielding enormous clout during Rajiv Gandhi's rule. R K Dhawan later returned to the centre stage of politics. He became a Union Minister. He used to publicly tell people how a magazine cover story washed off the darkest blot on his career.
Dhawan was penning his autobiography during the last days of his life. He had discussed some of the chapters with me before he fell ill. This autobiography may never be completed in the near future.
Click Here to Watch Full Video | Get connected on Twitter, Instagram & Facebook
Karunanidhi's passing away will impact politics both in TN and at the Centre
August 08, 2018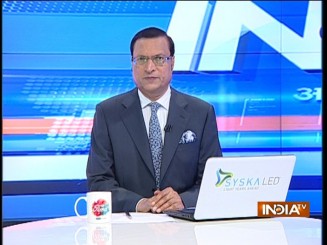 The passing away of the DMK patriarch Muthuvel Karunanidhi will not only have a big impact on Tamil Nadu politics, but will also affect national politics. The 94-year-old politician was adept in maintaining a fine balance, both in his personal life and in the realpolitik space. He was at times closer to the Congress and at other times, he came close to the BJP.
Politics in Tamil Nadu has witnessed the passing away of two giants – J. Jayalalithaa and M. Karunanidhi – within a short span of one year. Jayalalithaa's passing away immediately caused a big split in the AIADMK, it resulted in the purge of Jayalalithaa's close confidante Sasikala, and the party is now being run by a mix of both EPS and OPS factions.
There are differences in Karunanidhi's extended family too. His sons – M K Stalin and M K Azhagiri were at loggerheads. But the old patriarch, in the autumn of his life, stood like a giant banyan tree giving shade to both the factions. The party stood as one and the old man anointed his son Stalin as his political successor. He sent Azhagiri to the Centre as minister, but his son was unhappy and he protested. Karunanidhi sent him out of the party. The patriarch then sent his daughter Kanimozhi to the Centre as MP, and thus paved the way for his favourite son Stalin to take over the party's reins. But now, with the passing away of the titan, it will become a big challenge for Stalin to keep the party united. This is bound to impact Tamil Nadu politics in the near future.
Karunanidhi stood like a colossus in Tamil Nadu politics for several decades. At the Centre, he was the oldest living politician in the front ranks, who had witnessed the freedom movement right up to the alliance politics at the Centre, rivalled only by Akali Dal supremo Parkash Singh Badal.
Karunanidhi was a writer, orator and leader par excellence. He fought against casteism all through his life – first through his writings, his plays, his oratory and then through agitations. He was chief minister of Tamil Nadu for five terms. In his 62 years of legislative career, he never lost an election. To lead a political party for 50 years and still keep his popularity intact, was no mean achievement. It is because of this, that he was affectionately called 'Kalaignar' (artist, scholar) by the people of Tamil Nadu.
The artiste has now taken his last bow, and his memory will remain through his creations, his writings, and his work among the downtrodden as their chief minister. On behalf of India TV family, I offer my sincere condolences to his family and pay my tributes to the departed leader.
Click Here to Watch Full Video | Get connected on Twitter, Instagram & Facebook
Why 17 Opposition parties are demanding replacement of EVMs with ballots
August 04, 2018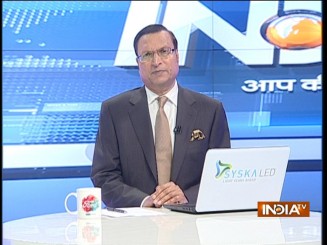 A concerted move has begun among 17 Opposition parties, as disparate as Congress and Aam Aadmi Party, Telugu Desam Party and YSR Congress, Shiv Sena and Nationalist Congress Party, Trinamool Congress and Left Front, Samajwadi Party and BSP, to press for the demand for replacing EVMs (electronic voting machines) with ballot papers in next year's Lok Sabha elections. A joint meeting will be held on Monday, which will be followed by a debate in Parliament, and then a joint delegation will meet the Election Commission. AIADMK, Biju Janata Dal and Telangana Rashtra Samithi have chosen not to support this demand.
It is not a fact that use of EVMs have always resulted in victories for ruling BJP. Congress had been in power at the Centre for ten years when EVMs were in use, it won the assembly polls in Punjab, the Congress-JD(S) came to power in Karnataka, the anti-BJP Mahagathbandhan defeated the BJP in Bihar on the strength of EVMs. At that point of time, none of these parties raised issues over EVMs, but when they lost the assembly polls in UP, Gujarat, Uttarakhand, Himachal Pradesh, Tripura, Assam and Manipur, they have started questioning the reliability of these electronic machines.
Detection of technical flaws in a few EVMs does not mean that all the EVMs are faulty. Last year, after the UP assembly polls, the Election Commission had thrown an open challenge to any party which can prove that EVMs can be tampered with. The EC even conducted a demo in front of political parties to show that these machines cannot be tampered with. And yet, questions are being raised.
The world in the 21st century is moving fast with the use of latest technology. It is , therefore, surprising that the opposition parties are trying to put the clock back to the 20th century, by demanding that EVMs be scrapped and paper ballots be used.
Click Here to Watch Full Video | Get connected on Twitter, Instagram & Facebook
How Mamata's WB govt failed to verify documents of Bengalis based in Assam
August 03, 2018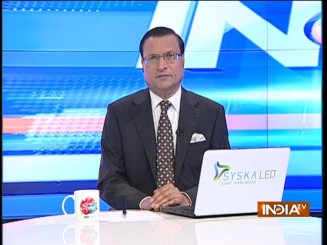 Trinamool Congress supremo Mamata Banerjee has made the National Register of Citizens (NRC) a big issue in national politics, but few people know that it is her government in West Bengal, which failed in verifying the legacy documents of Bengalis settled in Assam.
Most of these Bengalis had given their ancestral addresses in Bengal. Five months ago, during the NRC exercise, 1,14,000 documents were sent to Bengal government for verificationm out of which only 6,800 documents were sent back as verified. Those whose documents were not verified found their names missing in the NRC. These documents are still lying with the WB government. Unless these are verified, these names cannot be included in NRC. Mamata Banerjee has a lot of explaining to do.
On the other hand, one should praise the Assam policewomen who showed presence of mind in detaining six TMC MPs when they landed in Silchar, Assam, and created a drama. They were not allowed to enter the city as it could have caused linguistic tensions.
Mamata Banerjee may not trust the Centre's Narendra Modi government, she may not trust the BJP government in Assam, but her own Assam state unit chief, who resigned on Thursday, nailed her lies. Mamata may allege that BJP might have 'bought off' the TMC leader, but this politician has himself said that Mamata's remarks can cause unnecessary tension in Assam.
The same Mamata Banerjee during the Left Front rule in West Bengal had raise a hue and cry over illegal Bangladeshis staying in her state. She had torn papers inside the Lok Sabha and had then created a drama. Today she has taken a complete U-turn. During Left Front rule, she had demanded that the illegal Bangladeshis should be thrown out of the state, and now she is speaking the opposite.
Click Here to Watch Full Video | Get connected on Twitter, Instagram & Facebook
Instead of politicizing, Opposition should trust SC and wait for final NRC draft
August 01, 2018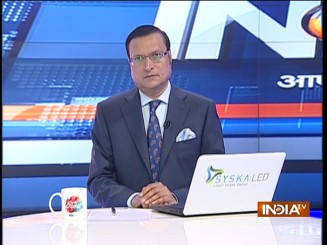 A raging debate is on between BJP and Opposition over the detection of more than 4 million foreigners after the second and final draft of National Register of Citizens was made public on Monday in Assam. The opposition parties, particularly Congress and Trinamool Congress, are alleging that people belonging to a particular religion have been deliberately left out from NRC.
India TV on Tuesday telecast soundbites of local people in Dhubri, Assam, whose names are missing from NRC. Most of them are Hindus. This negates the allegation that only Muslims in Assam have been targeted. The reality is that illegal immigrants from Bangladesh are being identified in Assam, and that too, on the direction of Supreme Court, which has prepared guidelines for detection. So, there is very little scope of politicizing the issue.
As far as lacunae in NRC are concerned, manual verification of an estimated 3.30 crore people in Assam is a gigantic task, and we should understand that those trying to verify documents are human beings too, and they can commit errors. The government has clarified several times that two months' time will be given for people to file claims. The Supreme Court on Tuesday directed the government to prepare SOPs (standard operating procedures) to dispose of these claims, so that the final draft can be published by 31st December this year. Opposition parties may not trust the government, they may not trust the BJP, but they should at least trust the apex court, and instead of politicizing the issue, they should wait for the final publication.
There are no two opinions among major political parties that illegal migrants and foreigners should be detected and sent back, and yet there are no two opinions that almost all political parties are trying to gain political advantage from this issue.
The Congress and TMC believe that those whose names are missing are their supporters, and they are trying to project the entire exercise as anti-Muslim. The BJP, on the other hand, is raising the issues of national security and national resources. Since this is an emotional issue, the BJP believes that this will benefit the party in electoral terms. But to say that people from other states settled in Assam are being identified and will be thrown out, or to say that similar demands for preparing NRC in other states may arise, is not correct. This is not an issue between states. This issue relates to the detection of foreigners staying illegally in India. BJP President Amit Shah is right in alleging that efforts are being made to divert public opinion from the main issue, and some parties are trying to create an atmosphere of fear.
West Bengal chief minister Mamata Banerjee has been warning of 'bloodbath' and 'civil war'. She is alleging that efforts are being made to divide the people in the name of NRC. This is politically incorrect, and untenable from the point of view of national security and peace. Mamata Banerjee should understand that if violence does take place, who will be held accountable for making such statements. She is an experienced leader and knows how intemperate remarks can cause harm to the nation.
There is no denying the fact that there are large number of illegal Bangladeshi migrants staying in her home state, West Bengal. Many of these illegal migrants have spread to Bihar, UP, Maharashtra and Delhi. There have been incidents in some states, where some of these illegal migrants carried out crimes and fled to Bangladesh.
Illegal migrants from Bangladesh can cause a big problem in future, and this has to be addressed soon. The Supreme Court has taken a hard decision, and all political parties should sit together and find out viable solutions for sending these foreigners back to their homeland, so that our own citizens get their rights over our national resources.
Click Here to Watch Full Video | Get connected on Twitter, Instagram & Facebook
No nation can allow millions of foreigners to stay
July 31, 2018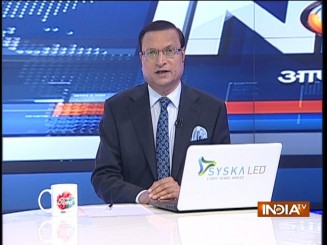 On Monday, when the second and final draft National Register of Citizens was made public in Assam, more than 40 lakh applicants found their names missing. Though the Centre and state government has allowed these people enough time to file their objections, one thing stood out clear. Several million foreigners may have to leave India.
Just think: can any nation in the world allow millions of foreigners to settle? It would amount to encroaching the rights of our own citizens. That is why, if foreigners are being detected, nobody can oppose it in principle. Whether the Congress, or Trinamool Congress, or Badruddin Ajmal, nobody is opposing this exercise, but most of them are busy finding out lacunae. Somebdy is alleging that a particular religion is being targeted, another is alleging that people speaking a particular language is being targeted.
This citizenship issue should have ended 70 years ago. The first work on NRC began in 1951, but was not completed. More than 100 tribunals were constituted. When Bangladesh became free, a huge imbalance was noticed in Assam's population. In 1983, the then PM Indira Gandhi brought in the IMDT (Illegal Migrants Detection Tribunal) Act to detect foreigners in Assam. In 1985, the then PM Rajiv Gandhi signed the Assam Accord with All Assam Students' Union, but it was implemented in such a haphazard manner that the then AASU president Sarbanand Sonowal went to court.
In 2005, the Supreme Court quashed the IMDT Act and ordered completion of work on the NRC. When nothing moved forward, the apex court decided to monitor the work, which began in March 2013 and has now come to a conclusion. The final NRC will be published on 31 December this year. The government has made it clear that any Indian residing in India before 24 March 1971 has nothing to fear.
Take my example. I was born in Delhi, but if somebody asks my origin, I will say that my father migrated from Rajasthan to Delhi in 1950. Our family hails from Sadas village of Rajasthan. My grandfather's name was Pandit Gouri Shankar. The same questions are being asked from people in Assam. Those who are outsiders, those who do not have roots in post-Partition India, those who have migrated from Bangladesh, will have tough questions to answer. Therein lies the problem.
The question is: where will these 40 lakh people go? One cannot expect our neighbour Bangladesh to take them back. Where will they reside? The government has not yet revealed its reply. This question needs an urgent reply.
Death of cattle at cow shelters is nothing short of cow slaughter
July 28, 2018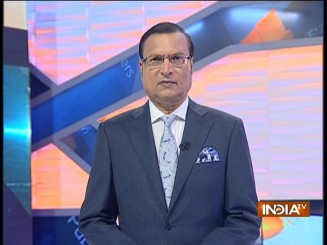 The death of 36 cows at a cow shelter run by a private trust in South Delhi on Friday exposes the hollow claims of those who are advocating cow protection day in and day out. Fringe groups have been lynching individuals in the name of cow slaughter and cattle smuggling, triggering fierce debates on social media. Leaders who indirectly condone lynching often cite cow slaughter as the main reason for such attacks, but I personally feel that death of cows in cow shelters is nothing short of cow slaughter.
The cow shelter in South Delhi was being run by a trust, and the South Delhi Municipal Corporation staff used to dump stray cows at this shelter. These cows were not being fed at all at the shelter. When India TV reporter visited the cow shelter sprawling on 20 acres of land, he found the conditions pitiable. It was surprising how cows were alive without food in such conditions.
Those who proclaim themselves as 'gau-rakshak' and consider cow as their mother, frequently speak out against cow slaughter, but they fail to notice the number of stray cows walking on the roads, dying after consuming plastic bags from heaps of garbage.
The first and foremost duty of such people should be to ensure that the cow shelters are run properly. This work is more important than stopping trucks carrying cattle and bashing up the drivers. If 'gau-rakshaks' look after the cow shelters properly, they will be doing a great service to the nation. They will be saving the lives of thousands of cows, and mob lynching incidents will come to an end.
Click Here to Watch Full Video | Get connected on Twitter, Instagram & Facebook
Imran Khan as PM, backed by the army, can normalize relations with India
July 27, 2018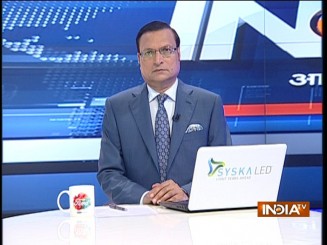 Imran Khan's life has been a turbulent one, full of struggles. He struggled a lot, but never bowed. I remember Imran Khan was at the height of his popularity after winning the World Cup, and then he suddenly took retirement from cricket. In 1994, he came to my show Aap Ki Adalat, where he revealed, for the first time, his intention to join politics. I had then asked him how he would play on a political pitch, where all things are surreal and are not what they appear to be. Imran had then replied that when he was first selected for the national team, he went to the field to play with high hopes, but crashed. He was thrown out of the team for three years, but he did not relent. He toiled hard, made a comeback and the rest is history. Citing this, Imran told me, I will fight to the last in politics, and win.
For 22 years, Imran Khan toiled hard in the political wilderness, and at last he won. After his victory, Imran spoke about Kashmir, about China, advocated an open border with Afghanistan, also spoke about US and Saudi Arabia, but spoke only a few words about India. He particularly mentioned Kashmir. If what Imran said about Kashmir during his campaign speeches are true, then it is quite clear that he has the support of the army, and the army played a role in his victory. For India, an elected and stable government in Pakistan, backed by the army, should be a better situation, because at least Indian leaders and bureaucrats will know whom to talk to. There is a chance that this could help in normalizing relations.
During the press conference, Imran smirkingly spoke about a section of the Indian media, saying he was being portrayed as a Bollywood-type villain. Imran may be unhappy with the Indian media, but the fact remains that the amount of love Imran has got from people in India, could make any Pakistani envious. No other Pakistani has got the same amount of affection that Imran has got in India.
Imran is a newcomer to governance. He has practically no experience of governance. He was an MP, but was never a minister or a Chief Minister. The people of Pakistan have high hopes from his leadership. Imran has promised to fulfill their expectations, but the road ahead is not so easy. My best wishes to Imran Khan on his new journey.
Click Here to Watch Full Video | Get connected on Twitter, Instagram & Facebook